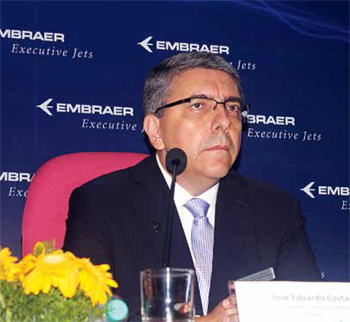 Embraer Executive Jets has forecast that the business jet market would witness a mild growth in the next 10 years, putting the numbers at 9,250 private jets globally at $250 billion.
The Vice President, Marketing and Sales, Executive Jets, Embraer, Jose Eduardo Costas, presented at India Aviation the market outlook for business aviation and said that in the last decade the number of jets sold was over 8,000, with the US accounting for nearly 50 per cent and Asia-Pacific at 20 per cent. In Asia-Pacific, half of the sales was in China. In APAC Embraer had a fleet of 69 jets, 19 being light jets and the rest large jets.
He said that 2013 had been good for Embraer with sales of 119 jets, thus going up in market share to 17.6 per cent behind Bombardier which was at 27 per cent.
Embraer had its first breakthrough six years back and it has sold till date 20 private jets, seven being light jets and 13 large. All the light jets are Phenoms, the latest one acquired by Joy Jets - the Phenom 300. He mentioned that Phenom 300 was the most sold plane last year with 60 units, indicating sale of more than one plane a week.
India is a unique market, he said and mentioned that it had customers in private, government, defence, etc. The drivers for business jets were rising numbers of high networth individuals and increasing value of jets as a business tool. While he agreed that there were issues relating to taxation, regulatory, infrastructure, he hoped that it would get sorted out and the business jet market would flourish in India. However, Embraer had no plans of setting up a manufacturing plant in India as it had done in China.
As regards approximate pricing, the Phenom 100E is $4.6 million; Phenom 300 - $9.5 million; Legacy 450 - $16.9 million; Legacy 500 $19.6 million; Legacy 650 $31.6 million and Lineage 1000E - $53 million.