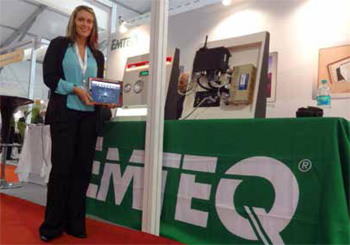 Emteq, Incorporated in 1996, supplies innovative products supporting both line-fit and aftermarket programs in the commercial, executive, VIP, and military aviation markets working with OEMs, operators, and integrators. At India Aviation 2014, Emteq is showcasing two product lines that cater to in-flight ambience, and entertainment, and aircraft exterior lighting solutions.
Emteq has signed an agreement with AirWorks to integrate the former's cabin products as part of cabin upgrades for executives and commercial operators throughout India. Emteq's products include its LED-based QUASAR full spectrum mood lighting, white wash, reading, dome, and accent lighting, all of which last long, offer unmatched user-configurable ambient colors, and the best part: be controlled by a smartphone or tablet via its eConnect system.
The eConnect system allows users to log onto either a secured or unsecured WiFi system that allows the smartphone/tablet user to control the cabin lights, window shutters, and stream high definition audio and video on demand (AVOD) to watch on a personal electronic device, as opposed to doing to a cabin-fitted interactive system.
eConnect supports upto 25 users at a time, and one eConnect system features sufficient range to cover the entire cabin of a Boeing 767 airliner. Multiple eConnect systems can support multiples of 25 users at a time, and the system appears seamless to the user.
eConnect integrates directly with existing CMS/IFE system, without the need for re-wiring. Also on showcase is Emteq's intelliOutlet and intelliUSB SR, which provide power for electronic devices, while meeting FAA and EASA's requirements for in-cabin power outlets. To support charging smaller personal electronic devices, the intelliUSB SR allows for fast and universal charging from a tiny USB footprint.
Also on showcase is some of Emteq's landing lights, intended for replacement on most business jets, airliners, and general aviation aircraft such as the Pilatus PC-12. The LED based exterior landing lights have a mean-timebetween- failure (MTBF) of 15,000 hours, which is significantly higher than the typical life of an incandescent or halogen high intensity light: 50-100 hours, based on the lamp's location and use. The LED lights, however, not not match the intensity of its PAR replacements, but exceed in visual performance: the cool white color, as opposed to the warm white from a conventional technology lamp, can highlight more details, making flight operations safer on two counts: greater reliability and better visibility in the dark, for pilots.
Emteq already has exterior LED lighting solutions, such as anti-collision lights, LED based beacons, and navigation lights for business airplane offerings such as Dassault's Falcon series: 900EX, 2000, and 7X.
Emteq's Rachel Bahr, director, business development & marketing, says that the reason Emteq has been able to achieve good LED performance and life is because of its innovative use of chip-on-board LED and heat dissipation methods that keep the LED temperatures within limits.