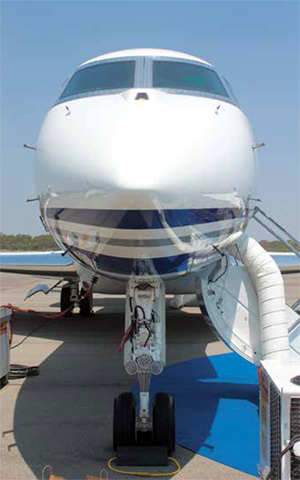 Gulfstream Aerospace Corp's G650, the gold standard in business jets, has set another city-pair record, this time between White Plains, New York and Mumbai, India in 13 hours and 49 minutes, taking the tally of records to 42, according to Roger Sperry, Regional Senior Vice President, International Sales, Gulfstream.
The G650's ability to link these two key business destinations reinforces its utility as vital tool for corporations to advance their economic interests around the world," said Jason Akovenko, Regional Vice President, Sales, Asia-Pacific, Gulfstream. "This aircraft continues to dominate business aviation and proves to be a leader in getting passengers to their destinations in record time. The speed and range of the G650 are just two of the many reasons why this aircraft is in such high demand."
Giving details of G650 to SP's ShowNews, Sperry said that the aircraft was ideal for long range travel and could cover easily destinations such as Anchorage, Cape Town, Sydney, London, Melbourne etc from Hyderabad. The fuel-efficient G650 which entered service on December 20, 2012, in the following year circled the globe westbound in 41 hours and seven minutes, setting a world record. The aircraft features twin Rolls-Royce BR725 engines, produces fewer emissions, operates more quietly than many other business jet aircraft and has a high cruise altitude that allows it to fly above inclement weather and airline traffic.
He pointed out that the aircraft could max 51,000 feet from where one could see the curvature of the earth. It has a maximum range of 7000 nautical miles at Mach 0.85.
The purpose-built business jet had the range, the performance and the ultra luxury, catering to the demands of the highly discerning traveller. The G650 can sleep up to six passengers and is configured to seat 18 passengers. The highlight of the aircraft is that it is a fully digital aircraft and the passenger can control everything in the cabin with one-touch system, whether it is entertainment; calling the flight attendant; or operating the windows. One of the USPs of the aircraft was its windows which are quite big to give a clear picture of the horizon.