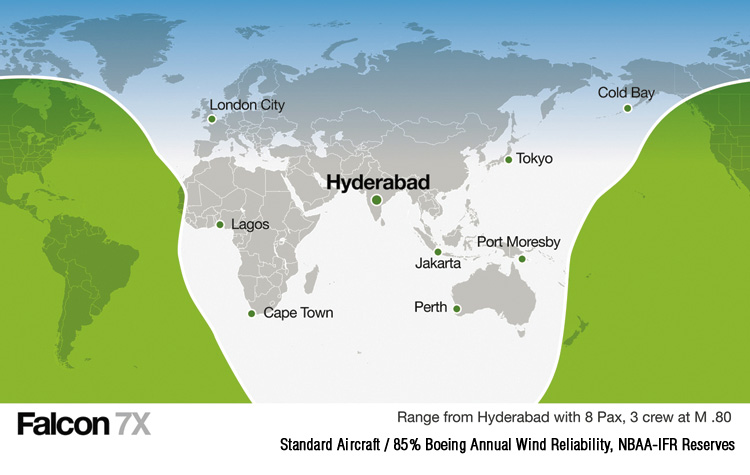 Dassault Aviation is presenting its Falcon fleet of large cabin, long range business jets at India Aviation, India's biggest civilian air show. The fourth edition of India Aviation will feature Dassault's 5,950 nm (11,000 km)range Falcon 7X trijet, the first business jet certified with a fully-digital flight control system.
Dassault is the Indian market leader for large cabin, long range aircraft, with 22 aircraft currently in service and several more on order. Most of the new aircraft orders are for the longest range Falcon models, capable of flying non-stop to London City Airport from anywhere in India.
The Falcon 2000 twinjet is also popular among Indian customers. Two newly introduced versions, the 3,350 nm (6,200 km) 2000S and the 4,000 nm (7,000 km) 2000LXS, will offer take-off and landing performance unparalleled among wide body jets - comparable to much smaller midsize and super midsize models. Like the 7X and the long range Falcon 900LX, the 2000S and LXS were recently approved for operation at London City.
Dassault also anticipates a warm reception in India for its brand new 5,200 nm (9,630 km) Falcon 5X which will offer the largest cabin crosssection of any business jet and the lowest ownership and operating costs in its class. Initial Indian orders for the large body twinjet are expected this year. The 5X is expected to make its first flight in the first quarter of next year with certification planned at the end of 2016.
"We see improving signs of the Indian market which has been slow recently" remarked Gilles Gautier, Vice President Falcon Sales for Europe, the Middle East and Africa. "India has a real need for expanding business aviation, and we remain bullish about future market prospects."
Because of their exceptional efficiency and flexibility, Falcons are very popular with Indian operators, particularly in the corporate and charter markets. Their unparalleled operating economy and their ability to combine short and long haul flights and fly out of short hard-to-reach airstrips with full range performance - even at high altitudes and high temperature conditions - make them perfect for local conditions. Lower operating expenses and traditional higher resale values make Falcon ownership costs a real competitive advantage.
The flagship 7X, with its large cabin and advanced systems, largely derived from military aircraft, is particularly prized by Indian customers. Its ultra quiet roomy interior, available with a shower option, allows passengers to disembark fresh and relaxed after a 13-hour flight. And its London City Airport rating can shave two hours off a typical London business trip.
The first Indian Falcon 7X was acquired by Ligare, the biggest Indian Falcon operator. The aircraft has been used since 2010 for Ligare's charter operations.
"Dassault has been part of the Indian aviation market for more than 60 years, initially in the military domain," notes Gautier. Our customers understand the benefits that fighter technology brings to business aviation. Soon we will celebrate the 20th anniversary of our first Falcon delivery in India, a Falcon 200 to the Tata group in 1995."
Indian Falcon operators can also rely on a growing regional servicing and spares network. After beefing up its local representation and support office in Delhi, Dassault recently added a second authorised support facility in Mumbai, in cooperation with Tata affiliate Taj Air, and further partnerships are contemplated. The Taj Air shop services Falcon 2000 and 2000DX/EX/LXS models. Dassault's other Indian authorised support facility, Mumbai-based Air Works India, handles 900EX/LX aircraft.
The network, which includes spares warehouses in Mumbai and Chennai, is backed up by offshore facilities in Dubai, Singapore and Paris. Pilot training is available at CAE in Dubai and technical training may soon be offered there as well.