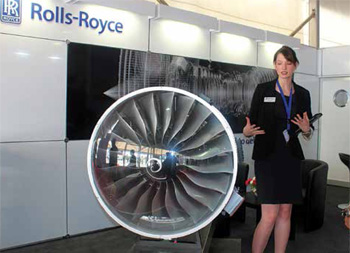 Rolls-Royce, the global provider of integrated power systems and services to the aerospace civil and defence, marine and energy markets, is showcasing a Trent 1000 scale model at India Aviation.
Kishore Jayaraman, President, Rolls-Royce India, said: "We are glad to be a part of India Aviation as it offers a great platform for Rolls-Royce to showcase its technology for the growing civil aviation market in India. With passenger numbers forecast to triple in the near future, wide-body aircraft could be a key solution to increase efficiency in passenger load and air traffic and we are the engine provider of choice in that market."
Capable of providing up to 78,000 lb thrust, the Trent 1000 engine is designed to power all members of the Boeing 787 Dreamliner family (787-8, 787-9 and 787-10 aircraft variants).The Trent family's unique three shaft design makes every Trent engine able to retain its performance advantage for longer, the equivalent of an additional fuel burn benefit of one per cent through life. To date, over 450 Trent 1000 powered Boeing 787 Dreamliner aircraft have been ordered by 25 customers.
Rolls-Royce has built a technology leadership position with its Trent family of engines, the latest of which, the Trent XWB, is the world's most efficient engine flying today. Rolls- Royce is continually innovating and, as part of that on-going process, is looking to build on the success of the Trent family of engines with two new generation engine designs - Advance & UltraFan.