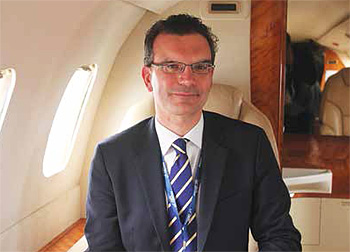 Italian designs stand out. At India Aviation, Hyderabad, among the two dozen aircraft on display, Piaggio Aero's P.180 Avanti II gets noticed for its unique design and styling. And the aircraft is just not all about its innovative design, but performance. Piaggio Aero is displaying the P180 Avanti II executive aircraft belonging to Taj Air. There are five aircraft in India and the company is expecting for firm up two orders by the end of the year. Globally, 186 aircraft are flying.
Alfredo Nocera, P.180 Avanti II's International Sales Director, Asia, said that it is a combination of design and technology that gives the P180 Avanti II an edge. It is the only business aircraft with the speed of a jet and the economics of a turboprop. The P.180 Avanti II combines elegant Made-in-Italy style, the quietness and comfort of a spacious cabin, and remarkable performance that is similar to (and in some cases exceeds) that of the most widely sold turbojet aircraft on the market. And all this comes with operating costs that are up to 40 per cent lower than jet aircraft of equivalent size.
The spacious cabin size, he points out, is larger than that of King Air; Citation CJ; Citation XLS; Phenom 100/300; Hawker400XP; and Learjet 40/45. It can seat up to 9 passengers and in different configurations. The aircraft can fly up to an altitude of 41,000 feet.
India, he adds, is an important market for the company and corporate have started seeing the value of the aircraft. The aircraft can fly up to UAE from Hyderabad or up to Bangkok, taking the passenger in utmost comfort. It is priced at $ 7.5 million. In India, Taj Air besides flying P.180 Avanti II is also the company's representative here.
The aircraft, is the fastest and most advanced executive/multi-utility turboprop in the world - with a superior 'short runway performance'. Equipped with Rockwell Collins Pro-Line 21 avionics, the P.180 Avanti II has an endurance of over 1,500 nautical miles at a speed of 402 knots and a maximum cruising altitude of 41,000 feet. With its state-of-the art avionics (fully digital, automatic flight control and the latest generation Rockwell Collins "Pro Line 21" avionics system), it provides the pilot with better situational awareness. The P.180 Avanti II is set apart from its competitors by its ability to achieve a high level of performance, with unrivalled fuel efficiency-that means low emissions and reduced operative costs.