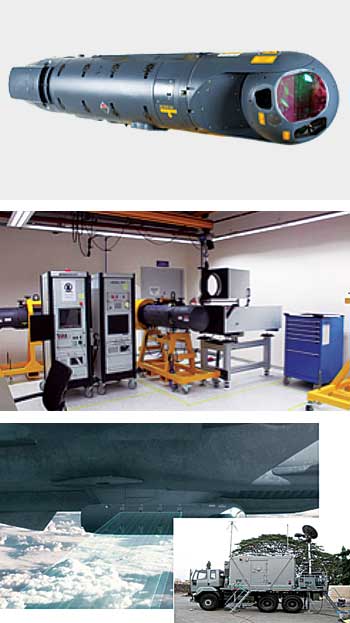 With its manufacturing facility at Hyderabad, Astra Rafael Comsys Pvt Ltd (ARC), a JV company formed between Astra Microwave Products Ltd (AMPL), India, and Rafael Advanced Defence Systems (Rafael), Israel has carved out a niche for itself in the high technology areas of Tactical Communication Systems, EW and SIGINT. ARC has added another feather to its capabilities' cap, pushing its envelope, by entering into the business of high-end platform based Electro-Optic (EO) systems which are slated for assembly in ARC's plant and further integrated with airborne platforms.
Advances in EO based targeting systems across the world have been spectacular in the past three decades. Advanced Optical Targeting Pods (OTPs) now are expected to contain standard features such as laser designators, infrared radars, and electro optics. The punitive raid carried out by the Indian Air Force (IAF) in 2019 on terrorist camps across the border further focused attention on Optical Targeting Pods (OTPs). The Mirage that carried out the raid were fitted with Litening precision targeting system. Litening targeting pod is an Israeli-designed precision argeting pod system currently operational with a wide variety of combat aircraft in the IAF such s Mirage-2000, Su-30 MKI, MiG-29 UPG and would also be ultimately integrated onto the LCA Tejas.
Optical targeting systems have come a long way from being just target designators. Latest systems have electro-optical sighting capability during day and IR sighting during night, providing the strike aircraft ability to operate round the clock. State of the art EO systems on offer includes, Litening, Litening + SAR, RecceLite, MicroLite and RecceLite + SAR.
Latest versions of Litening pods are Laser designators, combat-proven, multispectral airborne targeting and navigation pod, fully operational day and night and under adverse weather conditions that incorporate targeting features required by a modern strike fighter. Latest version of the Litening (shown above) is an upgrade that provides Air to Air IRST capabilities, much longer stand-off ranges, much better image resolutions and automated data analysis tools. The in service RecceLite is a wide area scanning system with data analysis features, providing real-time ISR. The latest version of RecceLite aerial ISR System in ARC's portfolio of the future, is an upgrade to this operational system providing high-resolution, real time systematically large area scanning from vertical to stand-off ranges for persistent wide area ISR. This POD can be integrated onto a variety of aircrafts.
Having announced its entry into EO systems, the ARC management is committed to investing in building indigenous capabilities not only in the assembly and testing of these systems but also towards long term maintenance and platform integration.
ARC is exhibiting in Hall 7, Stall No 56 & 57