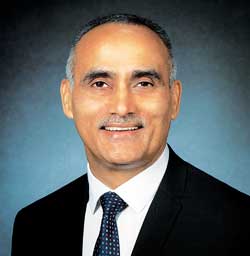 Today, the backbone of India's strategic and theater transport fleet, its heavy attack and heavy lift helicopter capability, its long-range maritime patrol and anti-submarine warfare aircraft capability – is all USorigin. What's more, major fighter aircraft offerings and services opportunities are being actively discussed that could help realise the value of both countries being major defence partners.
If we start with a quick look at the last five years, Boeing has accelerated growth in India with a razor-sharp focus on the key areas of:
Customer engagement – meeting the Indian Navy (IN) and Indian Air Force's (IAF) modernisation and mission-readiness needs
Services growth – localisation of our services, and the value Boeing Defence India, our local establishment in India, is able to provide through the lifecycle of platforms offered
Supplier expansion – building an indigenous and robust supplier-partner network with a focus on Atmanirbhar Bharat
We are committed to supporting the modernisation and mission-readiness of India's defence forces through strategic investments in manufacturing, skill development and engineering. Today, India operates 11 C-17s, 22 AH-64 Apaches (with six more on order), 15 CH-47 Chinooks, 12 P-8Is, 3 VVIP aircraft (737 airframe) and two Head of State aircraft (777 airframe), all Boeing platforms. With more than 300 suppliers in India, we continue to explore areas for supporting the vision of Atmanirbhar Bharat and adding more value to India's aerospace and defence ecosystem.
We are seeing growth in our services business and, with it, growth in the value Boeing creates through product lifecycle support and training. From performance-based logistics contracting and integrated fleet support to maintenance, modifications and repairs, Boeing provides a broad spectrum of innovative products and services across platforms which directly support and enhance capabilities while reducing total cost of ownership for our customers globally. Boeing's investments in services infrastructure, building local capabilities, workforce training and partnerships in India are aimed at ensuring the Indian armed forces successfully complete their missions, operate their assets at peak condition and do so affordably.
In 2021, we launched the Boeing India Repair Development and Sustainment (BIRDS) Hub. BIRDS is an initiative to bring together ecosystem partners to shape India as a strategic destination for aerospace engineering, maintenance, repair and sustainment services. This is a one-of-its-kind initiative that seeks to provide customers with best-in-class solutions, efficient turnaround times, and optimal economical value, all available in-country. Under this programme, we have by now signed strategic partnerships with leading indigenous players like Horizon Aerospace, Air Works, and AI Engineering Services Limited (AIESL). An important aspect of the hub is training programmes to increase skilled manpower by developing sub-tier suppliers and medium, small and micro enterprises (MSMEs) to build high quality MRO capabilities in India. Our programmes have skilled more than 3,700 frontline aerospace manufacturing workers and aircraft maintenance engineers.
Partnership is Boeing's key to success and we believe it makes more sense to partner with local MROs that are already established and have great capabilities.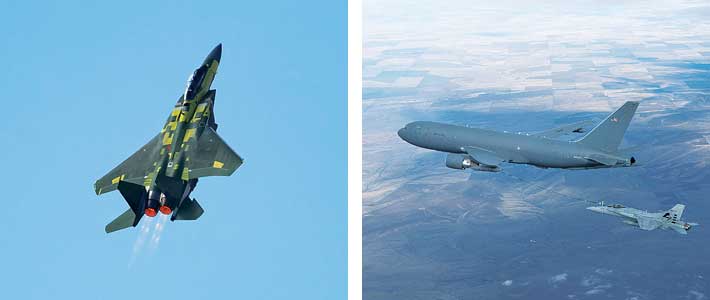 (Left) F-15EX First Flight; (right) KC-46 Refuels F/A-18
A 60,000 sq. ft. Training Support and Data Handling Centre has been set up at INS Rajali, Arakkonam (the base for P-8I fleet), with a secondary centre at Naval Institute of Aeronautical Technology (NIAT), Kochi. Both centres were recently handed over to the Indian Navy and are operational now. The indigenous, groundbased training will allow the Indian Navy crew to increase mission proficiency in a shorter time while reducing the on-aircraft training time resulting in increased aircraft availability for mission tasking.
We bring specific trainings to their employees as required per the scope of work. One such example is Air Works in Hosur who we work with for the heavy checks on the P-8I fleet and they recently handed over three P-8I aircraft post phase 32 checks, taking the total tally to six. Likewise, we are constantly on the lookout to do more here like we recently expanded to wheels and brakes with Horizon Aerospace and have recently certified AIESL for P-8I landing gear, slats and powerplant overhaul.
Our focus is also to help build a strong indigenous Indian aerospace and defence ecosystem, and invest in partnerships and talent to contribute to the vision of Atmanirbhar Bharat. This will shape the next five years for us. Boeing's sourcing from India has steadily grown over the years and is today worth $1.1 billion annually from over 300 supplier partners. Our Indian suppliers manufacture critical systems and components that go into some of Boeing's most advanced aircraft. In 2021 alone, we added new suppliers including several Micro, Small and Medium Enterprises (MSMEs), as part of our commitment to Atmanirbhar Bharat. Last month our joint venture, Tata Boeing Aerospace Limited (TBAL) in Hyderabad, delivered the 173rd fuselage for the Apache attack helicopter.
A FUTURE BLUEPRINT FOR PARTNERSHIP
The future looks promising and we continue to see several opportunities in India. India's defence sector is poised for growth and Boeing is committed to supporting and enabling this progress.
We're engaging with our defence customers in India on their current and future requirements for national security and regularly engage in discussions over the value our portfolio can deliver to develop capabilities they require for the execution of their missions. In the near-term, those capabilities include the F/A-18 Super Hornet and additional P-8Is for the Indian Navy, the F-15EX and KC-46 (the aerial refueler) for the Indian Air Force, additional training, sustainment and performance-based logistics solutions to both the Navy and the Air Force.
We are contributing to the growth of India's aerospace industry; that is why we are investing in partnerships across the ecosystem in skilling, research & development, and manufacturing. India is front and center of significant opportunities for Boeing and the country's role in our global supply chain is big and getting bigger. Our commitment to India is deep and it's for the long term; our vision is to bring the best of Boeing to India and export the best of India to the world!