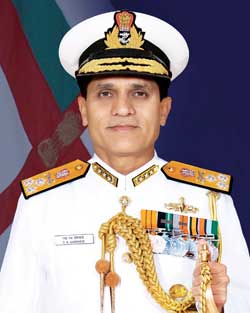 Jayant Baranwal: Indian Ocean Region (IOR) and South China Sea (SCS)

Normal perception is that our Navy is strong enough to dominate in the waters of IOR. Would you like to share your views on the same?
Ghormade: Indian Navy (IN) is fully prepared to safeguard the maritime interests of the nation. The country's maritime interests encompass maintenance of the territorial integrity of India against seaward challenges, as well as, protection of our maritime trade and the merchantmen that embody it. Our coastline today faces significant security challenges from malevolent non-state and state-sponsored anti-national elements. To safeguard the maritime interests of the nation, the IN performs four types of roles namely military, diplomatic, constabulary and benign. For these roles, we have adequate capability and are also continuously evolving to meet any new challenges.
(b) Do we possess similar strength when it comes to SCS? Kindly advise?
Ghormade: IN is continuously evolving to meet the emerging security threats and challenges to our maritime interests. With well laid out longterm planning, the Navy has been able to keep pace with the developing security situation in the region. We are confident that we will be able to deter and if required, defeat any force well before it can be in a position to threaten our shores. We are constantly fine-tuning our concept of operations and acquisition plans to cater for developing threats in our areas of interest.
Jayant Baranwal: The requirements projected by you would require to be adequately funded by the Government. What is the annual increase in capital funding that you are looking at to meet the requirements of the Naval force levels projected by the Indian Navy?
Ghormade: The allocation of Budget to the Navy has been adequate to meet the requirements/capacity building initiatives. Any shortfalls have been made good with additional allocations at RE/MA stages. Further, a conservative 10 per cent Year on Year growth w.r.t. BE 2022-23, under Capital Budget, would result in adequate fiscal space for Indian Navy to progress envisaged Modernisation plans.
Jayant Baranwal: To conclude this interview and this interesting interaction, we would like to ask you what all are the plans of Indian Navy towards the larger objective of indigenisation being pushed by Government of India?
Ghormade: Indian Navy has always been at the forefront of promoting the 'Make in India' initiative of the Government, with close to 63 per cent of contracts, by value, being concluded with/accorded to Indian vendors, in the last three years. In order to reduce arms dependency and promote indigenous manufacturing of defence equipment, a comprehensively revamped 'Make and Innovation' procedure has been introduced in DAP-20 to facilitate indigenous design and development of defence equipment by private participation, both with government funding and Industry funding.

(Top) Vertical Launch Short Range Surface to Air Missile; (Above) Heavy Weight Torpedo Varunastra
As on date, out of 45 ships/submarines under construction, 43 are being built in India. Also, AoN exists for 49 ships and 6 submarines, all to be constructed indigenously which would strengthen our ecosystem. Further, in keeping with the Atmanirbhar Bharat initiative of GoI, and achieving self-reliance in all defence related projects, all new IN ships being constructed in India are being fitted with indigenous weapons and sensors. Further, all foreign origin weapons, sensors and propulsion systems of older platforms are being progressively replaced with indigenous systems during the mid-life upgradation refits. The spares of all foreign origin equipment are also being progressively indigenised.
Indian Navy is also part of major flagship schemes of Government of India, viz, 'Make in India', 'Technology Development Fund (TDF)' and 'Innovation for Defence Excellence (iDEX)'. Among the major Government initiatives, following have been progressed by the Indian Navy till date:
Naval Innovation and Indigenisation Organisation (NIIO) was launched by the Defence Minister in August 20 for active interaction with Industry and Academia. Recently, on July 18, 2022, the Prime Minister unveiled the 75 'SPRINT challenges' during the NIIO seminar 'Swavlamban'. The SPRINT (Supporting Pole-Vaulting in R&D through iDEX, NIIO and TDAC) challenges is aimed at giving a boost to the usage of indigenous technology in the Indian Navy.
Over 1,100 proposals were received from the startups, MSMEs and individual innovators. Of these, more than 160 proposals have already been selected which involves over a 100 start-ups and innovators. The process is ongoing and some more proposals will be shortlisted over the coming weeks. We are planning to conclude contracts for these in shortest possible time and are definitely SPRINTING.
Centre for Indigenisation and Selfreliance (CISR) cell was formed at INS Agrani, Coimbatore w.e.f. April 1, 2022 to provide necessary impetus on self-reliance from 'Conceptualisation to Induction'. Impetus has been provided towards indigenous manufacture of major weapons and sensors.
Further, the first indigenously developed VL-SRSAM (DRDO/L&T and BDL) was fired by INS Rana on June 24, 2022. It may be noted that the first indigenously developed Heavy Weight Torpedo Varunastra is already in service.
We are also closely associated with the National Industrial Corridor Development Corporation (NICDC) under NITI Aayog, to synergise our efforts in tandem with the national vision, thereby taking advantage of the planned industrial corridors.
As part of our long-term indigenisation plan, a document called the 'SWAVLAMBAN' was released by the Defence Minister in August 2020 and has been uploaded on the Navy's website for the industry. A core group has been formed to progress the indigenisation as per the plan & formulate a long-term sustenance plan.
As a short-term plan, Navy maintains a list of more than 500 items on the 'srijandefence' portal (www.srijandefence.com) which are envisaged to be indigenised within the next three years. We receive overwhelming response from the industry based on this database, and have completed indigenisation of more than 100 items in the last 18 months.
We also conduct periodic 'Industry Yatras', wherein we reach out to the Industry Bodies and local industries at the State/District levels. This is done with an aim to actively assess their capabilities and identify mutual areas of co-operation.
As a focused approach, we have developed detailed 'Indigenisation Roadmaps' for the equipment/systems onboard our foreign acquisition platforms i.e. our Aircraft Carrier Vikramaditya, Talwar Class ships, P-75 submarines and Tankers, so as to take on import substitution and complete our self-reliance vision.
The Indian Navy signed a MoU for knowledge partnership with Academia and Industry Partners (SIDM & Bharat Shakti) in March this year and the MoU is already showing results as can be judged from the overwhelming responses received from various Indian Navy Student Technical Education Programme (INSTEP) knowledge partners and other technical colleges across the nation during SPRINT challenges.
You can clearly see that Indian Navy has a clear vision – enabling policies - supporting structures – and a proud track record towards achieving selfreliance in Defence. We can achieve this with a collective and collaborative whole of nation effort. That is where enduring partnerships with industry and innovators come in.
For full interview, please refer to SP's Naval Forces Issue 5/2022; www.spsnavalforces.com