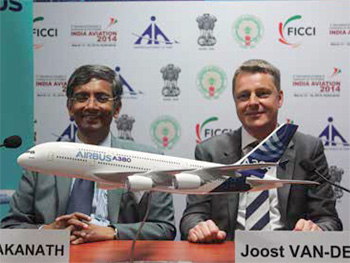 Airbus today forecast that Indian carriers will require 1,290 new passenger aircraft valued at $190 billion between now and 2032 to satisfy surging annual demand. Indian annual passenger traffic growth rates of 8.6 per cent are well above the regional Asia Pacific average growth rate of 6.1 per cent and the world average of 4.7 per cent.
Of this requirement of planes, some 73 per cent will be for growth and 27 per cent for replacement. The new passenger aircraft include 913 single aisles like the A320 and A320neo Family, 322 twin aisles like the A350 XWB and A330, and 56 very large aircraft such as the A380. By 2032, today's fleet of 343 aircraft will more than triple to some 1,233 aircraft.
By 2032, Airbus forecasts that 36 per cent of India's fleet will be widebodies, more than doubling today's level. This is a result of increased capacity of international as well domestic routes with larger aircraft like the A330 and A350s.
In passenger traffic terms, domestic India is the fastest growing flow increasing at almost 10 per cent per year to 2032 by which time the domestic traffic will be the world's third largest domestic market. In addition, five of the world's top 20 fastest growing flows, connect India. Today, one in 20 Indians travel by air and in 2032 this will increase five-fold to a quarter of the population taking at least one flight. Along with China, more people will experience the benefits of aviation for the first time in India than anywhere else.
"By 2032, the number of Indian cities with more than a million passengers every month will have grown to 13 from today's two. This exponential growth will continue to drive the need for larger aircraft like the A3809 to operate in the country," said Dr Kiran Rao, Airbus, Executive Vice President, Strategy and Marketing. "As the people of India fly more and the number of first time flyers increases, demand for the latest generations of aircraft will also increase making India one of the largest and the most dynamic markets in the world."
According to Joost van der Heijden, Head of Marketing, Asia, there were 170 Airbus aircraft in operation in India and it was growing considerably, driven by healthy economic growth and a burgeoning middle class.
Srinivasan Dwarakanth, CEO of Airbus India, said Airbus India Operations had been created as to be a 'one-stop-shop' for the growing customer base in India. It was based on six pillars - engineering; training; aerostructure design and build; engineering and information services; research and technology; and other Airbus initiatives.
The turnover of works in 2013 in India was about $300 million across the supply chain and this would grow. The A320 Family of planes is now partly 'Made in India'.