4,800-5,500 new civilian helicopter deliveries expected during 2014-18
Latin American purchase plans remain strongest in the world
Increased interest in medium twin-engine helicopters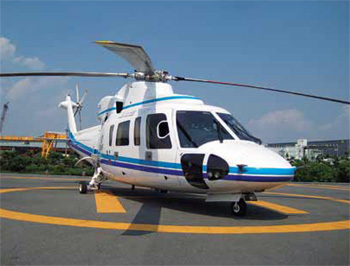 Sikorsky S-76
In its 16th annual Turbine-Powered Civil Helicopter Purchase Outlook, Honeywell Aerospace expects that 4,800-5,500 civilian-use helicopters will be delivered during 2014-18. Overall demand remains steady versus the 2013 five-year forecast, with large fleet operator requirements offsetting a moderate softening in new helicopter purchase plans reported in the 2014 Honeywell survey. Latin America continues to lead all regions in new purchase rates, with up to 32 per cent of respondent fleets slated for turnover with a new helicopter replacement or addition.
The forecast of civil turbine-powered helicopter purchases has the fiveyear share of demand from the US and Canada at 26 per cent, which combined with Latin America represents 50 per cent of the total global demand. Europe's share closely follows with 23 per cent, with the Asia-Oceania region accounting for 19 per cent, and Africa and the Middle East ranking under 8 per cent.
"Global demand looks steady on the heels of strong 2013 performance," said Tom Hart, Vice President, Defence and Space sales, Honeywell Aerospace. "Utility helicopter purchase interest is trending upward. Helicopter replacement cycles and increased operating hours in the law enforcement and oil & gas industries helps sustain demand in those sectors. Several new platforms are scheduled to enter service in the next few years and this also is expected to bolster overall demand."
Operators who intend to purchase a helicopter within the next five years noted that the age of their current aircraft, contracted replacement cycle and warranty expiration were key drivers for their decision. For those surveyed, the make and model choice for their new aircraft is strongly influenced by range, cabin size, reliability and safety, hot/high performance, and brand experience.
REGION-SPECIFIC RESULTS
Moderately lower survey purchase plans were recorded in all regions this year; however large fleet or "mega" operator requirements not captured in the survey offset the softer results returned by survey respondents. As a result, total projected demand remains stable at relatively strong levels in the near term.
A significant part of the European pullback stems from a large drop in Russian buying plans compared with a year ago. The sample of Russian operators responding grew in 2013, but remains small and adds some volatility to the overall European results.
Latin America continues to have the highest fleet replacement and growth expectations among the regions. In terms of projected regional demand for new helicopters, Latin America now rivals Europe to claim the world's second-largest regional market, behind North America.
"With demand for new helicopters remaining steady, and aircraft lasting longer through replacement cycles, Honeywell is ready to support both new installations and fleet upgrades worldwide," Hart said. "Our propulsion, safety, navigation, communications and flight services can help aircraft stay efficient, powerful, reliable and safe throughout their entire time in the air." Demand in high-growth regions remains fluid with strong results recorded for China in the 2014 survey, while Brazilian purchase plans remained fairly stable and Indian respondents reported more conservative purchase plan levels for new helicopters this year.
OPERATOR PREFERENCES BY CLASS OF HELICOPTER
Light single-engine helicopters continue to be the most popular product class, with the Airbus EC130/AS350 series, Bell 407 and Robinson R66 the most frequently mentioned models.
Intermediate/medium twin-engine helicopters are the second most popular product class, with approximately 33 per cent of total survey participants planning to buy a new model of this type. The most frequently mentioned models were the AW139, AW169, Bell 412, EC145 and Sikorsky S-76 series helicopters.
The light twin helicopter class earned 26 per cent of total operator purchase plans in the 2014 survey, with the EC135, Bell 429 and AW109 series helicopters noted the most frequently.
Heavy multi-engine helicopters, such as the EC225, Mi-8/17 and S-92, registered a small decline in purchase plans in the 2013 survey; however, demand from large oil and gas fleet operators not included in the survey continues to support overall volume in the heavy class.
SATISFACTION WITH AIRCRAFT
Again in this year's survey, Honeywell asked all respondents to indicate their current satisfaction over the last year with each model of aircraft they operate. For models that received more than 25 responses, the make/models with the highest net scores are the AW139, Bell 407, Bell 412, EC120, EC130/EC350 series and Sikorsky S-76.
These top platforms account for nearly 50 per cent of all survey make/ model mentions and can be considered the top current production helicopters in terms of recent customer satisfaction attitudes and likelihood to promote. Many other make/models currently in production also received excellent scores that did not make it into the top six listing.
HELICOPTER USE EXPECTED TO INCREASE
Helicopter fleet utilisation is expected to increase this year. Planned increases by region include:
North America: 20 per cent of operators plan increases, and only 7 per cent plan decreases.
Europe: 22 per cent of operators plan increases, and 6 per cent plan decreases.
Latin America: 36 per cent of operators plan increases, and only 4 per cent plan decreases.
Middle East and Africa: 23 per cent of operators plan increases, and only 11 per cent plan decreases.
Asia: 29 per cent of operators plan increases, and 6 per cent plan decreases.
When examining usage trends across segments, oil and gas was the highest at an annual average of approximately 720 hours per aircraft, followed by law enforcement at over 400 hours per year. Tourism, emergency medical services and general utility were closely grouped at approximately 375-400 hours per year. The lowest average use was reported by corporate segment operators at just over 300 hours per helicopter per year.