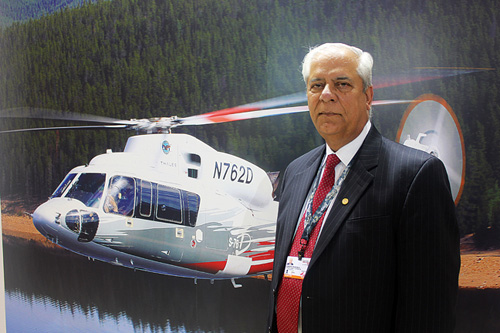 Having delivered 75 cabins of S92 from its Hyderabad-based joint venture Tata , Sikorsky considers India of strategic importance to drive its helicopter sales, if not now, but in the near future when the helicopter industry opens up, said Arvind Walia, Executive Vice President, Sikorsky India.
Speaking to SP's ShowNews at India Aviation, Mr. Walia said the growth of the helicopter market in India is subject to the policies and incentives that the government would offer. Presently, the policies constrained the growth of the sector while the potential is enormous. The cabin developed in India was totally indigenous and the capacity was four a month and Sikorsky had a backlog of orders for three years as the demand for the machines is high, he said and added that a full helicopter production in India would totally depend on the 'big orders'.
In the VVIP category, Sikorsky had five operational helicopters (S76 C++) in India and there were sectors such as mining, offshore, energy, tourism, charter which could drive the helicopter business. The products were highly reliable as Sikorsky laid emphasis on safety and performance. He said the company was pursuing defence contracts, along with civilian product lines and also looking at opportunities in research and development as there is considerable scientific talent over here.