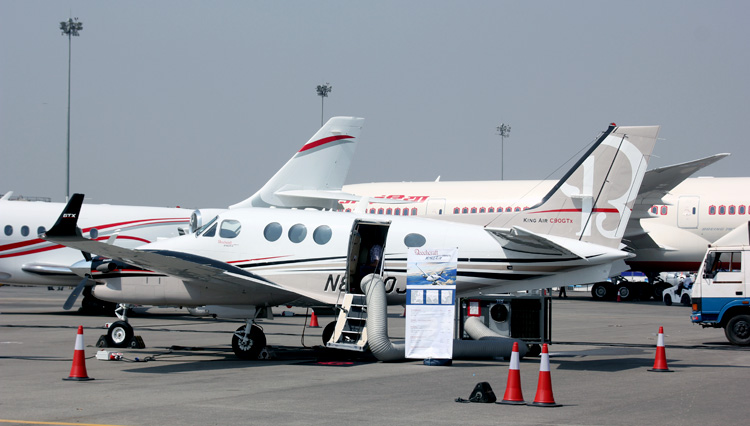 The Telangana agitation almost grounded the fourth edition of India Aviation which thankfully gets underway at the Begumpet airport from today. Then there is the other dampener for the event - the upcoming general election. The exhibitor numbers are down substantially. The third factor impacting the event has been the economic climate, specifically affecting aviation - most airlines and operators are going through severe turbulence.
Almost all airlines are adversely affected by debt and the overall debt of Indian airlines is estimated at $14.5 billion as per consulting firm Centre for Asia-Pacific Aviation (CAPA). This is humongous.
ALL IS NOT WELL
It is just not possible to brush this under the carpet and say all is well with the Indian aviation. It is not.
The fact that none of the scheduled airlines is exhibiting is testimony to the state they are in. Kingfisher Airlines, which sponsored the first two editions, has wound up, a result of mismanagement and government policies which, to say the least, is not at all encouraging. Aviation turbine fuel (ATF) is prohibitive in India and it is weighing down all of them, accounting for nearly 45 per cent of the operational cost, compared to the global average of 30 per cent. "The high cost of ATF is destroying the competitiveness of Indian airlines," said Tony Tyler, CEO of the International Air Transport Association (IATA). Domestic ATF taxes are as high as 30 per cent, on top of an 8.2 per cent excise duty.
There are other issues that are also weighing down the civil aviation sector such as regulatory; inadequate airport infrastructure or high cost of operations at some of the major metro airports; access to overseas funds; low priority to air cargo, maintenance, repair and overhaul (MRO), ground handling; talent availability, etc.
OPTIMISM PREVAILS
Despite the trials and tribulations of the civil aviation sector, there is a certain sense of optimism that the course will change for the better. Passenger and cargo growth are promising, as it is going to piggyback on a nation which is emerging as an economic powerhouse, although economic growth is sluggish. From 4.9 per cent GDP, the levels are expected to grow past 5 per cent and hopefully it should reach its earlier levels of over 8 per cent.
NUMBERS GAME
The script of the Indian aviation story is going to change soon. As per the Directorate General of Civil Aviation (DGCA) passenger growth figures are driving the civil aviation business. From April to December 2013, about 126 million passengers flew on Indian and other carriers. The projections are that airlines would carry nearly 180 million passengers by 2020, particularly with the growth of regional aviation. The International Air Transport Association (IATA) has forecast that India's domestic air travel market would be among the top five globally, experiencing the second highest growth rate. Considering this, the airlines are restructuring themselves, either going for overseas equity or getting funds from the government (Air India) and there are new ventures coming up such as the Tata-Singapore Airlines and the Tata-AirAsia. And with a new regional aviation policy in place, India is going to witness the proliferation of regional airlines and the first one to get off the block has been Air Costa from Vijayawada.
AIRCRAFT REQUIRED
Boeing, Airbus, Honeywell, CAPA and others have all forecast that there would be robust growth in passenger and cargo movement in the years to come. This would entail requirement of substantial aircraft inventory. Boeing has predicted that demand for commercial jets in India will increase more than 4.5 times of the world market by 2031. "India will need 1,450 new planes through 2031 worth a total of up to $175 billion," states Dinesh A. Keskar, Senior Vice President (Sales, Asia-Pacific and India), Boeing.
There would be more demand for narrow-body aircraft in the domestic segment as the low-cost carrier (LCC) market-share would continue to dominate through their route-enhancements of hitherto untapped or underserved regions. The LCC market in India has had phenomenal success and it has grown from just one per cent in 2004 to a whopping 70 per cent a decade later.
The growing aircraft inventory and expanding operations obviously calls for massive funding. For Air India, the government is making the necessary allocations (though it is coming in spurts), while financially strapped Jet Airways is being supported by Etihad Airways. So also SpiceJet and GoAir are looking at foreign equity. With the government liberalising policies (including relaxing international route requirements) these airlines expect better revenue yields.
IndiGo, which is doing well, had placed an order for 100 A320 aircraft in 2005. In addition IndiGo was the first Indian airline to order the 'NEO' with a contract for 150 A320neo and 30 A320s placed in 2011. "With high fuel prices and with a four per cent fuel burn reduction, IndiGo's investment in the Sharklet will pay handsome dividends, said John Leahy, Chief Operating Officer - Customers. "We are delighted with IndiGo's choice to grow their airline with Airbus."
IndiGo is an all Airbus operator and the largest low-cost airline in India today. It began operations in 2006 and has a fleet of 62 A320s today. So far IndiGo's cumulative order for Airbus aircraft is for 280 A320 Family aircraft including 130 A320neo. The deliveries are expected to begin from 2016 and continue till 2025. IndiGo currently has a fleet of 34 Airbus A320s. It flies to 24 destinations and has 221 daily flights.
Similarly, low-cost carrier, GoAir plans to acquire 72 new aircraft (Airbus A320neo) by 2020 for approximately $7.2 billion, taking the total strength of the fleet to 92. As per a CAPA report, SpiceJet has confirmed an order for 42 Boeing B737 MAX aircraft in order to secure slots for the period beyond 2016.
Air Costa announced at the recently concluded Singapore Airshow that it would pick up additional 50 Embraer E-Jets, with options of another 50 over the next five to 10 years. Ramesh Lingamaneni, Chairman of Air Costa, said: "Regional air services have enormous potential in India, especially the ones connecting Tier-I, II and III cities. Our initial experience with our current E-Jets has been very positive. Our passengers have complimented the aircraft on its comfort and point-to-point convenience. The E2s will give us right-sized seat capacity for us to cater to the future target markets and unit costs that are competitive with larger re-engined single aisle aircraft."
AIR CARGO SET TO GROW
The air cargo segment of aviation has been languishing and it is only now that there is a realisation that it is a critical enabler in economic development. The better the country's multi-modal transportation network, the better the trade would be. Efforts are now on to create adequate infrastructure - exclusive zones for air cargo; warehouses; cold storage units etc - and this would facilitate growth of air cargo. In 2013 (April to December), the total air-cargo volume handled by all Indian airports was 17,02,000 tonnes, compared to the top airport Hong Kong (39,76,768 tonnes) is ridiculously low. However, the Ministry of Civil Aviation is hoping that exports would touch $500 billion this year. In 2010-11 India crossed the $200 billion mark for the first time in its export history. The financial year 2011-12 registered a growth of 21 per cent in exports which reached $303.7 billion. Based on these encouraging numbers, the country has set an ambitious merchandise export target of $500 billion for 2013-14.
FOCUS ON AIRPORTS
In quick succession, India has had some major makeover of its airports - the Indira Gandhi International Airport in Delhi; Rajiv Gandhi International Airport in Hyderabad; Kempegowda International Airport in Bengaluru; and now the swankiest of them all the Chatrapathi Shivaji International Airport in Mumbai. While these airports showcase to the world that Indian airports have arrived, there are concerted efforts by the Airports Authority of India (AAI) to upgrade and modernise several airports in the country as to connect the regions. AAI has under its control 125 airports. In addition to these, there are six joint venture (JV) airports under the public-private partnership (PPP) framework and these are: Mumbai, Delhi, Hyderabad, Benguluru, Nagpur and Cochin airports. Along with private sector initiatives, India needs about $40 billion in airport projects by 2025, states CAPA.
MRO FOOTPRINT
Presently, MRO footprint in India is inadequate, but we expect radical changes in the segment as both the aircraft manufacturers and operators see cost-benefits in having major MRO operations within the country. The Boeing-Air India MRO project in Nagpur is expected to go operational this year. As of now most scheduled and non-scheduled operators take their aircraft either to Dubai or Singapore for major aircraft repairs. The reasons for this are twofold - no adequate MRO ecosystem and high taxation, however, it is hoped that the government will look into the demands of the industry, if the MRO segment has to reach $2.6 billion by 2020.
2014, the year of change
As elections due soon, there is a general awakening that a strong government should come at the centre with accelerated development on its agenda and in a transparent manner. There is emphasis on good governance. The industry, specifically aviation, is waiting with bated breath for infusion of policies which will help the sector to achieve its true potential.