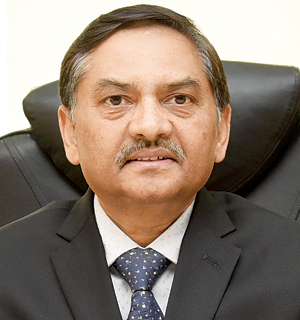 Vice Admiral Narayan Prasad (Retd),
Chairman & Managing Director,
Mazagon Dock Shipbuilders Limited
Mazagon Dock Shipbuilders Limited (MDL), is entering into as many as 24 MoUs with various national and international firms at DefExpo 2022, Gandhinagar. The MoUs are focusing on cooperation in the fields of indigenised development and manufacturing of equipment for ships and submarines and other platforms under 'Atmanirbhar Bharat'.
Few MoUs are also aiming at design and development of Drones, Autonomous Underwater Swarm Drones, EPC projects in the field of Infra, Railway, Oil & Gas, water treatment, energy and other innovative projects. They also have a target to commercialise the CO2 absorber, steering console, Fuel Cell etc which are presently used in defence industry only.
In addition, technical collaboration in designing processes as technology support partner, training personnel for skill upgradation, improving design quality and reducing the timelines for the completion of design activity, technology upgradation in production processes, AI based implementation of Digital Inspection process are some key areas which are catered under the above MoUs.
The MoUs would be signed with BHEL, Ray Enterprises, IMI Control Component India Pvt Ltd, Godrej & Boyce Mfg. Co Ltd, Mahindra Defence Systems, Sushma Electricals, Sagar Defence Engineering Pvt Ltd, Precitech Equipments India Pvt Ltd, Sunlux Technovations, Elcome Marine, Tata Advanced Systems Ltd, Robosys Automation & Robotics Pvt Ltd, Qmax Test Equipments Pvt Ltd, Trentar Pvt Ltd, Yeoman Marine & MATN's Stabiliser, Circor Flow Technologies (I) Pvt Ltd, Aveva Information Technology India Pvt Ltd, Siemens Industry Software India Pvt Ltd, VizExperts India Pvt Ltd, Altair India Pvt Ltd, Suryadipta Projects Pvt Ltd, Dassault Systems (India) Pvt Ltd and National Research and Development Centre.