Backed by strong design house and superior 'Quality' ships, Goa Shipyard Limited has emerged as the fastest growing shipyard of country, building high technology and sophisticated ships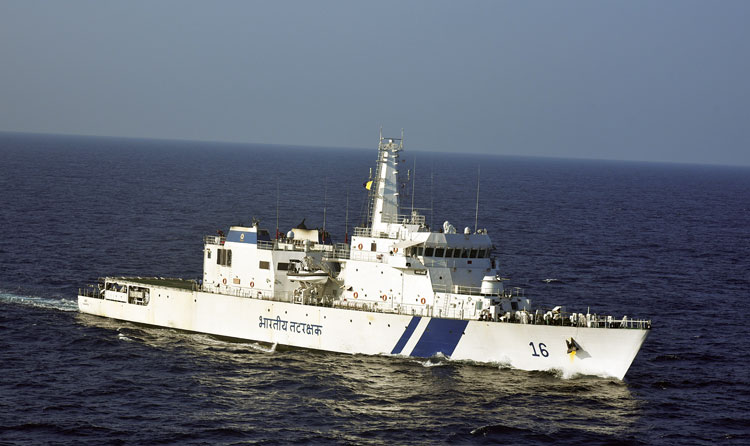 105 M Coast Guard Offshore Patrol Vessel ICGS Shaurya
Goa Shipyard Limited (GSL) has, in the last few years has established new benchmarks in the Indian Shipbuilding Industry by consistently delivering each and every Vessel ahead of contractual delivery schedule. With an unmatchable track record of timely execution and delivery at 'fixed cost' of over 200 Ships and more than 160 Fast Interceptor Boats, GSL stands tall as the success story of the changing face of Indian Defence Shipyards.
Equipped with an in-house design capability and most modern facilities, GSL has excelled in its core competence of design and building a wide range of Patrol Vessels, Missile Boats, Landing Crafts, Training Vessels, Survey Vessels, Sail Training Ships, Fast Patrol Vessels and Yardcrafts for the Defence Sector, besides other types of vessels in the commercial sector. GSL has capability to design and build ships to customer's requirements and its in-house R&D unit is recognised by DSIR, Ministry of Science & Technology, Government of India.
The Shipyard has exhibited unparalleled performance in Shipbuilding industry by delivering over 30 ships in last few years, all ahead of schedule, amounting to Gross tonnage of approximately 32,000 tonnes. These deliveries include 11 OPVs, 11 Fast Interceptor Boats, 04 x 1000 Ton fuel barges and 01 Damage Control Simulator. The throughput achieved validates the processes and productivity which has consistently increased year on year.
The Shipyard has excelled in design and construction of OPVs and it's a matter of pride that over 24 designed & built OPVs by GSL are currently in service with Indian Navy, Indian Coast Guard and Sri Lanka Navy. The recently completed Coast Guard Project for five Advanced Offshore Patrol Vessels (AOPV) is the most successful Project in Indian Shipbuilding industry with over 70 per cent indigenous content. The project was completed in five years from 2016-22 with all five Vessels delivered ahead of schedule and build period of 2,400 tonne AOPVs reduced to three years from 5.5 years, taken earlier for last OPVs built by GSL.
Another major proven and trustworthy platform designed and constructed by the Shipyard is the Fast Patrol Vessel (FPV). Driven by waterjets, these Vessels can achieve speeds in excess of 37 knots. Known for its excellent manoeuvrability, these ships have proved their mettle at high seas during hostile conditions. Seven of these Vessels have been delivered to Indian Coast Guard and two exported in 2015-16. GSL has also won contract for eight FPVs for Coast Guard wherein the design phase is in advanced stages and construction has also commenced.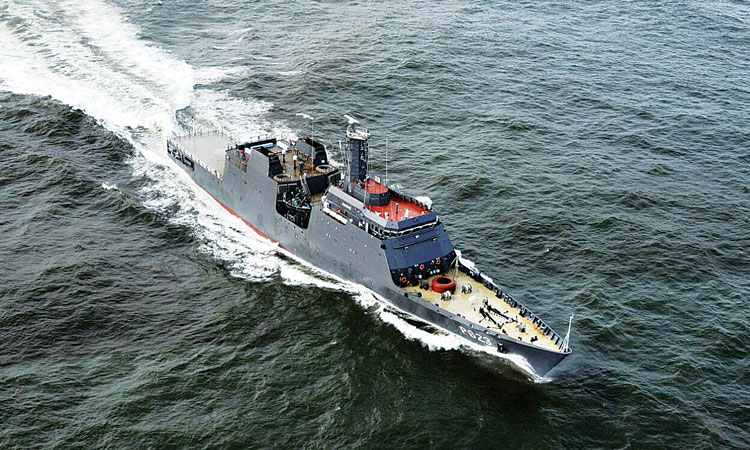 Sri Lanka Navy Ship Offshore Patrol Vessel Sayurala
With dependable and robust products and committed workforce, the Shipyard has been giving record breaking performance in exports year after year and emerged as the largest exporter of defence ships from Indian sub-continent. In the last three years alone, it has delivered two OPV, 11 FIBs and two FPVs, and a Damage Control Simulator to friendly foreign countries. These projects again were delivered ahead of schedule and superior build quality led to accolades at the highest levels. As of now, GSL is executing a prestigious project for a friendly foreign country which is presently in the design stage and will commence physical construction soon.
The last couple of years have been very challenging to the Shipyard owing to the cascading effects of the pandemic and very recently the changes in the geopolitical scenario with respect to the Russia-Ukraine conflict. However the period has also been very encouraging with the Yard transitioning itself to the domain of advanced weapon intensive platforms by commencing the execution of the prestigious contract for construction of two Advanced Missile Frigates for the Indian Navy under Design assistance from Russia. This project, which has completed the technical design stage and is in the advanced stages of detailed design with physical construction also commenced, will definitely catapult GSL into a select league of shipyards which can design and construct complex weapon intensive ships.
The other two major projects being executed are the two Pollution Control Vessels and eight Fast Patrol Vessels for the Indian Coast Guard, which are entering into full scale production stage soon. Both there platforms are designed in-house by GSL. The Shipyard also emerged as the least bidder for the seven New Generation Offshore Patrol Vessel Project for the Indian Navy. The contract for this project is expected to be inked in the near future.
It is also a matter of great pride that the two Frigates under construction will be installed with a considerable percentage of indigenous equipment fit, contributing to the Government of India's 'Make in India' and 'Atmanirbhar Bharat' vision. Critical engineering, hull and weapon systems will be of indigenous origin tapping into the growing capabilities of domestic public and private industry. Close to 8,000 items will be of indigenous origin and are presently under various stages of procurement from MSMEs.
In order to bring world class technology to India and manufacture equipment/systems in India with significant indigenous content, GSL has laid considerable thrust on collaboration with leading Indian OEMs and Startups and has entered into MoUs with various Industry and Academic Institutions such as BEL, L&T and IIT Goa to further boost indigenisation and reduce dependence on import. GSL is also participating in the iDEX programme and is associated with Startups for development of niche technologies in the Marine and Shipbuilding Domain.
While GSL is aggressively pursuing the 'Make in India' initiative by introducing more and more import substitute products, it is conscious of the fact that MSMEs form a critical fulcrum behind this initiative. Therefore, it is putting in all out efforts in increasing their vendor base. GSL has a robust Vendor Development programme in place which looks into Regular conduct of vendor meets, active participation in vendor meet at Regional as well as National level, facilitating yard visit for vendors for interaction with stakeholders at GSL and understand their requirement, imparting training on TReDS to MSEs, rebate in Class approval fee for MSEs owned by SC/ST entrepreneurs from Indian Register of Shipping and Handholding local suppliers. GSL has also actively worked towards on boarding majority of its vendors on the India Defence Mart (IDM) which is again another great initiative by the Government.
Constantly building and consolidating its experience gained over half a century and reputation for excellence and consistent track record of timely deliveries, GSL today, confidently looks ahead to successfully meet the challenges of the future requirement of our forces indigenously.