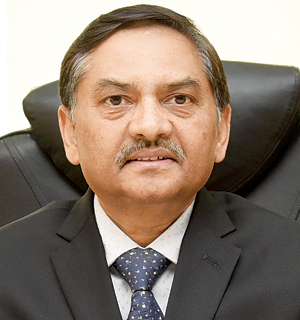 V. Adm. Narayan Prasad (Retd)
SP's ShowNews (SP's): What are your plans to implement Prime Minister Narendra Modi's vision of Atmanirbhar Bharat?
Narayan Prasad (Prasad): MDL has launched a separate "Atmanirbhar Bharat" Webpage in the company's website. The process of indigenisation, various items/equipment indigenised, items required to be indigenised (EoIs) are displayed under the webpage. Success stories of indigenisation are published on MDL website as a compendium of items indigenised.
MDL has proactively pursued indigenous development for items/equipment of foreign OEMs. Collaborations are being progressed with a range of private players for indigenised development of Equipment/spares for the Submarine Projects. Efforts are also being made to take up Indigenisation of equipment for future projects under 'Atmanirbhar Bharat' and 'Make in India' programmes. MDL has also participated in iDEX (Innovations for Defence Excellence) for self-reliance in defence sector.
A separate indigenisation cell has also been constituted to give thrust to indigenisation of equipment/item at company level, apart from efforts made at MoD/IN level.
SP's: What are the current warships you are building & what is their indigenisation content?
Prasad: The current surface ship order broadly comprises of the construction of 4 Nos. Visakhapatnam Class (Project 15B) Guided Missile Destroyers, out of these four, one has already been delivered and 4 Nos. Nilgiri Class (Project 17A) Stealth Frigates.
The under-construction warships under project 15B and 17A will have an indigenous content between 70 to 75 per cent.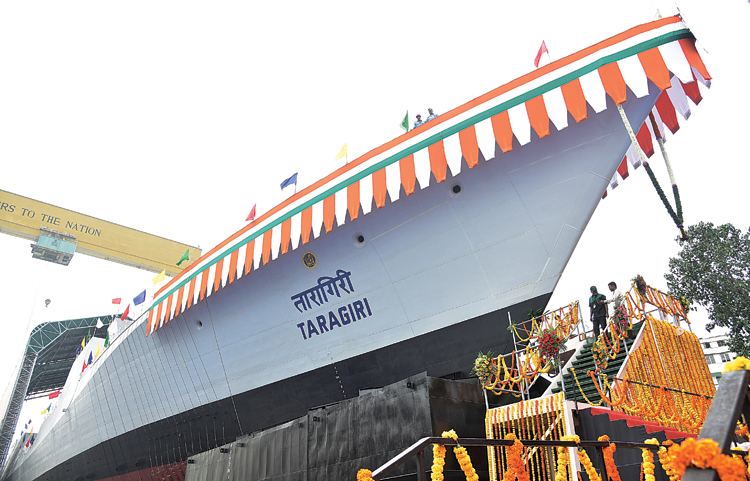 TARAGIRI LAUNCH
The licensed construction of six Scorpene class Submarines (Project-75) in collaboration with Naval Group, France is in progress at MDL. MDL has delivered four out of six Scorpene Class Submarines of Project 75 to the Indian Navy. The Fifth Submarine is being slated for delivery shortly and the sixth and final Submarine is in the advance stage of trials and outfitting. To-date, MDL Submarines of P75 Project have indigenous content of approximately 32 per cent by value.
SP's: What is the progress on Project 75 to build Scorpene Submarines & what all technologies your company has been able to absorb to be able to implement them independently?
Prasad: Under the Scorpene project, the Collaborator has provided 'Know-How' under ToT for building the submarines. ToT includes provision of Technical Data Package, Software & Hardware, Shipyard Training & Advising and Overseeing of Construction of first two Boats. MDL has fully absorbed the transfer of technology to construct the Scorpene submarines independently without any active support from the collaborator Naval Group, France. MDL has successfully built 3rd and 4th Submarines without such support from Naval Group.
SP's: The RFP for Project 75(I) was issued to your company & Larsen & Toubro (L&T) to build six AIP fitted Conventional Submarines under the Strategic Partnership Model. What is the progress on it?
Prasad: RFP for P75(I) was issued on July 20, 2021 to shortlisted strategic partners. MDL being one of the shortlisted strategic partner, is in the process of selecting of one FC (Foreign Collaborator) from the five shortlisted FCs viz. Naval Group - France, Navantia - Spain, ROE - Russia, ThyssenKrupp Marine Systems - Germany and DSME - South Korea by IHQ/MoD(N).
SP's: Apart from the Navy are you taking up any projects for Indian Coast Guard?
Prasad: Besides warships for the Indian Navy, MDL has also constructed a series of offshore patrol vessels for the Indian Coast Guard ("ICG") in the past. Seven Coast Guard ships, which today form the mainstay of the ICG fleet, were built and delivered to the ICG between 1983 and 1990.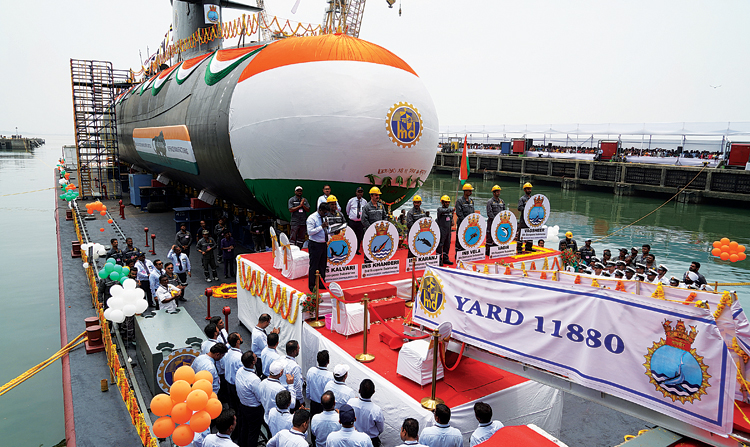 VAGSHEER LAUNCH
Recently, MDL has also undertaken repairs of three ICG vessels, namely INS Achook, INS Shaurya and INS Savitribai Phule.
MDL has submitted bids to Indian Navy & Indian Cost Guard for various Naval platforms worth 24,000 crore including 8 Fast Patrol Vessels (FPV) for Indian Coast Guard.
SP's: It has been reported that you have taken up Construction of Border Out posts for the BSF which are floating police stations. Would you like to give some details?
Prasad: MDL has undertaken construction of Border Outposts (BoPs). Each of these BoPs, also called as floating police stations, are equipped with four high speed boats. MDL has built and delivered nine such vessels to Border Security Force from year 2003 to 2004.