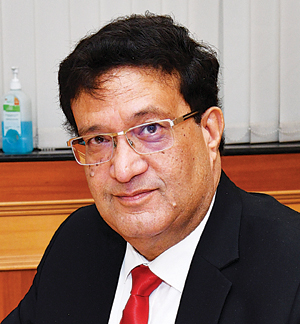 Dinesh Kumar Batra
SP's ShowNews (SP's): BEL has been recognised by Economic Times as the ET Iconic Brand of India (2022). How do you see this award?
Dinesh Kumar Batra (Batra): I see this prestigious award as recognition of the iconic status that Brand BEL enjoys as the country's premier professional electronics company. BEL is India's pioneer in Defence electronics. Today, there's not an area in Defence which is untouched by BEL — Radars, Missile Systems, Military Communications, Naval Systems, Electronic Warfare & Avionics, C4I Systems, Electro Optics, Tank Electronics & Gun/Weapon System Upgrades, Electronic Fuzes, you name it, the company has made some of the most iconic products in all these areas. It is also recognition for the complete trust that customers have reposed in BEL. And like all good brands, BEL has been constantly evolving over the last seven decades and has been diversifying into allied areas of nondefence to keep pace with the changing times.
SP's: Can you please tell us about your performance for FY 2021-22.
Batra: FY 2021-22 saw an impressive performance by BEL with the company registering a record turnover of 15,044 crore, and turnover and profit witnessing a strong Y-o-Y growth of 9 per cent and 14 per cent, respectively. This, despite challenges posed by the pandemic, global chip shortage and stiff competition. This has instilled confidence among stakeholders, resulting in the highest PE ratio of 29 of BEL's share price among all manufacturing PSUs. The Company recorded an Export turnover of $33.30 million and become the first Defence PSU to cross the landmark market capitalisation figure of 80,000 crores and declaring the highest ever dividend of 450 per cent. On my part, I have steered the Board, Administrative Ministry and Shareholders' approval to increase the authorised capital threefold to 750 crore and issue of bonus shares in the ratio 2:1.
Low Level Light Weight Radar-Aslesha
SP's: What were the key contributors to such a stellar performance?
Batra: The growth in turnover during FY22 was mainly on account of timely execution of the existing order book as well as new products introduced in the current FY. The major orders executed during FY22 were Long Range Surface-to-Air Missile (LRSAM), Air Defence Weapon System, Integrated Air Command and Control System, AFNET, Coastal Surveillance System Phase II, Integrated Perimeter Security Solution, Smart City projects, Oxygen Concentrators and Ventilators. New products introduced include Laser Fence System, IR Jammer for Active Tank Protection System, Solid State Power Controller Cards for Akash NG/QRSAM, S-Band 150 W Power Amplifier, GNSS Receiver and IP EPABX System. As far as profitability growth in the current year is concerned, increase in turnover as compared to the previous year was to the tune of more than 1,200 crore, which has brought in economies of scale and corresponding increase in profit.
SP's: What is your turnover projection for FY 2022-23. How is the order inflow this year?
Batra: We are midway into meeting our targets for this financial year and I am confident that we will achieve around 15 per cent growth in our turnover and increase in EBIDTA (as a per cent of turnover) from the present 22 per cent to 23 per cent by the end of March 2023. BEL's order book as on April 1, 2022, stood at 57,000 crore. This year, we are expecting around 15,000-20,000 crores worth orders.
SP's: What are your top strategic priorities?
Batra: BEL's investment in R&D during the current FY has been to the tune of over 1,000 crores (7 per cent of its turnover). We have also been investing every year more than 500 crores in Capital. Going forward, we would like to maintain the same level of investment in both R&D and Capital, which will help us develop new products, indigenise, bring about design change and achieve cost reduction. This will aid in creating new avenues of growth, reduce costs and increase our profitability.
SP's: What is the growth potential from export markets? How are you planning to expand your presence abroad?
Batra: We are seeing a very good opportunity in Exports. Our present export order book is more than $265 million. During the current FY, as part of its Offset commitments, under the prestigious C295 aircraft programme, Airbus Defence and Space has signed a contract with BEL for the manufacture and supply of Radar Warning Receiver and Missile Approach Warning System. To enhance its geostrategic reach, BEL has strategically opened overseas marketing offices in the Indian Ocean Region, South East Asia, Middle East Region and USA. BEL has six overseas marketing offices in Vietnam, Myanmar, Sri Lanka, Oman, Singapore and New York, and is planning to further expand its global footprints.
SP's: Tell us about your initiatives to diversify into the civilian business.
Batra: Defence, being the mainstay of BEL, has traditionally been contributing to around 80 per cent on an average of the Company's annual sales revenue. BEL, however, has been continuously exploring diversification into allied Defence and non-defence areas. The total opportunity available in the non-defence business segment, being pursued by BEL in the next 8-10 years, is more than 2 Lakh crores. The Company aims to increase its non-defence share in the overall business in the coming years.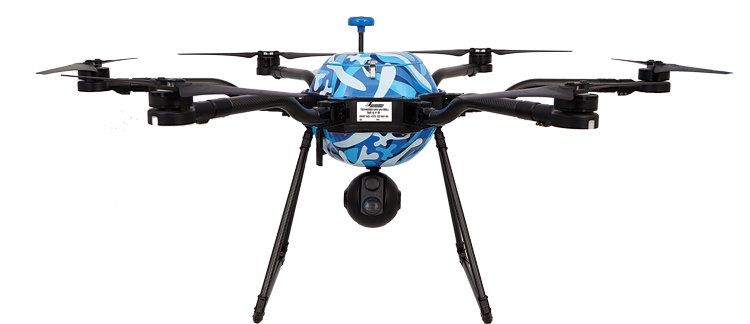 Tethered UAV
Some of the areas BEL is focussing on in non-defence include solutions for Civil Aviation sector including Air Traffic Controller Radars, Anti Drone systems, Space/Satellite Electronics, Space Launch Vehicles, Satellite Communication Services, Spacegrade Solar Cells, Satellite Assembly & Integration, Solar Business, Railway and Metro solutions, Software as a Service, Network & Cyber Security, Energy Storage products for Electric Vehicles (Li-ion & Fuel Cells, Charging Stations, etc), Homeland Security & Smart City businesses, Smart Meters, a range of Medical Electronic and health care solutions. BEL is entering into partnerships with various OEMs/technology solution providers to expand the business in the identified non-defence business segments. This wide bouquet of businesses in non-defence would play a key role in driving BEL's growth in the coming years.
SP's: In recent years, the Government of India has stressed on the need to involve the MSMEs, private industry and start-ups in the Defence sector. What are BEL's initiatives to promote such initiatives?
Batra: BEL has formulated a long-term Outsourcing and Vendor Development Policy and has been taking several initiatives in order to broaden the domestic vendor base by implementing online vendor registration and e-procurement processes including using GeM portal. This is in line with the 'Make in India' initiative where enhanced thrust has to be put to develop domestic players. BEL has also made provisions for entering into Long Term Agreements (LTAs) with reputed vendors with an objective to secure the supply of items or services over a specified period of time as per mutually agreed terms and conditions. 'Make in India' Display Cells have been established at all Units of BEL. BEL also takes part in various events organised by the Government of India to promote MSMEs. Startup India is a flagship initiative of the Government of India, intended to build a strong ecosystem that is conducive for the growth of startup businesses, to drive sustainable economic growth and generate large scale employment opportunities. BEL has identified several areas for partnership with start-ups in new emerging technology areas in both Defence and non-defence businesses through various engagement models.