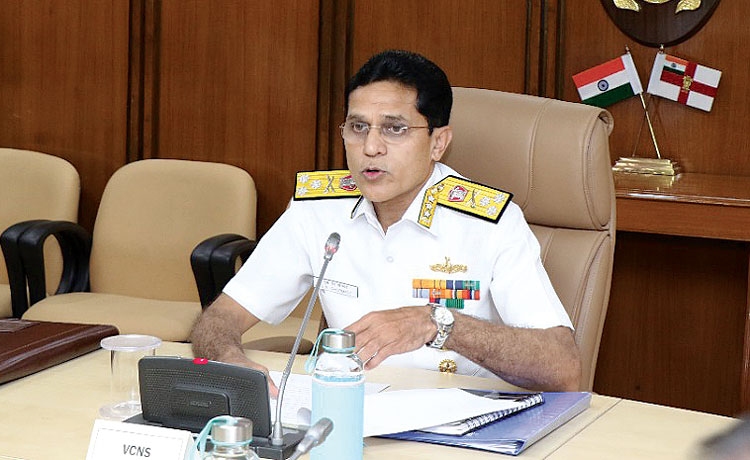 Jayant Baranwal: Armed Drone
Can you indicate on the status of the requirement finally meeting its fate?
Ghormade: Indian Navy is actively engaging with DRDO and Indian Industry for indigenous development based on the requirements of the Defence Forces. Future procurements of High Altitude Long Endurance (HALE) Remotely Piloted Aircraft System (RPAS) would be met through indigenous sources.
However, to meet interim requirement, Joint case for procurement of Armed Drone from US Government to augment ISR capability is under deliberation.
(b) What is the likely operational plan for such a drone?
Ghormade: The Navy has a well charted course towards induction of small, medium and large Unmanned Aerial Systems. Remotely Piloted Aircraft have considerable applications in naval warfare as a force multiplier. The various phases of warfare include intelligence, surveillance, target acquisition, reconnaissance and targeting. Traditionally, each of these tasks requires individual assets (human/ equipment/platforms) to be deployed. However, technology today, such as drone, provide these capabilities on a single platform which can effectively contribute to 'Battlespace Transparency' and Maritime Domain Awareness. Not only can these platforms undertake ISTAR (Intelligence, Surveillance, Target Acquisition and Reconnaissance) tasks but also undertake targeting.
(c) How has been the experience of two leased Sky Guardians if you can share?
Ghormade: Leasing of two MQ-9B UAS was undertaken to meet op-emergent requirements. The platform is being extensively utilised in ISR (Intelligence, Surveillance, Reconnaissance) role and performance of the equipment is as per Indian Navy's expectations.
Jayant Baranwal: P-75(I)
Please can you give us some update on the progress of the programme?
Ghormade: Subsequent to the issue of the RFP for Project 75(I), based on the concerns received from the Foreign Collaborators on some of the clauses of the RFP; efforts have been made to resolve all outstanding issues. We are now on course to receive the bids from Indian Strategic Partners.

(left) MQ-9B UAS is being extensively utilised in ISR role and the performance is as per Indian Navy's expectations; (right) P-8I has contributed immensely to wards objectives of Navy
(b) Any timeline has been fixed for this programme?
Ghormade: The procurement is as per the timelines defined in the standard guidelines for procurement of ships/submarines. Since this is the first project under the Strategic Partnership Model, certain issues have necessitated extended deliberations between all stakeholders including Indian Strategic Partners and foreign OEMs. All efforts are being made to compress timelines in future stages of the project.
Jayant Baranwal: Underwater Weapon Systems
Have the Scorpene family been aptly equipped with the necessary armament systems?
Ghormade: Indian Navy is pursuing development of an indigenous next generation torpedo for submarines which is at trials stage. In order to meet interim requirement and to enhance the combat capability of Scorpene class (Kalvari class), a contract for procurement of new generation Heavy Weight Torpedo is also in progress and is in advanced stage.
Jayant Baranwal: Aviation Arm
(a) Please share the overall wish list of manned and unmanned machine?
Ghormade: Indian Navy's vision for manned and unmanned systems is based on required operational capability, has been encapsulated in the Maritime Capability Perspective Plan and Long Term Integration Perspective Plan. In addition, the Navy has formulated an Unmanned Roadmap for the future.
(b) P-8I has been a great success and has been contributing towards key objectives of Navy. What sort of follow-ups do you foresee out of this case?
Ghormade: P-8I has contributed immensely towards effective long range maritime reconnaissance & ASW missions in our Area of Interests. The state-of-the-art sensors & weapons makes it a potent platform.
Indian Navy intends to undertake significant upgrades in NCO (Network Centric Operations) capability and weapons & sensors of the P-8I aircraft. Navy's endeavor is to induct indigenous weapons and sensors on the aircraft in future. A comprehensive midlife upgrade will also be pursued with a major share of indigenous components in the medium term.
For full interview, please refer to SP's Naval Forces Issue 5/2022; www.spsnavalforces.com