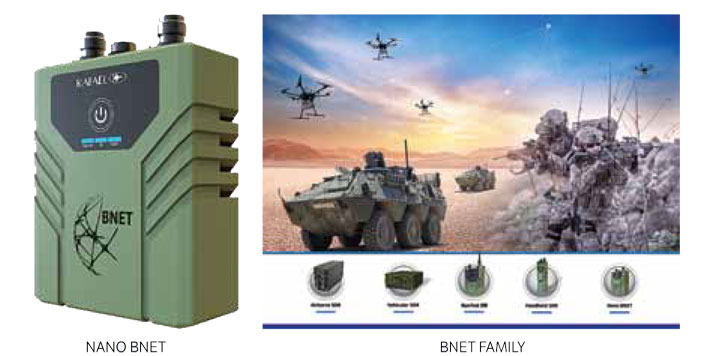 BNET family is an advanced Broadband IP MANET (Mobile Ad-hoc Network) Software Defined Radio for tactical operations. It supports modern digital battlefield's needs with high-speed, low delay, reliable connectivity for data, voice and video on-themove. Modular, multi-band and multi-channel BNET is a net- centric spectrum aware system for ground/airborne platforms, HQs and dismounted soldiers. Delivering unprecedented network capacity in terms of data rates, number of users, and minimal delay, BNET enables land, sea and air radio units to participate in a single, seamless, scalable MANET network.
Astra Rafael Comsys Pvt Ltd (ARC), a JV company formed between Astra Microwave Products Ltd (AMPL), India, and Rafael Advanced Defence Systems (Rafael), Israel is engaged in indigenous manufacture of these state of the art BNET SDRs in India at its Hyderabad plant.
ARC is showcasing at the DEFEXPO 2022, a unique form factor of the BNET family of SDR - The BNET Nano-originally developed for situational awareness in unimaginable frontiers of modern warfare. BNET Nano is the network enabler or section level radio, an important element of a Tactical Cloud Package for projects meant to integrate next generation 24/7 situational awareness tools and high-resolution digital sensors. The end result is delivery of a single platform that improves Soldier sensing, decision making, target acquisition, and target engagement.
The Nano's Main Capabilities are:
Wideband voice, video & various IP data services, transmitted over seamless and self-healing wireless networks.
24x 7 Communications continuity and system survivability.
Close sensor-to-shooter cycles for delay-sensitive applications
Support for "flat" networks with thousands of members in changing traffic, variable link and terrain conditions ranging from mountains to deserts.
Interoperability between branches of military and PMF.
A very compact version of the BNET SDR (smaller in size than a cell phone), it is specially designed to use on different platforms like Drones, UAVs besides being worn by the soldier (Future Soldier Radio). Key Benefits of the NANO are:
Miniaturised IP SDR, SDR architecture with full IP compatibility
Frequency Range 1300-2800 MHz, S band (L Band optional)
Dimension (H×W×D): 9.6 x 8 x 3.3 [cm] with a Weight, less than 330 grams
Power O/P: up to 1 Watt over two Antenna Ports
Data Interface: 10/100 Ethernet
Serial Interface: USB 3/2
Low power consumption; So, can be hoisted on different platforms (drone swarm for e.g.)
ARC is exhibiting in Hall 7, Stall No 56 & 57.