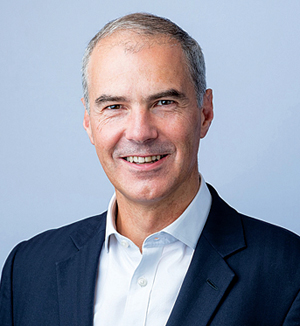 Alex Zino,
Business Development and Future Programmes (Defence), Rolls-Royce
As the world witnesses shifting geopolitical dynamics, India is looking to take a more prominent role on the international stage. The country is focused on strengthening its defence systems and has also taken strides to pursue its vision of self-reliance in defence. The 'Atmanirbhar Bharat' clarion call is encouraging the sector to strengthen manufacturing capabilities, as well as indigenise defence technologies. In line with this, India is pursuing the combat engine programme, which would give an operational boost to the Indian Air Combat Capability and catapult India's military prowess, to become a nation capable of developing and designing technologies that only a handful of nations can do today.
As we have seen with other combat air programmes across the globe, collaboration is key. Exploring joint design and development programmes can help accelerate transfer of capabilities and transfer of technology. This capability development is not only about the theoretical transfer of technology and know-how, but the practical transfer of know-why, which will ensure long-term benefits for India including customisation, autonomy and capabilities for future programmes.
STRIKING THE RIGHT COLLABORATION IS KEY TO SUCCESS
For such a co-development programme to be a success collaboration with like-minded partners, who are committed to true selfreliance through co-creation of both technology and capability, will be key. The United Kingdom (UK) is a strong and natural ally for India in pursuing such a goal, with both nations having previously expressed their commitment to greater defence cooperation in strategic areas.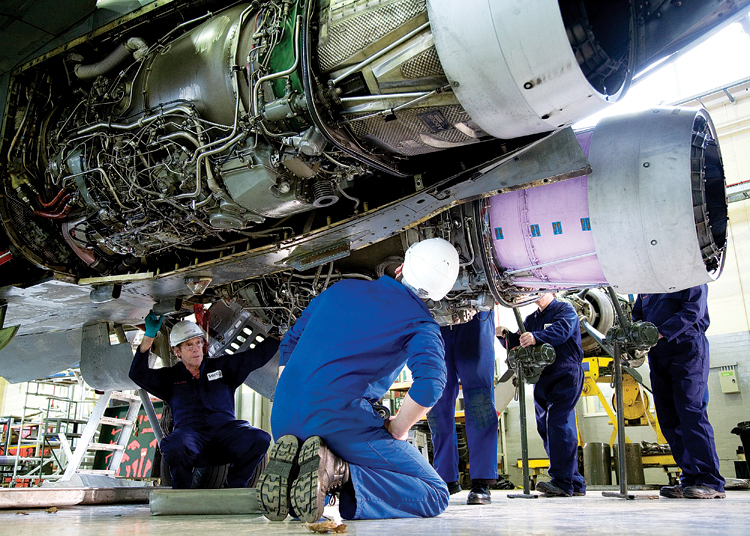 Having the right collaboration is key to a successful combat air programme
The UK has successfully demonstrated its ability to collaborate with partner nations for such joint programmes, and its alliances with countries like France, Germany and Italy in Europe and recently with Japan are a testimony to this.
A co-development programme that leads to capability creation in India will enable control of the manufacturing and production stages of the life cycle. This in turn would allow India to look at opportunities to accelerate the development of its defence ecosystem through collaboration with key global players. Such a programme, in collaboration with the UK, would also increase India's competitiveness in the global arena opening the opportunity for exports. When technology is developed in India, for India and the global market, and the know-why rests within the country, there is a great opportunity for it to leapfrog its status as a supplier to the global market. At Rolls-Royce, we are committed to supporting the self-reliance vision of India and are keen to enable co-development opportunities in defence.
ROLLS-ROYCE: COMMITTED TO INDIA'S INDIGENISATION GOALS
Rolls-Royce has pioneered several initiatives in India, from powering the first aircraft of the Indian Air Force to the first Make in India story, having delivered the first whole engine technology transfer agreement and first licensed production of Rolls-Royce engines in India along the way. We are committed to building on this foundation, with supportto India's combat engine development programme a natural next step.
With a rich history of engine technology development, Rolls-Royce is a global leader particularly in the gas-turbine based aeroengine market. The company has a powerful track record of certifying new aeroengines every 18 months over the last two decades, a significant feat considering the complexity, technology and expertise required.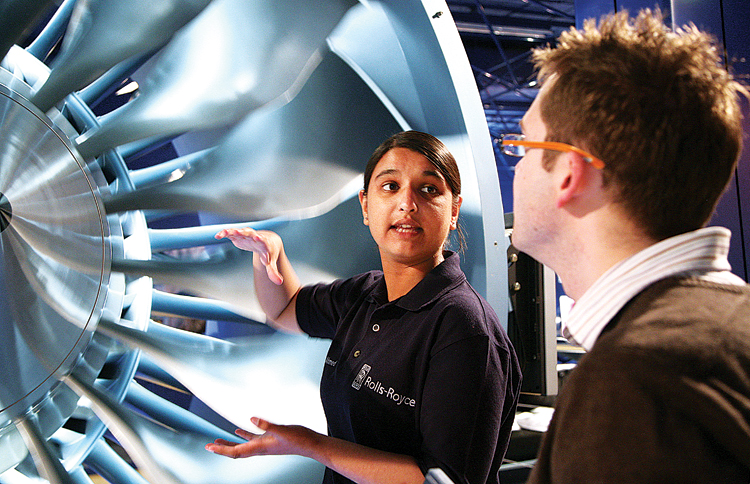 Rolls-Royce is committed to supporting the self-reliance vision of India and are keen to enable co-development opportunities in defence
Today, we are well-positioned in the country with a strong ecosystem of Indian partners, talent, supply chain, digital, service delivery and manufacturing capabilities, as well as global expertise in co-development with other nations. We are building a pipeline of talent in India, both in-house and through our partners. We are well-equipped to support the programme with technological expertise as well, as a proven history of capability creation for the supply chain and manufacturing ecosystem to meet global standards. It is only a matter of time before such technology development will leapfrog 'Make in India' from catering to the domestic defence needs to 'Design and Develop in India for the World'.
INDIA AND THE UK: COLLABORATING TO ACHIEVE A SHARED VISION
Both India and the UK have previously publicly committed to deepen defence cooperation as a key pillar of the India-UK Comprehensive Strategic Partnership, and to explore opportunities for defence collaboration for co-development and co-production of critical military technologies. Within Rolls-Royce we see this as a positive step forward and a platform from which to explore collaboration for combat engine development, that will not only enable technology creation in-country, but will also enable India to gain strategic autonomy in defence security. With our commitment to supporting India's defence indigenisation goals, we are looking forward to continuing our important partnership with our Government and industry stakeholders to explore opportunities in this space.