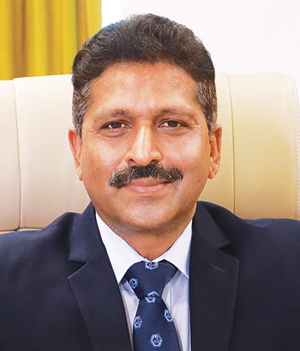 Cmde P.R. Hari (Retd),
Chairman & Managing Director, GRSE Ltd.
Set up in 1884 to repair vessels of River Steam Navigation Company, GRSE has several achievements to its credit in its long journey. After its acquisition by Government in India in 1960, GRSE has built 788 platforms including warships for Indian Navy, Indian Coast Guard, and Government of Mauritius & Seychelles Coast Guard. From Frigates, Corvettes, Fleet Tankers, Landing Ship Tank, Landing Craft Utility to Survey Vessels, Offshore Patrol Vessels and Fast Attack Craft - the repertoire is rich and varied. Making 107 warships for the Indian & foreign maritime forces, GRSE has record of building and delivering the highest number of warships by any Indian shipyard till date. With proven credentials, the shipyard is on a growth path, reaffirming its motto "In Pursuit of Excellence and Quality in Shipbuilding.
Rooted in the nation's vision of attaining Atmanirbharata in defence, Garden Reach Shipbuilders & Engineers Ltd (GRSE), a premier warship-building company in India, is at the cusp of a major transformation facilitated by its knowledge, skill levels and operational capabilities gained over the years. With brand equity, a healthy balance sheet and a dedicated team at the helm, the Mini Ratna Category 1 Public Sector Company, GRSE is playing a key role in defence preparedness of India by producing the most modern warships through indigenisation and strengthening the Indian armada.The company's order book stands at 24,100 crore as on March 31, 2022. GRSE's vision is to be globally recognised as the best Indian Shipyard and also become a Navratna Company by 2030.
ONGOING PROJECTS
The ongoing projects include construction of 24 ships & vessels under seven prestigious projects - Frigates (P17A), Survey Vessels (Large), ASW Shallow Water Crafts (ASW-SWC) for Indian Navy, Fast Patrol Vessel (FPV) for Indian Coast Guard, Next Generation Electric Ferry for Government of West Bengal, Ocean Going Passenger cum Cargo Ferry Vessel for Republic of Guyana and Patrol Boats for a government agency of Bangladesh. Concurrently, the shipyard is undertaking measures to strengthen internal processes, systems, and infrastructure and cost effectiveness. Several new initiatives have also been launched under the 'Ease of Doing Business' drive.
INDIGENISING WARSHIP BUILDING
As part of Make in India initiatives of Ministry of Defence, GRSE has made commendable progress by successfully incorporating a high percentage of indigenous equipment fit into the ships being built for the Indian Navy and Indian Coast Guard. This is evident on-board Kamorta class ASW Corvettes, the first warship built in the country with indigenous DMR steel and overall 90 per cent indigenous content with a unique feature of superstructure made of carbon fibre composite material. The Landing Craft Utility (LCU) ships, designed in-house by GRSE also achieved similar distinction. The company so far has delivered eight such LCU Mk IV ships to the Indian Navy.
Launch of the Y-3023 Dunagiri, Project 17A frigate built by the Garden Reach Shipbuilders Limited (GRSE), in Kolkata on July 15, 2022
The delivery of Fast Patrol Vessel – 'SCG PS Zoroaster' to the Seychelles Coast Guard in February 2021 and orders for supply of "Ocean Going Passenger cum Cargo Ferry Vessel" from Government of Guyana and Patrol boats for Fisheries Department of Bangladesh, to support the vision of 'SAGAR', bear testimony to GRSE's thrust for exports and realigning marketing strategies to match with the dynamic global environment. These orders were bagged through competitive bidding with international players in the fray.
GRSE & Syama Prasad Mookerjee Port Kolkata jointly inaugurated the GRSEKPDD Khidderpore Dry Dock Unit in Kolkata for the development & utilisation of three existing dry docks. The project aims to explore new business opportunities in ship repair & refit of defence & commercial segments leading to revenue generation and contributing to skill development, infrastructure upgrade and employment generation in West Bengal.
THE ART OF WARSHIP DESIGN
GRSE's in-house design capability remains its major area of strength with the multi-disciplinary 100-plus design team working towards developing various concept designs for current and future warship projects aided by state-of-the-art Virtual Reality Lab. Offshore Patrol Vessel, Landing Craft Utilities, Survey Vessels (Large) and ASW Shallow Water Crafts have been designed in-house by GRSE. VR Lab resolves design issues in a very short time with reliability and accuracy. The lab also shows 3D models in virtual environment to assist the production and customers to get faster approval of the ship system. The company's Design and R&D Department has received recognition from the Department of Scientific and Industrial Research (DSIR), Ministry of Science & Technology, for its performance.
GRSE has its competitive edge as the shipyard has modernised infrastructures to undertake integrated shipbuilding using advanced modular construction technology to facilitate construction of larger ships in reduced timeframe. With modernised infrastructure facilities across three production locations, GRSE is today in a position to construct 20 Warships concurrently using Advanced Modular Integrated Shipbuilding Technology in line with the best in the world.
ENGINEERING
The Bailey Bridge division of the company has been keeping pace with the ship division in its R&D efforts in designing and developing new products. The division has developed and successfully carried out trials of new products including first-of-its-kind Man Portable Pedestrian Assault Bridge, which is made of light weight carbon fibre reinforced composite material for the Indian Army, 140 feet Double Lane (7.50 m wide) and 190 feet Single Lane modular bridge, both being 70R class load capacity and made of 7 feet panels.
GRSE is the only organisation in India qualified by DGQA, for the prestigious Green Channel Certification for the Bailey Type Portable Steel Bridges. So far, GRSE has supplied more than 5,500 portable steel bridges to Indian Army, Border Road Organisation, State PWDs, Central Government and friendly neighbourhood countries.
DIGITAL INDIA INITIATIVES
To maintain its competitive edge, the company is shifting to smart manufacturing (Industry 4.0), through thrust on innovations in automation, robotics and the industrial internet of things. It is also introducing Artificial Intelligence, Machine Learning, Interoperability and secured connectivity enabling real time monitoring. This control and optimization of processes, resources and systems is expected to help in workload consolidation across design, production & supply chain management, significantly in the future.
In its journey towards digitisation in strengthening the operation and shipbuilding efficiency, GRSE in collaboration with IIT Kharagpur has developed an AI Enabled Non-Destructive Testing (NDT) mechanism which aims to replace manual inspection with automated inspection by using Industry 4.0 techniques such as Artificial Intelligence, Machine Learning & Deep Learning. A first of its kind AI based HR Chatbot 'Ask ANVESHA' by GRSE was launched to provide employees digital access to their personal documents. The cloud-based Chatbot enables employees to access individual data like Payslip, PF statement, Form-16 etc.
Adopting the latest technology with respect to security of infrastructure and other assets, GRSE has established an Artificial Intelligence (AI) enabled high end CCTV network across its five units in Kolkata apart from other initiatives such as Face Recognition System, Document Management System (DMS) for paperless environment etc.