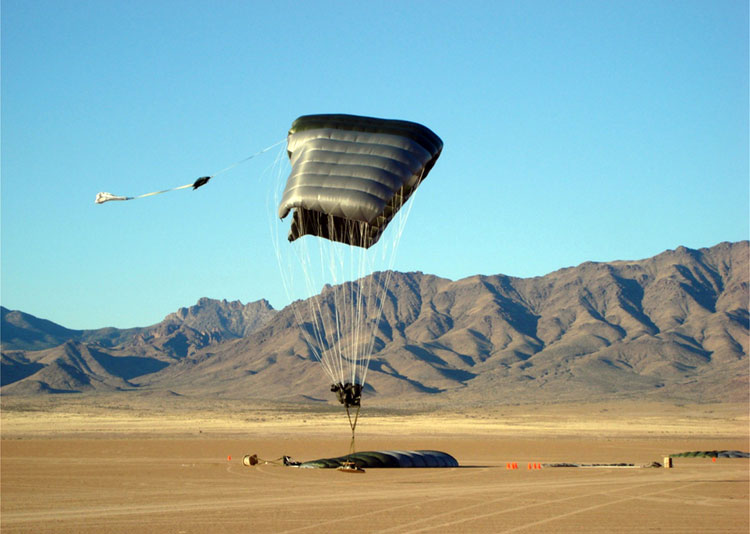 Firefly
HDT Global is exhibiting its guided precision aerial delivery systems (GPADS). The GPADS solution, developed by the HDT Airborne Systems Group, has the greatest GPADS capability, providing systems with the best glide ratio worldwide.
HDT Global provides the defence community with the largest array of GPADS, with glide ratios between 3.75:1 and 4:1 and impressive payloadcarrying capabilities. GPADS use GPS guidance to autonomously deliver payloads to specific locations and are particularly useful for missions to remote areas where re-supplying troops on the ground is a dangerous undertaking. HDT Global's array of GPADS include the MicroFly, FireFly, DragonFly and MegaFly, with the ability to carry payloads from 100 lbs. to 42,000 lbs.
"As the only company able to provide a complete aerial delivery solution across such a great weight range, HDT Global is excited to showcase our superior GPADS capabilities at Defexpo," said J.C. Berland, Chief Technology Officer of HDT Airborne Systems.
Both the FireFly and DragonFly have been selected by the US Army for the 2K and 10K joint precision aerial delivery system (JPADS) programmes of record. The MicroFly and the FireFly are currently in use with international military allies and now offer high altitude low opening (HALO) capabilities to enhance special operations missions. More than 2,000 FireFly have been fielded under the 2K JPADS programme.