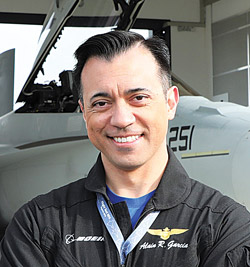 Alain Garcia
SP's ShowNews (SP's): Can you share an overview of the Boeing's association with the Indian Armed Forces?
Alain Garcia (Garcia): Boeing has been a trusted partner of India's aerospace sector for more than 80 years, both as the mainstay of India's growing commercial aviation sector and, in the modernisation and mission readiness of the country's defence forces. Today, with 11 C-17s, 12 P-8Is, 22 AH-64 Apaches (with six more on order with the Indian Army), 15 CH-47 Chinooks, 3 VVIP aircraft and two Head of State aircraft, India is at the front and centre of Boeing's business plans. When we talk about Boeing and India, we are talking about several firsts. India was the first international customer of P-8I aircraft. India is the largest international operator of C-17s outside the US. The Harpoon is the first US weapon integrated into an Indian fighter. India's defence sector is poised for growth, and Boeing is committed to supporting and enabling this progress.
SP's: Can you share an update on the 6 Apaches on order by the Indian Army?
Garcia: On January 19, we completed the delivery of the first fuselage for the Indian Army's six AH-64 Apache attack helicopters from our JV facility Tata Boeing Aerospace Limited (TBAL) in Hyderabad. An example of Boeing's commitment towards Make in India and Atmanirbhar Bharat. The TBAL facility manufactures aero-structures for Boeing's AH-64 Apache helicopter, including fuselages, secondary structures, and vertical spar boxes for customers worldwide, including for the US Army. As of January 2023, more than 190 fuselages have been delivered by TBAL. Recently, we added a new production line at TBAL to manufacture complex vertical fin structures for the 737 family of airplanes, a significant milestone for the joint venture.
SP's: The Indian Air Force operates a fleet of 15 Chinooks. What capabilities does the platform bring to the India Air Force?
Garcia: The CH-47 Chinook is an advanced multi-mission helicopter that provides the Indian Air Force with unmatched strategic airlift capability across the full spectrum of combat and humanitarian missions. It has proven capability to operate in the wide range of conditions that are typical in the Indian subcontinent. With more than six million flight-hours, the Chinook brings unmatched survivability and the ability to perform the world's most demanding missions.
The Chinook can be customised to fit the user's unique requirements, with capabilities such as air-to-air refueling, which has been in use on the Chinook for decades. While the exterior of the Chinook remains the same, Boeing has incorporated the latest technologies to deliver the world's most modern digital avionics, flight controls, and mission-centric capabilities. It is fully compatible with 21st Century warfighting requirements and provides pilots with unrivaled heavy-lift capabilities today and decades into the future. The entire portfolio of Chinooks brings capability, affordability, and interoperability that no other company or aircraft can match. With more than 950 aircraft in 20 countries, the Chinook enables reduced maintenance costs via commonality across US and allied fleets. 950 Chinooks in circulation with over 100 in Asia Pacific.
SP's: The Indian Air Force (IAF) has reportedly indicated a requirement for additional Chinooks, update us on how the discussions are progressing?
Garcia: Boeing stands ready to support the India Air Force for any additional Chinooks required, in addition to the 15 already delivered. The Indian Air Force is best suited to confirm their procurement plans.


(CLOCKWISE FROM TOP LEFT) P-8I; C-17; CH-47 CHINOOK AND AH-64 APACHE
SP's: How is Boeing supporting the Government's vision of Atmanirbhar Bharat in Aerospace and Defence?
Garcia: Boeing is by far the largest foreign OEM in terms of sourcing from India, with over $1 billion annually through its large and growing network of 300+ supplier partners – that are an integral part of our global supply base. These Indian companies are manufacturing and exporting systems and components for some of Boeing's most advanced products from India to the world. In 2021, we added new suppliers, including several Micro, Small and Medium Enterprises (MSMEs) in support of our commitment to Aatmanirbhar Bharat. In fact, over 25 per cent of our suppliers from India are MSMEs. Our programmes have skilled close to 4,000 frontline aerospace manufacturing workers and aircraft maintenance engineers.
Dynamatic Technologies has been manufacturing the ramp and complex aft pylon for Chinook heavy-lift helicopters, and P8 cabinets. They have recently won the contract to supply for the F-15EX Eagle II programme. This is a first where aerostructures for the latest and most advanced F-15EX Eagle II will be made in India.
Rossell Techsys manufactures wire harness and electrical panel for the AH-64 Apache, and the harness for several BDS platforms including V-22 Osprey, CH-47 Chinook, F-15 and F/A-18 Super Hornet.
SASMOS HET Technologies manufactures electrical panel assemblies for the F/A-18 Super Hornet and F-15 Strike Eagle.
Hindustan Aeronautics Ltd (HAL) manufactures F/A-18 gun bay doors.
Bharat Electronics Limited (BEL) manufactures IFF (Identify Friend/Foe) and speech secrecy system for the P-8I.
Jaivel Aerospace has won a contract with Boeing to manufacture and supply aircraft protection system products for the Boeing T7A-Red Hawk aircraft.
In 2022, Rossell Techsys entered into an agreement with Boeing to manufacture and supply wire harnesses for the T-7A Red Hawk platform. Rossell will be manufacturing Electrical Wiring and Interconnect System (EWIS) parts and the deliveries will continue through FY 2032, covering a total of 84 unique parts. All parts will be manufactured at Rossell's Center of Excellence (CoE) set-up exclusively for Boeing.
Jaivel Aerospace will manufacture and supply aircraft protection system products for the Boeing T-7A Red Hawk aircraft. Working with the Boeing teams in India and the US, Jaivel Aerospace has developed entirely new capabilities for this product range, for the first time in India.
Tata Advanced Systems Limited (TASL) won the "Supplier of the year" award for 2022 from Boeing, from more than 11,000 suppliers worldwide.
SP's: What is Boeing showcasing at the show this year?
Garcia: We are excited to be at Aero India 2023 and will have a large presence at the show. You can look forward to some interesting announcements that further boost Boeing's Make in India and self-reliant India focus. Among foreign OEMs, Boeing leads the way in investments across the aerospace and defence value chain – be it in manufacturing, engineering and R&D, skilling and training – helping develop the aerospace and defence ecosystem in India.
Boeing India's exhibit will highlight strategic investments the company has made across the ecosystem to build local services infrastructure, capabilities, workforce development and partnerships, while harnessing the strength of Indian talent and its large and growing network of more than 300 supplier partners. Boeing is committed to supporting aerospace and defence industry in India with a vision to bring the best of Boeing to India and take the best of India to the world.