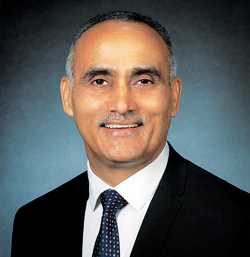 SURENDRA AHUJA
SP's ShowNews (SP's): Can share some highlights from the journey of the Indian Navy's P-8I fleet, which just completed a decade in December, 2022?
Surendra Ahuja (Ahuja): Earlier in December, 2022 we completed a decade since the first P-8I was delivered to the Indian Navy. This is a significant milestone in our growing relationship with the navy. Notably, the Indian Navy was also the first international customer for the P-8 and today operates one of the largest non-US fleet. Since the induction of the P-8I in the Indian Navy, Boeing has been supporting the fleet to ensure high rates of mission readiness. The 12 P-8Is in the Indian Navy's arsenal significantly contribute to the Indian Navy's capacity to keep the vast areas of interest in the Indo-Pacific under surveillance – while also playing a greater role in regional maritime security. The patrol aircraft is an integral part of the Indian Navy's fleet and has surpassed 35,000 flight hours since it was inducted. In addition to unmatched maritime reconnaissance and anti-submarine warfare capabilities, the P-8I has been deployed to assist during disaster relief and humanitarian missions. We believe there is a need for long-range maritime surveillance and ASW requirements in the Indian Ocean Region and the Indian Navy may have a requirement for more P-8Is and also more Harpoons and we stand ready to support them.
We continue to support the Indian Navy's P-8I fleet through Boeing's services business - providing spares, ground support equipment, and by positioning field service representatives at INS Rajali and INS Hansa so they are available to the Navy on 24x7x365 basis. Boeing's integrated logistics support has helped the Navy attain the highest state of fleet-readiness. Boeing has built a 60,000 sq. ft. Training Support & Data Handling (TSDH) Centre at INS Rajali, Arakkonam in Tamil Nadu as part of a training and support package contract signed in 2019. The facility was handed over to the Indian Navy, and the trainings commenced in April, 2022. The secondary centre at the Naval Institute of Aeronautical Technology, Kochi was also handed over to the Indian Navy last year. The indigenous, groundbased training will allow the Indian Navy crew to increase mission proficiency in a shorter time, while reducing the on-aircraft training time resulting in increased aircraft availability for mission tasking.

(CLOCKWISE FROM TOP LEFT) C-17; P-8I; CH-47 CHINOOK AND AH-64 APACHE.
SP's: How does Boeing support the sustenance of the C-17 fleet with the Indian Air Force?
Ahuja: We support the Indian Air Force C-17 fleet under the Globemaster Integrated Support Program (GISP) that maintains high mission capability rates by providing them access to an extensive support network for parts availability and economies of scale. Boeing provides comprehensive C-17 Globemaster III training solutions for aircrews and loadmasters with advanced simulation, courseware and computer-based training. C-17 operators can practice the complete range of tasks required for tactical military airlift operations and humanitarian missions, along with mission rehearsal of all scenarios including emergency procedures. Boeing's in-country C-17 training center has completed thousands of training hours for aircrews and loadmasters.
SP's: How Boeing services drives the defence growth in India?
Ahuja: Today, India operates 11 C-17s, 22 AH-64 Apaches (with six more on order), 15 CH-47 Chinooks, 12 P-8Is, 3 VVIP aircraft (737 airframe) and two Head of State aircraft (777 airframe), all Boeing platforms. Ensuring mission-readiness for our customers and providing them seamless services and support on our platforms is an imperative for Boeing. If we start with a quick look at the last five years, Boeing has accelerated growth in India with a razor-sharp focus on the key areas of:
Customer engagement – meeting the Indian Navy and Indian Air Force's modernisation and mission-readiness needs.
Services growth – localisation of our services, and the value Boeing Defence India, our local establishment in India, is able to provide through the lifecycle of platforms offered.
Supplier expansion – building an indigenous and robust supplier-partner network with a focus on Aatmanirbhar Bharat.
Hence, we had setup Boeing Defence India (BDI) with an aim to provide holistic lifecycle solutions for defence customers in India. Cost-effective solutions, timely support, and flawless execution are critical elements of BDI's commitment to the market and our customers. Boeing's integrated logistics support is already enabling the highest levels of fleet-readiness. We are seeing growth in our services business and, with it, growth in the value Boeing creates through product lifecycle support and training. From performance- based logistics contracting and integrated fleet support to maintenance, modifications and repairs, Boeing provides a broad spectrum of innovative products and services across platforms which directly support and enhance capabilities while reducing total cost of ownership for our customers globally. Boeing's investments in services infrastructure, building local capabilities, workforce training and partnerships in India are aimed at ensuring the Indian armed forces successfully complete their missions, operate their assets at peak condition and do so affordably.
In 2021, we launched the Boeing India Repair Development and Sustainment (BIRDS) Hub. BIRDS is an initiative to bring together ecosystem partners to shape India as a strategic destination for aerospace engineering, maintenance, repair and sustainment services. This is a one-of-its-kind initiative that seeks to provide customers with best-in-class solutions, efficient turnaround times, and optimal economical value, all available in-country. Under this programme, we have by now signed strategic partnerships with leading indigenous players like Horizon Aerospace, Air Works, and AI Engineering Services Limited (AIESL). An important aspect of the hub is training programmes to increase skilled manpower by developing sub-tier suppliers and medium, small and micro enterprises (MSMEs) to build high quality MRO capabilities in India. Our programmes have skilled close to 4,000 frontline aerospace manufacturing workers and aircraft maintenance engineers.
SP's: What kind of work is being performed at the Boeing India tech centre which contributed to cutting edge tech innovation for the aerospace sector?
Ahuja: The Boeing India Engineering & Technology Center (BIETC) in India is leveraging a talented pool of 4,500+ engineers and innovators across Bengaluru and Chennai to drive growth and innovation in aerospace. Boeing has had an engineering presence in the country since 2009, and BIETC was formally established in 2016. The center currently houses Boeing's engineering, test, research and technology, information technology and digital analytics teams. These technologists undertake high-quality, advanced aerospace work and offer engineering expertise to Boeing's defence, space, and commercial businesses, spanning engineering design of structures and systems, manufacturing support, developing systems to test our aircraft, and providing digital solutions to our airline customers. Cutting-edge R&D in traditional and emerging areas is performed at the center, including next-generation airplane health management, environment-friendly coatings, advanced networks and secure-communications where teams leverage new-age technologies such as Artificial Intelligence, Machine Learning, Internet-of-Things, Cloud, Model-Based Engineering, and Additive Manufacturing to enhance quality, safety, and productivity. Boeing is investing $200 million in a new 43-acre state-of-the-art wholly-owned engineering and technology campus in Bengaluru. This will be Boeing's largest facility of its kind outside the US.