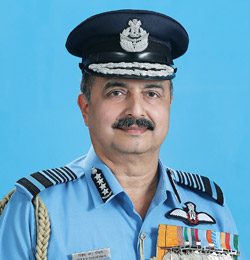 Air Chief Marshal V.R. Chaudhari,
Chief of the Air Staff
SP's ShowNews (SP's): Rotary Wing Fleet
(a): How about the combat readiness of IAF's helicopters' fleet?
Chief of the Air Staff (CAS): Indian Air Force operates a variety of helicopters from the legacy Chetak/Cheetah to the Heavy Lift Chinook, from communication to attack platforms and from old generation to modern helicopters. The IAF helicopter capability has increased manifold in the past one decade with the induction of state of art helicopters like Mi-17V5, Chinook, ALH MKIV, Apache and latest Light Combat Helicopter. All these platforms have multi-role capability and are equipped with the latest avionics, weapons and other role equipment required to undertake the allotted tasks. The successful employment of these platforms in Eastern Ladakh bears testimony to their capability and versatility. Additionally, our helicopter fleet has always been at the forefront of all national tasks, aid to civil authorities and for providing vital support for infrastructure development in remote and border areas.
(b): Will be nice if you can kindly share any futuristic plans?
CAS: Recently, we have signed a contract for procurement of 10 Light Combat Helicopters (LCH) in the Limited Series Production version wherein four helicopters have already been inducted in October 2022. We plan to acquire more than 50 LCH in the near future. Likewise, procurement of Light Utility Helicopter (LUH) is also being progressed as a replacement for the Chetak/Cheetah helicopters. In the longer term, we would be keen to acquire the Indian Multi-Role Helicopter (MRH) which would be designed and developed indigenously. The design and development (D&D) is likely to take six to eight years and would cater for future MRH requirements of the IAF. Induction of IMRH is likely to commence from 2032 if there is no delay in the D&D.

(LEFT) AIR CHIEF MARSHAL V.R. CHAUDHARI FLEW A SORTIE ON LCH PRACHAND; (RIGHT) INDUCTION OF INDIAN MULTI-ROLE HELICOPTER (IMRH) IS LIKELY TO COMMENCE FROM 2032.
SP's: How do you perceive the evolving roles of unmanned versus manned platforms?
CAS: If you recollect an answer, I gave to a question at our annual press conference, prior to Air Force Day in October; I had said quite clearly, that 'The Future is Unmanned'. The air domain was the first sphere where the unmanned aircraft had proliferated. This is primarily due to a larger line of sight distance which permits long ranged remotely controlled operations. But, as over the horizon links become common and machine autonomy increases, we will see a boom across all domains. In fact we are already seeing it on land and sea as well.
"I am very proud that the IAF has facilitated the development of a genuine swarming capability through our Mehar Baba Swarm Drone challenge"
Our study of recent conflicts has thrown up certain limitations of such aircraft in a contested airspace. Therefore, in the near term, there may be instances where it may not be prudent to deploy unmanned systems & others where they would be the platform of choice. Further down the line, we are likely to see systems that are designed as 'optionally manned' from the word go. More collaboration between manned and unmanned systems is also on the anvil. The IAF is also pursuing a similar project with HAL which is progressing quite well.
SP's: There is enormous number of talks on drones within our country. Can you kindly indicate how do you perceive the roles of these drones in military operations/war times?
CAS: Manufacturing of 'Drones' or Remotely Piloted Aircraft (RPAs) in India is already witnessing a major rise. Smaller drones, such as those available commercially, are useful tactical platforms for both recce and maybe, even strike. Easy to operate from dispersed locations, they would test existing air defence sensors which are optimised to detect larger, faster and higher aerial vehicles. The IAF has worked with the Ministry of Home Affairs (MHA) and Ministry of Civil Aviation to devise rules and guidelines for operation, control and management of drones in India, as also neutralising hostile drones. Talking about this segment, I am very proud that the IAF has facilitated the development of a genuine swarming capability through our Mehar Baba Swarm Drone challenge that started in 2019. The capability so developed by start-ups has been leveraged for solutions by all three services.
At the other end of the spectrum are the heavier, larger, military grade drones. These can perform a wider range of missions, over far longer ranges. But as I had briefly alluded earlier, this segment is vulnerable to existing air defence sensors and weapons systems. However, there is still some space even if somewhat limited, for their operations in today's battlefield. This space would expand as technology develops in the times to come.
Continued in SP's ShowNews Day 3...