Braving the pandemic year, Star Air continues to expand its operation in regional aviation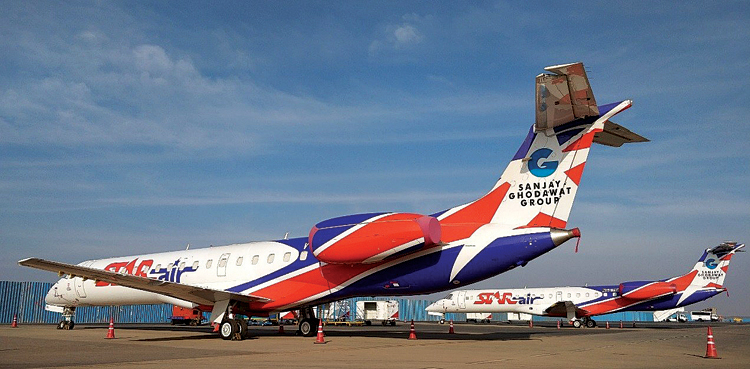 STAR AIR OPERATES A FLEET OF EMBRAER ERJ145, WHICH IS AMONG THE FASTEST IN THE CATEGORY HAVING 0.8 MACH FLYING SPEED
The regional connectivity is garnering much needed attention in the country with more and more people exploring domestic travel and newer destinations. Not only is this a boost to regional tourism but has served well to an airline like Star Air which started in the year before the pandemic struck the industry. The relatively new airline has continued to expand operations and had new routes in the regional aviation of the country. It was in the beginning of the year 2019 that Star Air, a Sanjay Ghodawat Group venture, announced the issuance of "Air Operator Certificate", issued by Ministry of Civil Aviation (MoCA) on January 1, 2019.
Star Air had then said that it plans to operate fleet of Embraer ERJ145, which is among the fastest in the category having 0.8 Mach Flying Speed. Star Air was the first Indian carrier to introduce Embraer 145 to fly for domestic routes. "A highly successful aircraft around the world will now be the first in India. The seating capacity for the aircraft is 50 and have an average seat pitch of 31 inches," Star Air had stated.
Star Air is the first Schedule Commuter Operator based out of Bengaluru (Karnataka) and started flights from Bengaluru and Hubballi, determined to add more cities across India under Ude Desh Ka Aam Naagrik (UDAN). The UDAN-3 Scheme featured inclusion of tourism routes under in coordination with the Ministry of Tourism, inclusion of seaplanes for connecting water aerodromes, and bringing in a number of routes in the North-East Region under the ambit of UDAN. Under the UDAN scheme, financial incentives from the Centre, state governments and airport operators are extended to selected airlines to encourage operations from un-served and underserved airports, and keep airfares affordable. According to MoCA, a total of 305 routes and 53 airports including five heliports and two water aerodromes have been operationalised till date under this scheme, the ministry said.
Despite the COVID-19 impacts, the airline has managed to continue its determined plan of enhancing regional connectivity in India. Recently in January 2021, Star Air launched flights between Kalaburagi in Karnataka and Tirupati in Andhra Pradesh under UDAN. "Star Air was awarded the Kalaburagi-Tirupati route under the RCS-UDAN-3 bidding process last year," the Civil Aviation Ministry said. The airline plans to operate three weekly flights on the route and deploy its 50-seater Embraer-145 aircraft.
This service between Kalaburagi and Tirupati will allow the passengers to travel conveniently and reach the pilgrim centre, Tirupati, in an hour. Star Air will reportedly operate four days a week and is offering inaugural flight tickets starting at 999.
Prior to this, Star Air had launched its services to Surat in December 2020. The company started non-stop flight services to Surat from Belagavi and Ajmer, also under the RCS-UDAN scheme.
"After running successful operations in Ahmedabad for over a year, we have now expanded our wings further, by launching our services to one more city of Gujarat. Our airline recently commenced its operations in the Silk City of India i.e. Surat from December 21, 2020," the airline stated.
Star Air was already running Belagavi to Ajmer (Kishangarh) services via Ahmedabad and Indore locations. Surat is the third city from where Star Air connected Belagavi and Ajmer.
After commencing operations from Surat, Star Air noted that it is now serving passengers in ten Indian Cities including Ahmedabad, Ajmer, Belagavi, Bengaluru, Delhi, Kalaburagi, Indore, Mumbai, Surat, and Hubballi.
"This Belagavi-Surat-Ajmer (Kishangarh) service is a historic one as, to cover 1480+ kms of the distance between Belagavi and Ajmer, passengers now just have to spend 3 hours instead of 25+ hours as required from other modes of transportation. Moreover, the travel time between Surat-Belagavi and Surat-Ajmer (Kishangarh) is reduced to just 1 hour 20 min and thus it provides great relief to countless people who fly between these cities frequently," Shrenik Ghodawat, Managing Director, Star Air had said. The company expects a good interest on this route due to the popularity of Ajmer and nearby places among tourists and also for those people who are in marble business as Kishangarh, known as Marble City of India, is very popular for its exquisite marbles globally, the airline stated.
Before adding Surat, Star Air had begun commercial scheduled non-stop flight services between Kalaburagi and Delhi (Hindon) in November 2020, the first commercial flight service between the two prominent cities.
"Currently, to cover the journey between Kalaburagi and Delhi (Hindon), approximately 1,700 km apart, by road and rail it takes over 24 hours. With this service, people can travel this long distance in just 2-hour 20 minutes with the comfort of world-class, Brazilian-manufactured Embraer ERJ145 aircraft. The passengers will save time as well as money due to the economic cost of the service under RCS-UDAN," said Sanjay Ghodawat, Chairman of Sanjay Ghodawat Group, in a media release.
Having an airport located strategically at a significant geographical point bordering various states, Kalaburagi holds prominence for travel connectivity, Ghodawat had added.
Apart from expanding connectivity in various regions, Star Air also entered into the charter services business in the mid-2020. Previously, Star Air had already commenced air services through its Helicopter services and the airline services were a new addition to the diversified businesses. The scheduled commercial airline with an aim to connect PAN India is the Aviation arm of Sanjay Ghodawat Group (SGG), which is present in several high value industry segments like Aviation, Agro, Floriculture, Food processing, Energy, Mining, Realty, Consumer Products, Textiles and Education.
The press statement highlighted that with its world-class fleet of three Embraer ERJ145 aircraft (50-seater), two helicopters - Airbus H130 (6-seater) and Airbus H135 (5-seater), Star Air has the capacity to fly anywhere at any point in time.
It holds a valid licence for charter service business and operates as per the protocols defined by the DGCA, it noted.
"We are delighted to expand our airline operations by opening this private charter services. Like our scheduled commercial airline services, we are offering a world-class charter service keeping your comfort, safety, and overall flying experience in mind," said Sanjay Ghodawat, Chairman, Star Air.
According to the airline, the demand for availing charter services has risen dramatically over the last a couple of months and encouraged airlines to either start or expand their charter services business further. "This (Covid-19) pandemic has not only limited the modes of transportation for people across India but also forces them to look for safer, convenient, and comfortable travel options. Private charter services are thus seen as the best alternative" Star Air added.
Star Air had achieved a successful growth in the very first year of its operations and continued to add in its feather through the pandemic year as well. These consistent efforts have made Star Air among the most promising airline brands in making.
During the pandemic, Star Air also added passenger's confidence by highlighting how it is a safer option to be opted for once the commercial airline services began after the nationwide lockdown. "Star Air uses 50-seater Embraer aircraft with an alpha seating arrangement facility. This seating is unique because it has dual features of aisle and window seat. Travelling in this arrangement makes any passenger less exposed to other fellow passengers, due to fewer people density and wider distance amongst passengers inside the aircraft," it stated.
Thus Star Air continued operations on the brighter side of the pandemic and holds great promise for the future ahead.