Indian Army's situation, worst among the three services, will go further south, if the recently initiated procurement projects fails to achieve their objectives.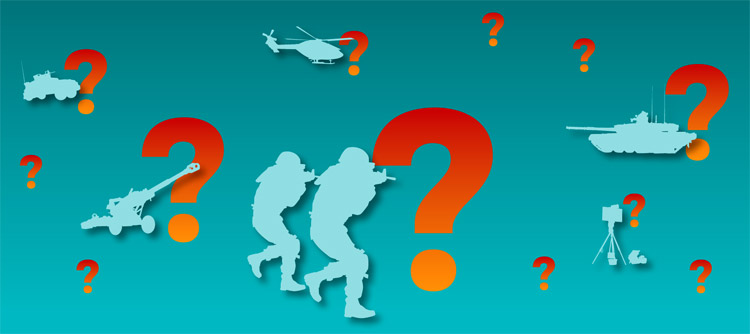 Indian Army is least modernised force among the three services. As per army's testimony to the parliamentary committee on defence, almost 70 per cent of its inventory is obsolete. This is an alarming situation. Due to various reasons including single vendor situation, cost and change in the staff requirements, India has not been able replace these legacy systems.
FUTURE INFANTRY COMBAT VEHICLE
To replace Russian vintage BMP-II Infantry Combat Vehicles, used by mechanised infantry for troop movement along with armour, Indian Army had planned to procure 2,300 Future Infantry Combat Vehicle (FICV) from Indian industry. The project received governments nod in 2009 and two tenders later is still far from start. The project is marred by the inability of the ministry to sort out the techno-industrial issues.
In future wars, mechanised infantry will be crucial in achieving battle objectives against our adversary in the plains and deserts of the western front. Currently, Indian army, is using Ordinance Factory Board (OFB) made Russian BMPs.
The first Expression of Interest (EoI) for the programme was send out in 2010 which was later cancelled in 2012. The second EoI was released in 2015 but no decision has been made as one of the contenders had raised objection on the selection criteria. The objections were sent to a panel of independent experts which has rejected them and the ministry is expected to give the go ahead.
Some of the major contenders for the project are Larsen and Toubro, Mahindra, Tata and OFB.
2009 - Government approval
2011 - EoI released
2012 - EoI cancelled
2015 - EoI re-issued
BATTLEFIELD MANAGEMENT SYSTEM
BattleField Management System (BMS) was part of the proposed Tactical Command, Control, Communications and Information (Tac C³I) system for Indian Army. It was supposed to help the commanders in decision making process. The BMS was to comprise a tactical hand-held computer with individual warfighter and tactical computers at Battle Group HQ and combat vehicles, enabling generation of common operational picture by integrating inputs from all relevant sources through integrated use of a high data rate geographical information system (GIS) and GPS.
The BMS approach paper floated in early 2000s envisaged development, trials and General Staff evaluation in period 2008-2009, followed by its fielding into the Army during 2013-2017. But the MoD-Army red-tape and DRDO intervention to grab every project took over. Only by end 2011 Defence Acquisition Council approved the BMS as a 'Make India' project, followed by Integrated Project Management Study, Expression of Interest (EoI) prepared with industry empanelment pending with MoD, latter expected to be issued to the industry by August-September 2013. However, the EoI was finally issued only in February 2015, to 14 domestic companies, in which only two consortiums, Tata Power SED-L&T, and BEL-Rolta India, qualified the bids. In February 2016, MoD signaled these two consortia to develop BMS prototype that could eventually generate about 40,000-50,000 crore worth of procurement for 600 sets of BMS for the Army. But in December, reportedly, government was planning to scrap the project.
2000 - Approach paper
2015 - EoI issued
2016 - Selection of development agency
2017 - Programme to be cancelled
TACTICAL COMMUNICATION SYSTEM
As part of the plan to prepare for net centric warfare Army, in 1996, envisaged a tactical communication system (TCS) to replace legacy Army Radio Engineering Network. The project was first planned as an upgrade programme but took off in 2010 as a 'Make' programme. The EoI was sent to Indian companies including public sector in September 2010. After the evaluation of the proposals, two development agencies were to be selected to develop prototype for user trials and government was to fund 80 per cent of the prototype development cost.
Of the two developing agencies selected in 2014, one is the state-owned Bharat Electronics Limited (BEL). The second development agency involves a consortium made up of private sector defence companies, including Larsen & Toubro, Tata Power SED and HCL Ltd. Both have been tasked with each developing a TCS prototype at the cost of $100 million apiece.
1996 - Planned
2010 - EoI
2014 - Selection of development agency
ANTI-TANK GUIDED MISSILES
For anti-armour role, Indian army is still relying on second generation Russian Konkur and French Milan anti-tank guided missiles (ATGM). Country is in dire need to upgrade its anti-tank arsenal and it has made multiple efforts to buy state-of-the-art third generation ATGMs. The Request for Proposal (RFP) for the ATGMs was sent out in 2010 and the test for the missile was completed in August 2012. The bid was opened in May 2015 and the price negotiation was completed in April 2016.
After trials Indian Army selected Israel's spike missiles. Between April 2016 and December the company made foreign direct investment in India and showed its commitment to the Indian market. According to reports, the spike has been removed to make way for indigenous vehicle mounted Nag ATGMs, which has been under development since late 80s. Nag has been going through series of test, latest being two test that were conducted on September 8, last year.
India was expected to purchase around 8,000 Spike missiles and 300 launchers for $500 million to equip the Indian Army with cutting edge anti tank systems. In anticipation of the deal, Rafael joined hand with India's leading industrial house Kalyani Group to form Kalyani Rafael Advanced Systems (KRAS). The state-of-the-art facility of the KRAS was inaugurated at Hyderabad on August 6, last year. The plant was expected to manufacture the spike missile system through semi knocked down and completely knocked down kits.
2010 - RFP
2012 - Test conducted
2015 - Bid opened
2016 - Price negotiation
2017 - Reportedly cancelled
SMALL ARMS
The recent decision to procure modern small arms will go a long way in improving the fighting capability of the infantry soldier. In past, similar efforts to acquire modern sophisticated small arms have failed and one can hope this time the history will not get repeated. Even the current fast track sanction being 'Buy and make' will take a few years to take shape. In our comparison, adversaries have been equipping their forces with better weapons and we are lagging behind when the challenges are becoming greater.
On February 28, Defence Acquisition Council (DAC), chaired by Defence Minister Nirmala Sitharaman, accorded approval for procurement of 41,000 LMGs and over 3,50,000 Close Quarter Battle Carbines under Buy and Make (Indian) category. Out of total quantities envisaged, 75 per cent will be through Indian Industry under 'Buy & Make (Indian)' category and balance through OFB. The total cost for procurement of Carbines and LMGs for the soldiers of the three Services is 4,607 crore and 3,000 crore respectively.
Earlier in the month, on February 13, DAC approved procurement of essential quantity of LMGs for the three Services through the Fast Track Procedure at an estimated cost of over 1,819 crore. This will be over and above the decision of February 28. DAC also approved the much-anticipated procurement of 7,40,000 Assault Rifles for the three Services. These Rifles will be 'Made in India' under the categorisation of 'Buy and Make (Indian)', through both Ordnance Factory Board and Private Industry at an estimated cost of 12,280 crore.
In another decision, it approved the purchase of 5,719 Sniper Rifles for the Indian Army and Indian Air Force at an estimated cost of 982 crore.
For the immediate requirement of the troops deployed on the borders, MoD, on January 16, gave its nod for the procurement of 72,400 assault rifles and 93,895 carbines on fast track basis for 3,547 crore.
The main contenders for the small arms are Israel Weapon Industries, Kalashnikov Concern, Colt's Manufacturing Company, Heckler & Koch and FNHerstal.
2016 - RFI for Assault Rifle and RFI for Sniper rifle
2018 - Re-issued RFI for Assault Rifle
TOWED ARTILLERY
After the induction of FH-77B technology (Bofors) towed artillery, Indian army has been making efforts to procure artillery as per its artillery modernization plan. Defence Research and development Organisation in partnership with TataPower SED and Bharat Forge is developing an Advanced Towed Artillery Gun System (ATAGS), a 155/52 mm howitzer, to replace existing artillery guns. Similarly, based on Bofors technology public sector Ordinance Factory Board is developing a 'Dhanush' 155/45 mm towed gun. In 2016, Ministry of Defence gave approval for induction of 114 of these guns. The gun is under trail for last two years. The final order for Dhanush could go over 400 guns.
ATAGS, sanctioned in 2012, is also under going development trials.
2010 - DRDO starts ATAGS
2012 - Government sanctions ATAGS
2017 - Development trial begin
2010 - OFB starts Dhanush project
2016 - Approval for induction