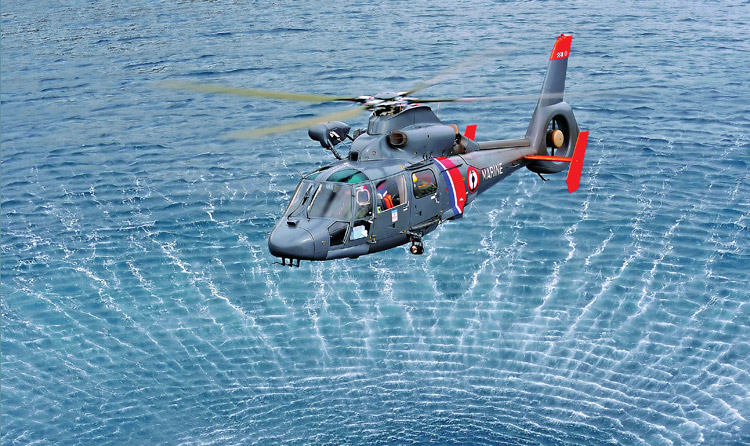 AS565 MBE FROM PANTHER FAMILY
From cutting-edge, multirole helicopters to proven military transport aircraft, Airbus will exhibit its wide-ranging defence capabilities at Defexpo 2018. The product portfolio, which reflects the company's offerings and its willingness to contribute to a self-sustaining defence industry in India, will include scale models of the state-of-the-art twinengine H225M helicopter as well as the all-weather medium rotorcraft AS565 MBe from the Panther family. Visitors to the Airbus booth in Hall 8, Stand 8.2.9 can also learn about the combat-proven A330 MRTT, the only new generation aerial refueller in service today. Also on display will be a scale model of the C295 military transport aircraft.
"We are excited about Defexpo 2018 and look forward to engaging with our partners and customers," said Pierre de Bausset, President and Managing Director, Airbus India. Many of the Airbus products at Defexpo 2018 directly align with the show's motto: 'India: The Emerging Defence Manufacturing Hub'. As part of the defence ministry's Avro replacement programme, Airbus has offered to support Tata Advanced Systems in setting up a final assembly line for the C295 transport aircraft in India.
Airbus has teamed up with Mahindra Defence and is proposing both the AS565MBe Panther and the H135M under the Naval Utility Helicopters (NUH) and the H225M under the Naval Multi Role Helicopters (NMRH) programmes, all with substantial Transfers of Technology and indigenisation compliant with 'Make in India' objectives. Additionally, there will be a model of VSR700 on display at the Airbus booth. The VSR700 is Airbus Helicopters' light military rotary-wing tactical unmanned aerial system.