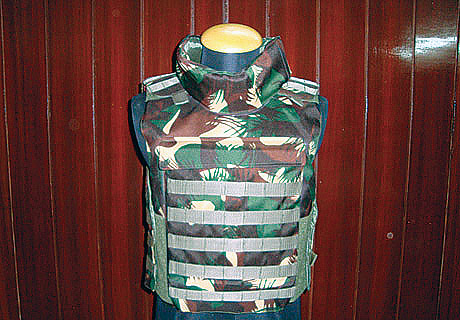 After a nine year long wait, the Ministry of Defence (MoD) announced that it will acquire 1,86,138 bulletproof jackets for a cost of Rs 639 crore, from indigenous defence manufacturer SMPP Pvt Ltd. SMPP specialises in bulletproof solutions and has already supplied bullet proof products to Indian Air Force, Naval Commandos, Paramilitary forces like BSF, CRPF, CISF, ITBP, NSG and state police forces of Gujarat, Uttar Pradesh, Telangana, Maharashtra, Jammu and Kashmir and Kolkata in addition to various forces around the world.
As per the contract SMPP will start the supply of jackets within next few months and complete within a period of three years.
The ordered jackets manufactured by SMPP would be ultra-light in weight and provide a 360 degree protection. A soldier wearing the jacket is protected from all sides and can even choose to add protection of throat and groin as per the combat need. Speaking on the occasion Dr S.C. Kansal, Chairman & Managing Director of SMPP, said "The new jackets meet the most advanced GSQR 1438 standards of Indian Army. These bulletproof jackets have Boron Carbide Ceramic which is the lightest material for ballistic protection. This makes SMPP bullet proof jackets the best of the class ballistic protection jacket and will be able to provide ballistic protection at the lowest possible weight." Meanwhile the Executive Director of the company, Ashish Kansal, says that SMPP is one of the five companies in the world to manufacture Boron Carbide Ceramics which are the lightest and one of the hardest materials used for stopping bullets. SMPP is regularly supplying ballistic protection solutions toworldwide including countries like Germany, France, Australia, UK, Russia and Israel among others. Now the Indian army will also get this most advanced light-weight protection. These jackets will be manufactured as part of the 'Make in India' initiative. Indigenous manufacturing of jackets will create employment and technology innovation besides cost efficiency and economic growth. SMPP had also bagged the National Award by MoD in 1998 for Tank Ammunition and Technology Award for Bullet Proof Jackets in 2017.
The social media had been buzzing with netizens keeping track of this news with many mixed with the nine year long wait. A user took to Twitter to write- "Finally a good news for the our dedicated country men #Army. This came very late despite mutliple requests. They deserve everything under planet for their selfless service protecting the nation and its ppl" while a few others are demanding answers with a user tweeting - "finally the much awaited BU "LATE" Proof jacket will now be available to #IndianArmy.. irony is that foreign country like america and britain uses #madeinindia jacket but it takes our govt. 9 yrs to santion the project for @adgpi question is WHY 9 YRS.