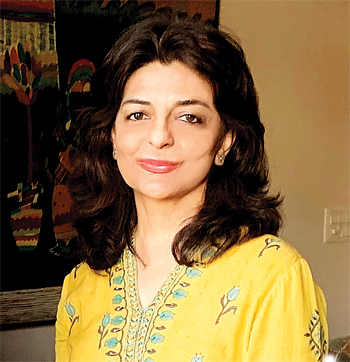 SP's ShowNews (SP's): Pratt & Whitney recently announced its GTF Advantage Engine. Could you tell us more about the engine? And will it have a market in India?
Ashmita Sethi (Ashmita): At Pratt & Whitney, we pioneered the geared turbofan (GTF) technology – reducing fuel burn and CO2 emissions for single-aisle aircraft by up to 20 per cent, reducing NOx emissions by 50 per cent, and noise footprint by 75 per cent. The unique geared configuration delivers unmatched performance and has a long runway for growth. As part of this evolution, we recently announced Pratt & Whitney GTF Advantage engine for Airbus A320neo family aircraft. The GTF Advantage extends the economic and environmental benefits of the existing GTF, by reducing fuel consumption by an additional one per cent. This evolution also extends its lead as the most efficient powerplant for the A320neo family.
The GTF Advantage decreases fuel consumption and CO2 emissions by 17 per cent in total compared to prior-generation A320neo engines and will be compatible with 100 per cent sustainable aviation fuel (SAF) at entry into service. That will be a crucial step in helping the industry meet its commitment to net zero emissions by 2050.
India already has one of the most modern and fuel-efficient commercial fleets in the world; with a bulk of the A320neo fleet with airlines being GTF powered. With the kind of fuel economics and industry-leading dispatch reliability the current engine is now delivering; we expect the GTF Advantage, with its incremental thrust and efficiency gains, to have a market in India in future.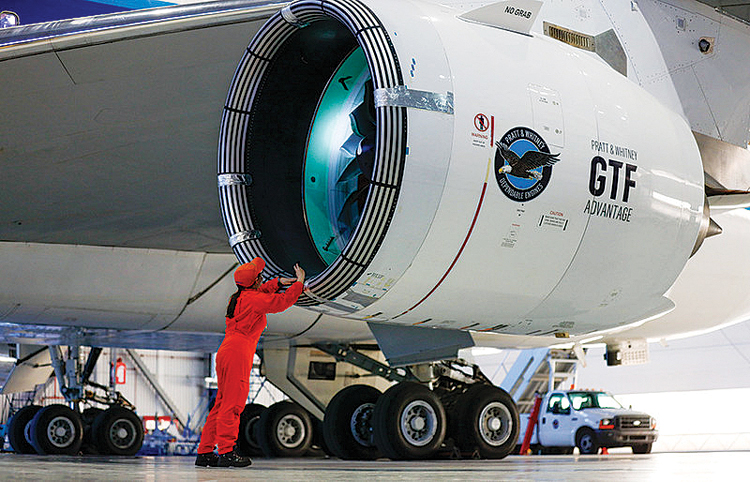 GTF Advantage decreases fuel consumption and will be compatible with 100 per cent sustainable aviation fuel (SAF) at entry into service.
SP's: You spoke of the economics and efficiency that the GTF is now delivering, could you tell us more about the GTF's performance in country?
Ashmita: There are now more than 190 GTF powered aircraft that are helping drive the post-pandemic recovery for our customers like IndiGo and GoFirst through their efficiency. The GTF isdelivering on its promise, by enabling the fuel-economics and efficiency airlines need. So far, over 100 million passengers in India have flown on GTF powered aircraft and the engines have clocked more than three million engine flight hours for our Indian customers and saved 600 million liters of fuel for them.
In fact, in the past two years dominated by the pandemic, global data indicates that on the Airbus A320neo, GTF utilisation has been higher and GTFequipped aircraft are usually the last planes taken out of service, and the first planes returned to service.
SP's: How do you see fuel-efficiency, and economics evolving into a concerted effort towards sustainable flying for Indian aviation?
Ashmita: Since aviation is one of the fastest growing sectors in India, its contributions to total emissions generated will eventually increase. However, India's commercial airliner fleet is growing with new and efficient aircraft, powered by engines like the GTF – this will help reduce passenger CO2 emissions.
Major Indian airlines and industry stakeholders are now looking to explore the potential of using SAFs (Sustainable Aviation Fuel) in their aircraft – something our engines are geared for. We are also constantly engaging, sharing our perspective and our expertise with diverse bodies like the Bio-ATF Program Committee, our airline customers, and the Ministry of Civil Aviation among others.
All of this together creates a great opportunity to drive policy towards accelerating SAF uptake in the short term – and pursuing a range of technology solutions, developed for different applications, in the long term.
Over 100 million passengers in India have flown on GTF powered aircraft and the engines have clocked more than three million engine flight hours for our Indian customers and saved 600 million liters of fuel for them
For sustainable aviation – apart from developing SAFs and thermal propulsion technology, electric-powered aircraft also offer exciting opportunities to further reduce or even eliminate aircraft CO2 emissions. These technologies are already being developed for regional aircraft – like our recently announced hybrid-electric propulsion technology and flight demonstrator programme.
The programme targets a 30 per cent improvement in fuel efficiency compared to today's most advanced turboprops, and we are working with De Havilland Aircraft of Canada Limited to integrate this hybrid-electric technology into a Dash 8-100 flight demonstrator. Technologies like these may well be introduced into regional airline services by late 2030s – and given India's thrust on UDAN there may be an opportunity for India to take the lead in this segment in the future.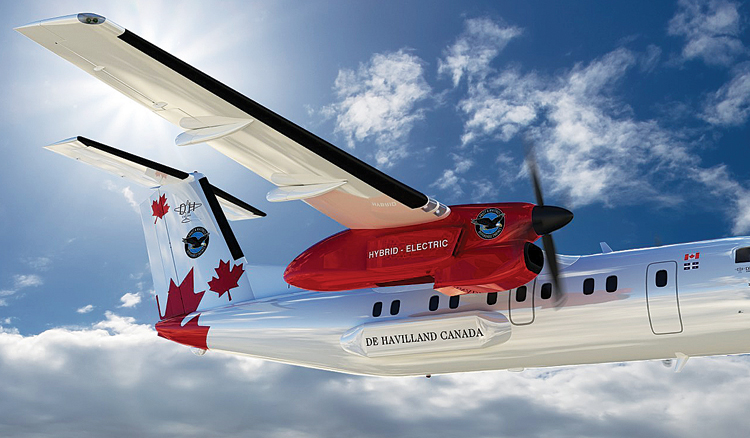 The hybrid-electric technology is targetting a 30 per cent improvement in fuel efficiency.
On the larger engine side, we are committed to supporting our industry and customers to meet the goal of reducing CO2 emissions to net zero by 2050. The scale of the sustainability challenge requires close coordination between industry, government, customers and suppliers – and we are playing a leading role. We view advancements to sustainable aviation as a business imperative and a growth opportunity. Our geared architecture is foundational for the innovations we're pursuing next. We've only just begun to tap the potential of this technology.
SP's: Before the GTF, Pratt & Whitney's V2500 also powered a significant commercial fleet in India – could you tell us more about the V2500 family today?
Ashmita: The V2500 is an incredibly versatile engine and continues to power a large A320ceo fleet worldwide. With 30 years of reliable, efficient performance – which includes powering India's private aviation renaissance in the mid-2000s with IndiGo's 100 A320ceos – the V2500 is in the prime of its life. V2500 engines power approximately 3,000 aircraft with nearly 200 operators in over 80 countries, with an average age of only 11.7 years. Almost 40 per cent of the V2500 fleet has not yet seen its first shop visit.
As the fleet approaches mid-life, we're working with our customers to offer new solutions to meet their needs, from storage to return-to-service.
SP's: As India aspires to and emerges as an aerospace hub for the world, how do you see Pratt & Whitney's role as a leading engine OEM in country?
Ashmita: We have been the engine power for Indian aviation for more than seven decades. At Pratt & Whitney, we are aligned to the government's vision of India as an aerospace hub – and the investments we have made over the years, reflect this commitment.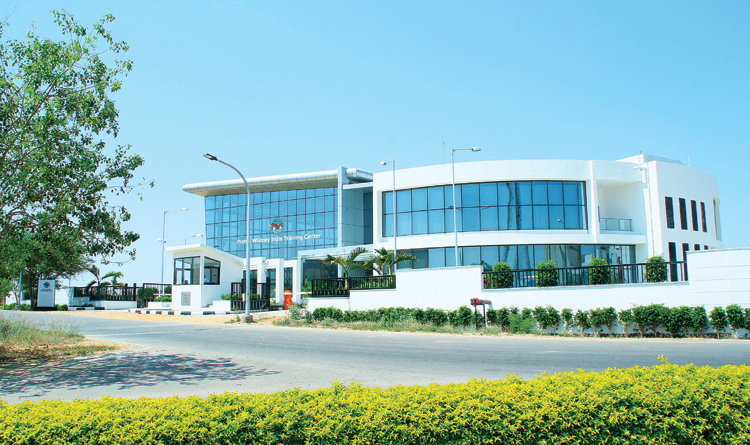 Pratt & Whitney India Training Centre
We established our India Customer Training Center (CTC) in Hyderabad in 2015 – one of three such Pratt & Whitney training centers operating globally which offer specialised DGCA and EASA Part 147 approved trainings. The center provides advanced training for airline customers, MRO operators, as well as industry and university skill development programmes, to spur the growth of the aviation sector in India. The India CTC has imparted 11,500 student days of training to over 39 operators representing over 27 nationalities since its launch.
Another example is our R&D (Research & Development) presence through the Center of Excellence (COE) located at the Indian Institute of Science (IISc), Bengaluru. The COE has been engaged in state-of-the-art research since 2012, in the areas of advanced materials, combustion, mechanical design and advanced gas turbine technologies. We also continue to work with start-ups in India throughour Innovation Challenge conducted with T-Hub, Hyderabad, which saw over 60 Indian and global startups propose solutions to optimise aircraft engine inspections with reduced human interventions.
Given that nearly one in every two Indians flying, fly on a Pratt & Whitney powered aircraft, India to us is more than just a market. We see India as a mutual partner for success and we will continue to build our India presence through partnered investments in innovation, research, supply chain and sustainment – working with leading Indian aerospace suppliers.