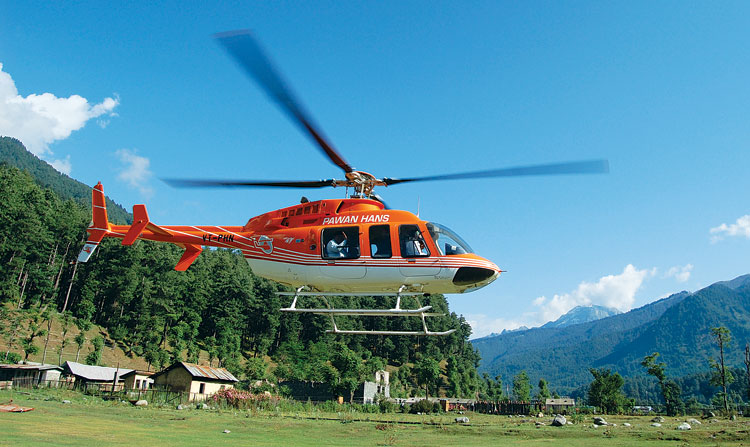 HELICOPTERS ARE NOW AN INTEGRAL PART OF RELIGIOUS TOURISM
India has embarked on an ambitious programme to become a five-trillion dollar economy in the foreseeable future. At the same time, the government has also articulated its vision of doubling the income of farmers. These two lofty visions are achievable in case we Indians strive to improve our way of doing business. This also includes the speed of doing business. The latter can be done by the availability of good communication facilities and fast movement of men and materials by air all over the country. Of course, a fixed-wing aircraft will do the bulk of the hauling work from one part of the country to another. The remote, hilly and fringe areas where airstrips cannot be made or where fixed-wing flight services may not be economically viable, will per force be connected by helicopters. Movements across overpopulated areas too will be done by helicopters. It can be seen that the rotary wing sector provides tremendous scope for providing the necessary infrastructure to achieve the above two articulated visions.
UNIQUENESS OF HELICOPTERS
A helicopter is unique as it can take off and land vertically over a small piece of ground that is clear of vegetation and overhead wires. It can hover to carry out specific operations like rescue and photography. It is also capable of moving at very slow speeds while maintaining the desired altitude with safety to carry out high precision and demanding tasks.
There is no doubt that the operating cost of a helicopter far exceeds that of a fixed-wing aircraft, but the infrastructure required for its operation is a fraction of that required for a fixed-wing aircraft. A helicopter can go to those places where a fixedwing aircraft cannot go. It can even perform spot hovering tasks unlike the latter machine. These are the facets of this versatile machine which have to be considered while planning its deployment in order to exploit it to the maximum.
India presently has less than 300 helicopters. Whereas, a city like Sao Paulo in Brazil has got over 300 helicopters deployed to move men and material within the municipal limits of this city. This saves time on travel and also avoids roadbased congestions. Hence, it can be seen that India has got a tremendous potential for growth of helicopter-based logistics services for moving men and materials. This machine can be deployed for multiple tasks.
UNLEASHING THE POTENTIAL OF HELICOPTERS
We are likely to see a surge in the use of helicopters due to the launch of the Regional Connectivity Scheme (RCS), UDAN and the establishment of GAGAN navigational equipment. The Government of India has gone on to resuscitate the old abandoned airfields to augment the RCS. Helicopters could fly on a fixed or customised itinerary and can also be used to fly between two points where a fixed-wing aircraft cannot be deployed for whatever reason.
These helicopters would be operating as spokes in a hub-and-spoke model. They will bring in passengers from remote areas up to the aviation hub where the load is going to be taken up by the fixed-wing aircraft. The helicopters would also be utilised to move the passengers who have alighted from the aircraft at the hub, to their destinations along the spoke itineraries.
Places such as Mumbai, Delhi, Bengaluru and Ludhiana which face heavy traffic congestion on the roads, would look for vertical avenues for movement. People in these towns will use helicopters to reach their destinations faster and with the least amount of fatigue. All these factors indicate that the potential of the helicopters is about to be realised in our country.
HELICOPTER USAGE AVENUES
Elections are an ongoing activity in India throughout the year. They could be block level elections, or elections of the national government apart from the state government elections. Most of the politicians now aspire to connect with as many people as possible on a given day with the least amount of fatigue and time spent on road travel. Consequently, a helicopter has become the favourite means of transportation for the politicians. Hence, we can see that the use of helicopters is going to increase tremendously in the elections to come in the future.
Helicopters can also be used to combat forest fires and to enable search and rescue operations during floods. They can be used to fly in disaster management personnel and fly out the casualties who require urgent medical aid in a partially or from a fully destroyed area due to disasters.
The rotary wing machine is the favourite logistics medium for the law enforcement agencies. Helicopters can also be used to launch non-lethal agents such as tear gas dispensers or spray skin irritating chemicals to disperse the crowds. These machines can also be used to move police reinforcements from one part of crowd control point to another to extract more effectiveness from the available police personnel on ground. Any videography done using helicopter will also enable justice to be promulgated once the violence or protest are over. This aerial photography from helicopter-based cameras can overcome the problems of line of sight visibility.
Helicopter-based ambulatory services are going to be used in a big way. During a medical emergency either the medical teams can be flown into remote areas to provide medical support including surgery or the patients may be flown out to a better equipped hospital. Patients who have the money and need urgent medical attention would not hesitate to summon air ambulatory services. In this way, precious lives can be saved.
The politico-economic development of remote areas like Jammu and Kashmir and the North East, which have got large inaccessible pockets of land, depends on connectivity to the mainland. These places will be connected through helicopter services. Recently, the State Transport Department of Nagaland has restarted the helicopter service in Phek area. Similarly, the Government of Arunachal Pradesh has launched helicopter service in Ziro and other places under the RCS.
Big players such as Uber have launched an appbased service in the United States (US) where people can book helicopters the same way they book taxis. This has been a game changer. Similarly, Thumby Aviation is also attempting to start a taxi service within the municipal limits of Bengaluru. It connects the international airport with the other prominent business centres of Bengaluru to move people in minimum time and with minimum fatigue.
Of late, Indians have been going for skydiving to places like Dubai and other countries. With the Directorate General of Civil Aviation (DGCA) now opening up for adventure tourism, skydiving is likely to attract the young generation and helicopters can provide a versatile aviation infrastructure to encourage the adrenalin flowing, thrill-seeking young population in adventure activities. Religious tourism to mountain top-based pilgrimage sites such as the Hemkund Sahib in Uttrakhand and to Mata Vaishno Devi Shrine in Jammu, can be made easier by operating helicopter-based transport facilities. Of course, Pawan Hans and Air Deccan have already launched such services which help aged pilgrims.
Agriculture is the mainstay of the Indian economy. Hence, helicopters can be used for cloud seeding to generate rain over desired areas and also sow seeds, sprinkle fertilisers and insecticides from the air. This will enable the farmers to save time and labour costs.
Today, India has got helicopters having diverse lift capabilities. Hence, they can be used in remote sensing, LIDAR imaging, photogrammetry and aerial surveys. In order to have better accuracy and resolution of the onboard sensor's output, it is possible to control the speed of the aircraft to get better results as per the desired operating conditions.
Sometimes, road-based movement of hazardous chemicals or substances is difficult. Helicopters can be used to overcome this problem, but will be subject to the safety guidelines promulgated by the International Civil Aviation Organisation.
Good governance with minimum intervention can be insured by flying in the bureaucrats or the technocrats through helicopters to the critical flashpoints in their areas of responsibility. They would be able to then take on-the-spot decisions on the progress of projects or announce actions to be taken to mitigate the problems faced by the people. These executives would then be able to devote more time to their responsibilities. This will be particularly useful in the case of the politician's movement because their cavalcades often barricade the roads as they travel from one place to another.
For a helicopter to achieve its full potential, its operating cost should not be seen as a dampener. The helicopter must be viewed as a means of achieving the lofty visions established by the government. Once a robust helicopter industry is established, not only will the cost of production and operation of helicopters come down, it will also spur other ancillary activities such as Maintenance, Repair and Overhaul. All these activities will provide employment to people. Over a period of time when helicopter operating costs come down and maintenance facilities are available at pre-decided places, it is quite feasible to expect that foreign registered helicopters would too come to these hubs in order to avail the cheaper labour and lower service costs. Once this starts happening, then we can say that the full potential of the helicopter industry in India has been achieved.