Vadim Feldzer, head of global communications at Dassault wants to keep you guessing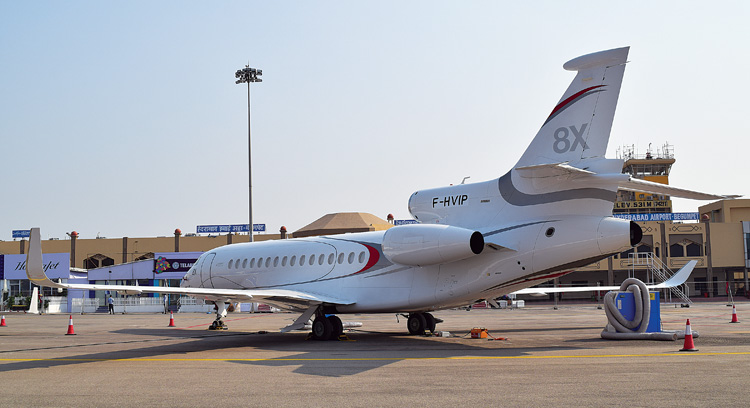 While the Dassault Falcon 8X on display at the ongoing Wings India 2018 had created quite a buzz, the question on everyone's mind is - is a Falcon 9X and 10X in the offing? Well, SP's ShowNews caught up with Vadim Feldzer, head of global communications at Dassault, to get the answer.
THE MYTHICAL FALCON
He says, " Well, we have never spoken about the 9X or the 10X. They are just rumours in the market. We are not confirming or denying, we are just saying that the time will come for a great announcement."
However, he did mention that the alleged new addition in the Falcon fleet is yet to be named. " It's an exciting time right now in Dassault because we are not working or wasting resource on the 6X and at the same time we are working on the newcomer. We've never said it was a 9X or a 10X... so it can even be a 2X... who knows?," he said.
IN PRESENT TIMES
So, with that laid to rest, looks like the Falcon 8X can enjoy topping popularity polls for now. With the cabin size 3.5 ft longer than the 7X, the new Falcon is all about size and more. The improvements to wing design and improved Pratt & Whitney Canada PW300, the 8X is up to 35 per cent more fuel efficient than its competitors. Vadim confirms, "The 8X is our new ultra-long range at Dassault. It's derived from 7X, which has proven to be very popular and we have delivered more than 200 aircraft. So, the 8X comes from 7X, but features more range, more cabin room and more everything." It entered into service in late 2016 bit Dassault started the deliveries worldwide in 2017.
The Dassault Falcon is one of the more popular business jets in India and as Vadim says, "One of the first 8X airplane was delivered in India. So far, we have received very good feedback from the customers."