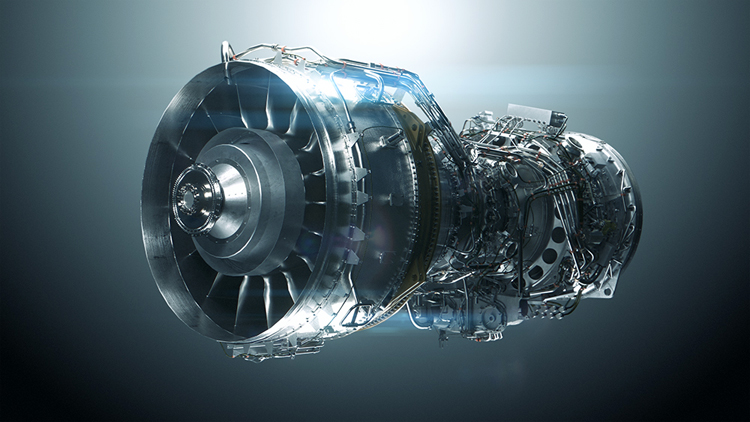 Rolls-Royce MT30 marine gas turbine engine
Power to Protect
With over 80 years of naval propulsion experience, Rolls-Royce has pioneered some of the most important technical advances in marine propulsion including the use of aero gas turbines for surface ship propulsion. Rolls-Royce offers the world's largest portfolio of marine products and systems ranging from gas turbines and diesel engines,through to handling systems, LV electrical distribution and ship automation systems, water jets, propellers, electrical systems and comprehensive customer support.
Today, with gas turbines on many key naval programmes, Rolls-Royce also offers a world-leading range of integrated power and propulsion solutions for future fleets.
Hybrid-electric and full-electric propulsion
Rolls-Royce has extensive experience as an equipment provider and a propulsion system integrator of hybrid, mechanical and Integrated Full Electric Propulsion (IFEP) systems.
As electrical power system integrators, our expertise provides the ideal solutions for hybrid electric naval vessels, optimising performance to satisfy electrical load demands of the future such as advanced sensor, propulsion and combat systems. Rolls-Royce Spey SM1C (OR SM1A) marine gas turbines powered the world's first CODLAG (Combined Diesel Electric and Gas).
Rolls-Royce currently powers several modern hybrid-electric platforms including the latest RoK Daegu and Ulsan-class frigates as well as the Global Combat Ship variants selected for the Royal Navies of Australia, Canada and the UK. The Global Combat Ships will operate a single MT30 marine gas turbine in a Combined Diesel Electric or Gas (CODLOG) hybrid propulsion system, made possible by the power density, reliability and performance envelope of the Rolls-Royce MT30 and four Rolls-Royce MTU 20V 4000 M53B generators IMO III to power its shaft-wound main motors, thereby eliminating main gearbox noise. In this ultra-quiet diesel-electric propulsion configuration, the Global Combat Ship, will rival the noise signature of the UK Type 23 Frigate, widely recognised as the benchmark for anti-submarine warfare capability and low underwater-radiated noise signature.
The power density of the proven naval marine MT30 gas turbine is also one of the key enablers for IFEP for next-generation large warships. MT30 alone is delivering huge design benefits through its power density, significantly reducing the number of gas turbines required to power advanced naval platforms.
MT30 marine gas turbine
The mighty MT30 is the world's most modern, power-dense marine gas turbine in service today - designed specifically to enable the increasing propulsion trend of the 21st Century of "More Power, Fewer Engines". MT30's proven efficiency, reliability and power rating has enabled a reduction in the number of gas turbines required per platform, as seen in the Royal Navy's Queen Elizabeth-class aircraft carriers and the Global Combat Ship, realising significant advantages such as through-life costs for operators, revolutionary flexibility to platform designers and a reduction in maintenance hours required by ship's personnel compared to conventional engine.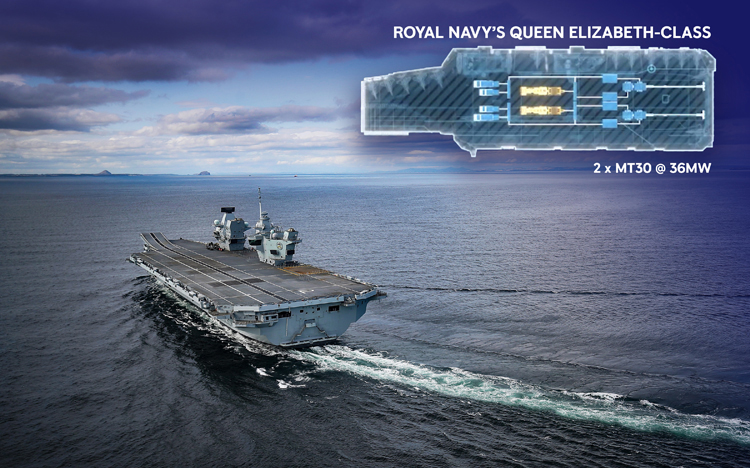 MT30's proven efficiency, reliability and power rating has enabled a reduction in the number of gas turbines on the Royal Navy's Queen Elizabeth-class aircraft carriers
In just over a decade, MT30 has been revolutionising naval fleets around the world. With a constantly growing reference list, the versatility of MT30 is illustrated by its selection for seven ship types in eleven programmes; powering the full spectrum of propulsors, e.g. fixed and controllable pitch propellers and waterjets. Rated at 36MW, MT30 offers a superior power-to-weight ratio, generating up to 40MW from a 30-tonne packaged unit, including most of the auxiliary systems.
Proven at sea, MT30 can deliver its full power of up to 40MW (depending on application) in ambient temperatures up to 38°C, without any power degradation through life of ship allowing the ship to operate anywhere in the world without loss of performance or power.
MT30 is Engine Health Management-ready (EHM); enabling the collection of reliable data and analysis to further maximise asset availability and optimise on-board maintenance.
The actual condition of the engine will be continuously assessed using EHM and in most cases depending on engine rating and utilisation, the MT30 should be regarded as a 'fit-and-forget' capability, meaning that it is unlikely to require engine removal for overhaul throughout the life of the platform providing exceptionally low through-life costs.
Power Retention: The generous thermal margins are the reason why rated power is available throughout the life of the engine in-service, meaning that consistent level of power (including overload capability) is always available to the operator, which is a feature unique to the Rolls-Royce MT30 marine gas turbine
In May last year, Rolls-Royce signed an MoU with HAL to establish packaging, installation, marketing and services support for MT30 engines in India.