Bell Helicopter continues to penetrate the market in India with its innovative and diverse commercial product line. Sameer Rehman, Managing Director, Asia-Pacific of Bell Helicopter, gives details of the plans to Rohit Goel of SP's ShowNews. Excerpts of the interview: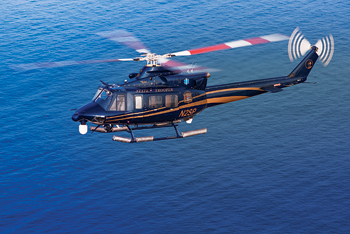 Rohit Goel (Goel): What is the current size and nature of the market for civil helicopters in the Asia-Pacific region, especially in India?
Sameer Rehman (Rehman): Bell Helicopter has maintained a solid presence in the Asia-Pacific for over 30 years, with an installed fleet of more than 1,000 helicopters serving every mission segment. We continue to see a lot of diversity throughout the region, with interest across every segment and every Bell Helicopter platform. Bell Helicopter's portfolio of products are highly relevant to diverse climate and mission needs of Asia-Pacific operators.
Specifically in India, we entered the market 20 years ago, and with over 90 helicopters operating in India, our aircraft are well known throughout the region. Just this year, we have announced some key wins for the region including the first Bell 407GXP purchased by Premair, an air charter management company. We also announced the delivery of the Bell 412EPI to the Government of Uttar Pradesh and this aircraft is being used for VIP transportation. India remains an important region for Bell Helicopter to develop and grow our balanced business, so we will continue to invest in our aftermarket support offerings and invest in our product offerings to meet the needs of our customers.
Goel: What are the prospects for civil helicopters in the region over the next decade?
Rehman: Last year was a great year for Bell Helicopter despite market challenges, and we will continue to build on our momentum into 2016. We continue to have steady interest from our corporate and VIP operators – particularly for the 429 and 412 platforms. The Bell 412EPI remains the most rugged and reliable medium helicopter on the market. We recently completed our Asia-Pacific demonstration tour of the Bell 429WLG and received a lot of great customer feedback, so we're very optimistic about the opportunities coming in 2016. From corporate and VIP travel to assisting in humanitarian efforts and search and rescue operations, Bell Helicopter's state-of-the-art commercial lineup fits the diverse needs of our operators throughout the region.
Goel: With the economy opening up and general aviation sector getting a prop from the government, do you see Bell Helicopter expanding substantially by 2020? And what would be the targeted numbers in India by then?
Rehman: Bell Helicopter started its operations in India in 1995 with a liaison office in New Delhi. Today, Bell Helicopter has grown to over 100 employees and has offices in New Delhi, Bengaluru and Mumbai. Bell Helicopter continues to penetrate the market in India with its innovative and diverse commercial product line. We have invested heavily in our products to ensure they include the latest technology and performance capabilities in order to meet customers' mission requirements in India and throughout the world. We are committed to continue our investment and build upon our existing capabilities and those of local partners.
Goel: Which are the sectors that are predominantly driving the civilian helicopter market in India and which new sectors can be tapped?
Rehman: There are three market segments that we are placing significant focus on and that includes law enforcement, emergency medical services and search and rescue operations.
Bell Helicopter has a rich history in the law enforcement sector that began when we provided the first police helicopter in 1948. Today, with the incorporation of the latest technologies, Bell Helicopter products are setting the pace in the parapublic industry around the world. We now have the ability to deliver significant safety improvements through technology to operate in degraded visual environments and assist in high pilot workload stressful situations. To complete a mission in these conditions, customers need next-generation technologies that provide pilots with greater situational awareness and capability to control the aircraft. Plus we can provide operators advanced avionics – improvements in HTAWS, heads up displays – with the cost/benefit allowing for expansion in commercial industry. Touch-screen glass flight decks designed for helicopters keeps pilots informed of aircraft or obstacle hazards using features such as HSVT, HTAWS and TCAS-II for further safety of flight enhancements. This has been and continues to be a key market segment across Asia-Pacific.
In addition, we're very optimistic about the emergency medical service market, as orders have steadily increased over the last two years, but will continue to have conversations and demonstrate our aircraft capabilities to our customers.
Goel: Which are the products from your company that are best suited for the Indian market? could you give a broad break-up of your products and the sectors they are serving?
Rehman: We continue to expand our presence across the Asia-Pacific region – growing our global footprint with more than 1,000 commercial turbine helicopters in our installed fleet. We have nearly 450 aircraft operating in the general/utility segment, one of the largest market segments in our installed fleet base. The corporate/VIP segment is also a large segment for us with around 250 aircraft. It's important to note that every commercial Bell model have been sold in India, including the Bell 407GXP and Bell 412EPI.
Programmes:
Bell 412: The strength of this aircraft is apparent through its rugged and versatile platform. This is the right platform for parapublic and utility operations. This platform was chosen by the Philippine Department of National Defense and to the Government of Uttar Pradesh.
Bell 407GXP: We recently demonstrated the heightened capability and customer-driven enhancements of the popular Bell 407 platform during a demo tour through Nepal. Proving this incredible helicopter's capability in the Himalayan mountain range was a true testament to the Bell 407GXP's game-changing performance in the highest terrain on the planet.
Bell 505: We continue to make great progress on the 505 with more than 600 hours of operation flight miles. We plan to certify the aircraft as quickly as possible in 2016 with deliveries to begin immediately following certification. This aircraft is ideal for corporate/VIP operations, and continue to have discussions for this aircraft to be used as a trainer.
Bell 525: The marketplace is anxiously awaiting the transformational capabilities of the Bell 525 and demand is intensifying around the world. Specifically in Asia-Pacific, the oil and gas market may produce significant, and the Bell 525 is ideally suited for these missions. Another application for the aircraft in the region where we continue to see potential growth is in the corporate/VIP segment.
Goel: Could you talk about 'Make in India' with specific reference to your company?
Rehman: Bell Helicopter is forging new partnerships to address the growing needs in the Indian rotorcraft market in accordance with 'Make in India' initiative. Bell Helicopter, working through its Textron affiliate TIPL, looks forward to continue the momentum we have established with Dynamatic, and will continue to strengthen the aerospace industry in Bengaluru.
Bell Helicopter is engaged in discussions with potential partners in India to support our local manufacturing footprint and the 'Make in India' approach to defence procurement. For example, Dynamatic became the single source supplier of major airframe assemblies for the Bell 407GXP and 407GT. Dynamatic is proving a highly competent manufacturing provider in country – delivered their first major aerostructures for the Bell 407 in early 2015.
Goel: What is going to be your long-term market strategy in India?
Rehman: The long-term view of rotorcraft industry remains positive, and we continue to expand our presence across the Asia-Pacific region. We believe Bell Helicopter will continue to outpace the competition and see a number of key wins this year with continued emphasis on growing commercial sales and delivering aftermarket solutions for our customers. For 22 years, Bell Helicopter has been recognised as the best in the business by our customers, but we will continue to drive improvements and invest in our people and our facilities to better service our customer base.
Bell Helicopter has an established presence in India and continues to see a great deal of potential for both the civil and military market. Bell Helicopter remains committed to India and continues to look for opportunities that will strengthen our ties with the region. With Bell Helicopter's long-standing history in Asia-Pacific, India aviation serves as an integral opportunity for us to build upon that legacy. We look forward to showcasing how our products are ideally suited for the diverse climate and geography across Asia-Pacific and offer the advanced technology, performance and safety for any mission.