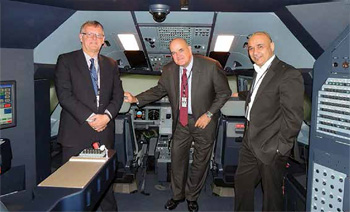 Flight Simulator Training Centre (FSTC), established at Gurgaon, Haryana, is unique on a few fronts. CAE, the world leader in flight training solutions, has five establishments in India, and FSTC breaks the monopoly by introducing Boeing 737NG and Airbus A320 full flight Level D simulators from Lockheed Martin to customers in the region, with plans to cater to overseas clients as well.
Dilawar Singh Basraon, co-founder of FSTC, and former Indian Air Force and Kingfisher Airlines pilot, says that FSTC today supports the training needs of SpiceJet, IndiGo, and Jet Airways. "Each aircraft requires 10 pilots, and each pilot requires 8 hours of training per year, minimum. " With a combined Boeing 737 and A320 fleet in India at close to 400 airplanes, this translates to a minimum 32,000 hours of training per year. "In addition, training is also required for the upgrade of pilots: new pilots are employed, some go medically down, while others retire. Many leave India and fly for airlines abroad. The training requirement always exists."
And this makes for a compelling case to establish a full flight simulator facility in India, which FSTC has already done. FSTC will be adding one more simulator this year and four more by 2018, according to Capt. Sanjay Mandavia, Director, Flywings Aviation Pvt Ltd. The 737NG simulator had 100 per cent utilization, while the A320 simulator had utilization between 35 and 45 per cent.
India presently has 18 approved full flight simulators (FFS) catering to airliners: CAE-Indigo Delhi (2 A320), CAE Bangalore (2 A320, 1 B737NG), CTE Hyderabad (3 A320), FSTC Delhi (1 A320, 1 B737NG), Jet Airways Mumbai (2 B737NG, 1 A330, 1 B777), and Air India Mumbai (1 B737NG, 1 B747, 1 B777, 1 B787). Of these, only CAE Bangalore, CAE Delhi, and FSTC Gurgaon are open to use by all airlines. Each FFS can cater to 7,000 hours of training, per year, at full utilization.
Low-cost airlines such as SpiceJet, Indigo and Go Air do not run their own in-house flight simulators, unlike Jet Airways and Air India. " Airlines prefer to outsource training, as they are into the business of travel, not in the business of maintaining a simulator", says Basraon.
In addition, FSTC, which secured its TRTO (Type Rating Training Organization) approval in July last year, caters to CPL holders who seek a self-sponsored type rating either on the Boeing 737 or the Airbus A320, most of whom otherwise would have to go outside the country for their rating. This saves the individual the costs associated with international travel, hassles with visa, and in some cases, the costs associated with accommodation.
The same saving applies to airlines as well, which actually reap greater benefits. Every time a simulator session is dry leased, the airline will have to send at least 3 pilots: one instructor, and two who are in need of a session. Taking 3 pilots out of the country, and wasting time associated with their travel to and from India only means that the crew is less efficiently utilized.
On top of that, says Basraon, using Lockheed Martin's simulators can allow FSTC to offer competitive rates. He says that unlike CAE's simulators which need spares to be procured via the company, Lockheed Martin's simulators use many commercial off the shelf components, which can be locally procured. With electro-pneumatic actuators and the light weight of the simulator, power consumption is lower, allowing the establishment to keep running costs low.
The establishment has 6 flight simulator bays, of which 2 are occupied, and has land for an additional 6, and is eyeing Air Costa, to partner with Embraer, and the airline, to establish an Embraer simulator that will cater to the regional airline's expansion plans.
Lockheed Martin to support training
The Chief Executive of Lockheed Martin, India, Phil Shaw said Lockheed Martin was highly supportive of the simulator training centre here as the demand was high for quick turnaround of professionals.
As regards Lockheed Martin's focus in India, Shaw said it would be exploring the opportunities in setting up an engine MRO as the company had considerable expertise. "Presently, aircraft from India are going overseas for heavy duty maintenance due to the taxation environment and other regulations. We expect changes and hope that it will open up the sector soon.