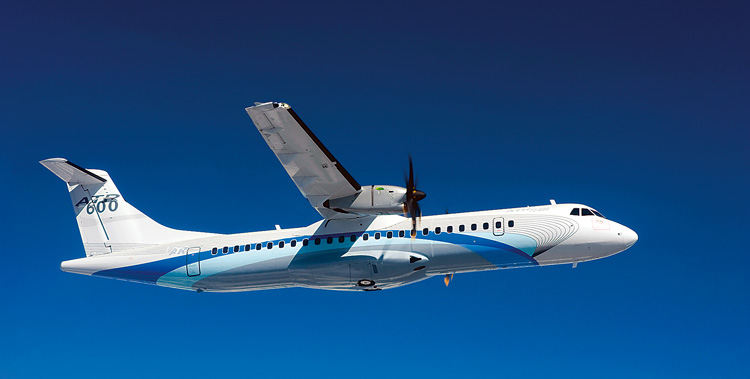 ATR 72-600
ATR ended 2013 breaking new annual records. The manufacturer increased its turnover to US$ 1.63 billion, an increase of 13 per cent compared to the previous year 2012 which stand of $1.44 billion. Meanwhile, ATR continued to increase the pace of its deliveries, allowing it to achieve a new record with 74 aircraft delivered to customers during the year; an increase of 16 per cent compared with 2012 deliveries (64) and 37 per cent compared with 2011 deliveries (54). Alongside these results were sales of a total of 195 aircraft (89 firm orders and 106 options), giving ATR a backlog of 221 firm aircraft orders as of December 31, 2013.
The 89 firm sales, along with 106 options, came from 14 clients. These firm orders represent an increase of 20 per cent compared to orders from the previous year. 2013 also confirmed the growing interest of leasing companies in ATR. In 2013 ATR has also received confidence renewal from some 10 customers over the five continents. For over the past five years, ATR has accounted for nearly 85 per cent of sales of all aircraft under 90 seats in the regions of Latin America and the fastest-growing countries in South East Asia, confirming their attractiveness to regional companies for developing their short-haul networks.
In recent years ATRs have established a clear position as the best-selling aircraft with under 90 seats among all regional aircraft (35 per cent of total sales since 2010). These sales have helped position the ATR-600s as the new benchmark for regional aviation thanks to their cutting-edge technology, avant garde comfort and economical and ecological performance.
The 74 deliveries made in 2013 represent not only a new annual record, but also highlight the dramatic increase in the rate of deliveries, responding to the strong demand for ATRs worldwide. These 74 new ATR 600s in service account for nearly half of all new aircraft with up to 90 seats delivered during 2013. To date, over 130 ATRs from the 600 series are already in operation. Since the programme began in 1981, ATR has received net orders for 1,328 aircraft (443 ATR 42s and 885 ATR 72s). As of year-end 2013, ATR has delivered 1,107 aircraft (429 ATR 42s and 678 ATR 72s).
As of December 31, 2013, ATR has a backlog of 221 aircraft. The value of these aircraft is estimated at $5.3 billion. This backlog represents nearly three years of production and allows ATR to continue to increase its planned delivery rate for the forthcoming years.
In 2013, ATR confirmed the signing of numerous Global Maintenance Agreements (GMAs). Contracts of this type were signed with 15 airlines worldwide, covering a total of 164 aircraft, for a total of $330 million. To date, approximately 30 per cent of ATRs in operation worldwide are covered by GMAs between the airlines and ATR. This performance in terms of supporting the ATR fleet illustrates the strong desire of the manufacturer to develop support and service activities.
Filippo Bagnato, Chief Executive Offficer of ATR, said he was very satisfied "with the company's new record results. Once again, this year we continued to expand our presence worldwide and consolidate the attractiveness of our products and our services to some 190 operating companies. We are very proud to have the largest portfolio of operators out of all the manufacturers of regional aircraft." Mr Bagnato added: "We will continue to improve our aircraft and to further expand our production capacity, and we are going to further develop the support offer we provide to operators. These are key pillars of the success of ATR today."