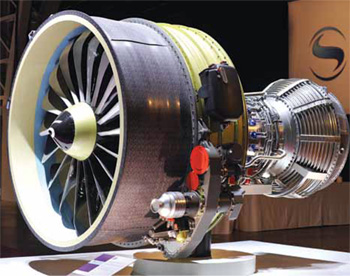 CFM International has begun the year with a bang. It has booked orders for 614 CFM56 and LEAP engines to date. Overall, CFM has received orders for 352 CFM56 engines (including spares) from several customers, including FlyDubai, Air Algerie, and GECAS, who ordered 20 CFM56-7Bpowered Boeing Next-Generation 737s, and VietJetAir which has selected the CFM56-5B to power 21 Airbus A320ceo aircraft.
Singapore-based Lion Air recently finalized an order for 60 A320ceo aircraft powered by CFM56-5B engines.These engines were included in the 2013 total order count of 2,723 engines.
The company has also logged orders for 262 LEAP engines: Flydubai: finalised its order for 75 LEAP-1B-powered 737 MAX aircraft announced at the 2013 Dubai Air Show GECAS: 20 LEAP-1B-powered Boeing 737 MAX aircraft. To date, CFM has received total orders for nearly 6,000 LEAP engines across all three models, while total CFM56 engine orders stand at more than 30,640 engines.
"This is a great way to come off a record orders year," said Jean-Paul Ebanga, president and CEO of CFM International. "Having more than 600 engines already on the books - and it is only February - is just incredible. We take it as a true testament to the faith our customers have in our products and in our ability to execute on our promises.
"As we get ready to celebrate our 40th anniversary later this year, we constantly remind ourselves that we simply could not be here without the tremendous trust that has been placed in us by Airbus, Boeing, and COMAC, as well as by our 530 operators around the globe. It is truly humbling." In 2012, Jet Airways and CFM International celebrated the achievement of three million total engine flight hours by the airline's fleet of CFM56-7B engines. Jet Airway's fleet includes 59 Next-Generation 737-700/-800/-900 aircraft powered by CFM56-7B engines.
According to a Bloomberg report, Jet Airways, India's second largest airline by market share is likely to order 50 Boeing 737 aircraft in a deal worth $2.5 billion and this means business for CFM.