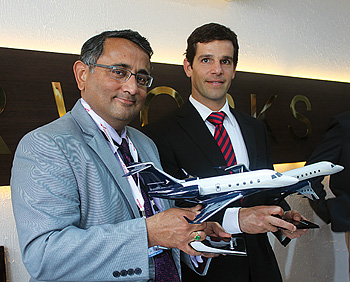 Embraer Executive Jets has signed a memorandum of understanding (MoU) with Air Works Pvt Ltd to provide full maintenance support to the Legacy 500 and Legacy 450 customers in India. The agreement was formally signed at India Aviation 2014.
This agreement comes ahead of the Legacy 500 midsize jet's entry into service in the first half of 2014. The Legacy 450 mid-light jet's certification is expected a year later. This is the second MoU signed to support the Legacy 500 in India.
This MoU with Airworks is yet another step in our preparation to fully support Legacy 500 and Legacy 450 customers upon delivery of their aircraft," said Edson Carlos Mallaco, Vice President, Customer Support and Services, Embraer Executive Jets. "India is one of the countries with a fleet of the complete portfolio of Embraer Executive Jets in operation, which we support with a network of Embraer authorised service centres strategically located across the nation, and field support representatives to swiftly respond to our customers' needs."
"We have a long standing relationship with Embraer Executive Jets and have been providing support to their customers since 2010," said Vivek N.Gour, Managing Director & CEO of Air Works Pvt. Ltd. " We are proud to be able to provide support for their latest Legacy 500 and Legacy 450 aircraft. This is in addition to the support we currently provide for owners and operators of the Phenom 100, Phenom 300 and the line maintenance support for the Legacy 600 and Legacy 650 in India."
The multiple Embraer authorised service centres in India are also supported by the company's customer support team in Singapore, with access to spare parts inventory in Bangalore, Singapore and Australia. A 24-hour customer contact centre at the company's headquarters in Sao Jose dos Campos, Brazil, complements the global service network of Embraer Executive Jets, which comprises about 70 owned and authorised service centres.