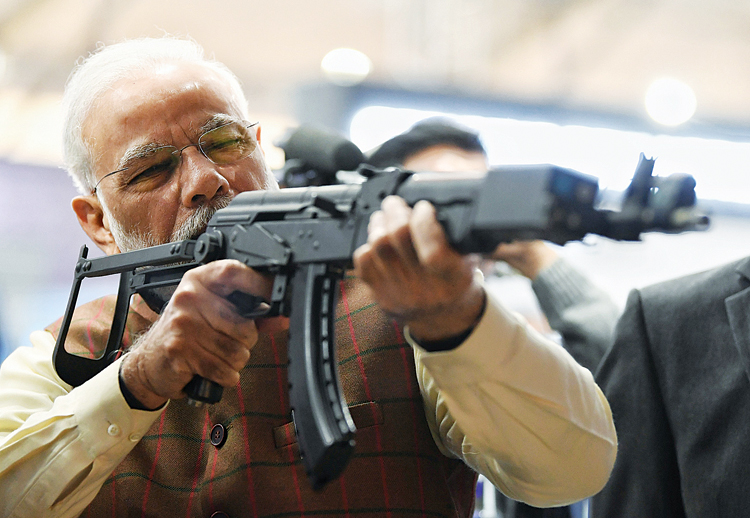 Prime Minister Narendra Modi at DefExpo 2020 held in Lucknow
After being postponed in March this year, amid the Ukraine-Russia war, India's biennial global exhibition is set to showcase the prowess of the Indian Defence manufacturing sector. DefExpo 2022 preparations have been in full swing to put together Asia's largest exhibition on land, naval, air and homeland security systems. Scheduled to be held from October 18, 2022 to October 22, 2022 in Gandhinagar, Gujarat, DefExpo 2022 promises to be the largest event since its inception in 1999.
The exhibition is expected to be the biggest ever as 1,136 companies have registered for the event as on September 27, 2022 when the Defence Minister reviewed the preparations. The final numbers are expected to be higher. The event has been organised over the largest ever total area of over one lakh sqm (previous edition being 76,000 sqm).
Live demonstrations, ship visits & a drone show will take place for the general public. For the first time, the event is being held in a four-venue format. The inaugural ceremony and seminars will be held at Mahatma Mandir Convention and Exhibition Centre; Exhibition at Helipad Exhibition Centre; Live Demonstrations at Sabarmati River Front and ship visits for the public by Indian Navy & Indian Coast Guard at Porbandar. The biggest-ever drone-show by IIT Delhi start-up Botlabs, which is an iDEX winner, has also been organised. The same start-up did the captivating drone show during the Beating the Retreat Ceremony after Republic Day and have been lighting up the sky across the country on various occasions ever since.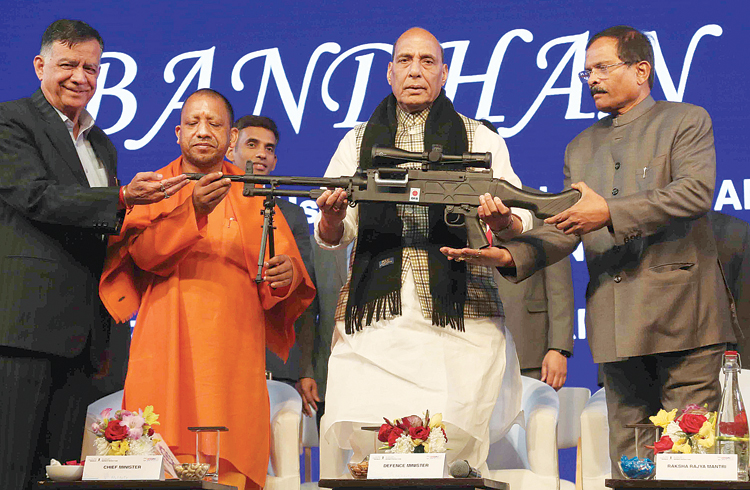 Defence Minister Rajnath Singh at DefExpo 2020 held in Lucknow
In the run-up to the event, a nation-wide outreach was undertaken inviting the States to set-up pavilions and thereby partake in nation building through enhancing indigenous defence manufacturing. Many States are participating with a State pavilion, the Ministry informed. The enhanced number of State Pavilions, which was eight as of August, would also provide the opportunity for Chief Ministers, Industries Ministers, Chief Secretaries etc to solicit investment and promote their respective States thus cultivating more centres for indigenous aerospace and defence manufacturing within the country. Also, to support and ensure a greater participation by start-ups and MSMEs, 50 per cent discount on space charges was offered.
ATMANIRBHAR BHARAT
The theme of Expo is 'Path to Pride', in line with Prime Minister Narendra Modi's vision to transform India into a strong and self-reliant nation by supporting, showcasing and forging partnerships for the Indian Aerospace and Defence manufacturing sectors with Indian as well as global customers. To further boost 'Atmanirbharta', the DefExpo event will showcase the might of the domestic defence industry which is now powering 'Make in India, Make for the World' resolve of the Government and the nation at large. For the first time ever, the event will be exclusively for the Indian companies.
Indian companies, Indian subsidiaries of Foreign OEMs, Division of companies registered in India, Exhibitors having Joint Venture with an Indian company were considered as Indian participants. DefExpo 2022 will also mark the celebration of one year of the formation of the seven new defence companies, carved out of the erstwhile Ordnance Factory Board. All these companies will be participating for the first time at DefExpo.
The Expo will also feature an India Pavilion, "a marque pavilion of Department of Defence Production, Ministry of Defence" that will showcase the maturity of indigenous defence products, start-ups, latest technology, including Artificial Intelligence in defence, and will present India's vision for 2047. It has been named 'Path to Pride'. Over 50 start-ups will showcase their products at the pavilion. More than 300 partnerships in terms of MoUs, Transfer of Technology agreements and product launches are being finalised for signing and launch at the show.
In another first, Raksha Mantri Awards for Excellence in Defence Manufacturing will be presented during the DefExpo.
HYBRID HAVEN
Following the COVID-19 scenario, DefExpo 2022 is being organised in a hybrid manner to ensure greater engagement and outreach as exhibitors can cater to those who are not physically present. A mobile app has also been designed to streamline all information related to the exhibitors, venue maps, speakers, driving directions, notifications for visitors and exhibitors. Alongside that, various publications would also be available on this app. An added feature to share feedback, including delegate hospitality management and cleanliness issues has also been included.

(File Photos) DefExpo is fully supported by armed forces of the country. Seen here, at Defexpo 2020, are the then Military Leaders like (clockwise from Top left) CDS General Bipin Rawat, COAS General M.M. Naravane, CNS Admiral Karambir Singh and CAS Air Chief Marshal R.K.S. Bhadauria.
The seminars during the event will be held at Mahatma Mandir Convention and Exhibition Centre, Gandhinagar in a hybrid format, enabling the speakers as well as the audience to participate virtually. These will be streamed worldwide. The seminars will be conducted by the leading Industry Associations, Think Tanks, Indian Defence Public Sector Entities, Service Headquarters (SHQs), Defence Research & Development Organisation (DRDO), Directorate General of Quality Assurance (DGQA), Ministry of Civil Aviation and State Government etc.
The theme of these seminars will broadly cover Exports, Financing and Investments in Defence Start-ups & MSMEs, Emerging role of MSME in Aerospace manufacturing & MRO, Atmanirbharta in Defence R&D, Futuristic Autonomous Technologies for Air Dominance etc. Leading international and national experts from the Defence and Aerospace sector are the speakers for various seminars. The details of the seminars are available on DefExpo 2022 website and mobile app.
INDIA-AFRICA & IOR CONCLAVES
The India-Africa Defence Ministers Conclave will be taking place this year too. The 2nd edition of the India-Africa Defence Dialogue, will have several Defence Ministers from the African countries. The first one was held in Lucknow during the 11th edition of DefExpo. The broad theme for this edition is 'India-Africa: Adopting Strategy for Synergising and Strengthening Defence and Security Cooperation'.
The conclave would hence focus on strengthening defence cooperation between India and the African continent as well as defence exports. Discussions on bilateral and multilateral levels to gauge the possibility of joint ventures, security solutions, spare parts, maintenance, and maritime security is also expected.
A separate Indian Ocean Region plus conclave has also been planned and would be another key discussion. There has been an increasing focus on enhancing the maritime security operations in the Indian Ocean Region and towards strengthening the Blue Economy. The Government has been taking steps towards this major defence area as India aims to meet the collective security needs of this region. The Prime Minister had also spoken about the changing geo-strategic situations and rising security concerns in the Indo-Pacific region as well as the Indian ocean.
START-UP STAGE
Innovations for Defence Excellence (iDEX), launched by Prime Minister Narendra Modi in 2018, essentially provides a unified platform for various stakeholders in the defence and aerospace sector. At the exhibition, the iDEX will showcase its startups and award its winner during its flagship event Manthan. This year iDEX is expected to sign the Memorandum of Understanding (MoUs) with three new partner incubators, who are leaders in venture development and science and technology. iDEX will also be launching a distinctive event, Invest4iDEX, inviting investors and venture capitalists, while providing the startups to pitch in front of the live audience and leverage the opportunity to generate investments and leads for future.
These are times for great opportunity in the defence sector with growing focus on indiginisation, as well as noticing the future demands call for more advancement, manufacturing and defence power in the volatile geopolitical scenarios that we are witnessing around the world. Organisation of DefExpo at a large scale during this time could prove to be crucial in the path ahead.