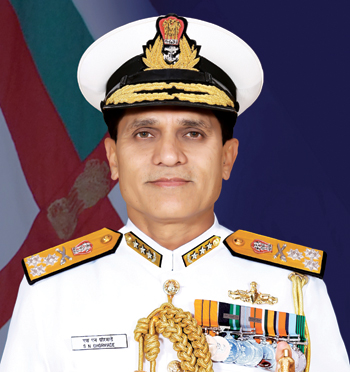 Jayant Baranwal (Baranwal): Aircraft Carrier
Now that INS Vikrant is commissioned, where do you see the status of IAC-2?
Vice Admiral S.N. Ghormade (Ghormade): India's aspiration as a regional power to safeguard its interests and those of friendly countries, can be effected through a near continuous presence in the Indian Ocean Region (IOR). Indian Navy is seen as a force that provides regional stability and peace in the region. A three Carrier force would be essential to provide Sea Control in the vast Indian Ocean region. Needless to say, the flexibility, mobility, combat potential and resilience of an Aircraft Carrier are unmatched in conflict and has a deterrence effect during peace time. Further, the 24th report of the Standing Committee on Defence on Demand of Grants of the Ministry of Defence for the year 2021-22, has also brought out that Indian Navy (IN) requires a third Aircraft Carrier, so that at any given occasion, two aircraft carriers are operational in either seaboard for the Maritime Security of country. Indian Navy's necessity to acquire and operate a third aircraft carrier is well known and acknowledged at higher level.
(b) Particularly when such a project can help:
Self-Reliance, strengthening & supporting Industrial ecosystem engaging SMEs, MSMEs
Ghormade: In charting a course into the future, visionary guidance has been enunciated by our National Leadership. The Nation has set itself a clear goal for India in 2047- that of being a developed nation.
Be it the Prime Minister's articulation of 'पाँच प्‌रण', or the single minded focus on Atmanirbhar Bharat, or transformational initiatives such as Digital India, Skill India, etc, - the aspirational national direction is absolutely clear. And therefore, the Navy in 2047 must be a fully 'Atmanirbhar' force that is 'combat-ready, credible, cohesive, and future-proof' in service of the Nation. Similarly, on July 18, 2022 during NIIO Seminar, Prime Minister has directed Navy to achieve unprecedented heights when India celebrates 100 years of its independence.
Self-reliance in defence manufacturing is one of the key thrust areas of Government of India (GoI). Commissioning of INS Vikrant was an outcome of years of hard work and perseverance by a team encompassing the Government, the Navy, Cochin Shipyard, the Indian Defence Industry, MSMEs, innovators and the workforce working together for a common purpose. Aptly showcasing that 'the whole is always greater than sum of its part'. Considerable expertise has been gained through design & construction of INS Vikrant, this needs consolidation & continuity which will enhance affordability of Aircraft Carriers. A substantial part of Naval budget is ploughed back into the Indian shipbuilding eco system, including a large number of MSMEs.
Naval shipbuilding offers immense opportunity for development of dual use technologies for both military and civilian agencies. A large number of military solutions can be adapted to commercial/civilian usage. Such dual use avenues include Hull equipment (Valves, Davits, Winches, Cranes), Air Conditioning, RO Plant, Refrigeration, Robotics, Unmanned Systems, Autonomous solutions, Composites, Communication and Networking, Sewage Treatment Plant, Garbage disposal, Cabling, Optical Fibre, Fire Fighting and Damage Control etc.
We aim to collectively produce these products that are Made in India - Made for India - and Make for the World - Something that has far-reaching strategic consequences.
Going ahead, the 43 out of 45 warships that are under construction in India, and existing 55 AoNs for ships and submarines that will be built in India, would continue to propel the domestic industry's growth.
(ii) Skill development & Employment generation
Ghormade: Construction of IAC-1 project at Cochin Shipyard (CSL) has immensely contributed towards considerable skill development in design, development of welder qualification and weld processes, integration of ship systems, etc. Towards augmenting the strength of personnel in shipbuilding industry, skill development of associated personnel is a given and such employable youth shall remain an asset to the country for the coming years. This would translate into availability of niche products for the Navy. The fact that a warship is like a township at sea which brings in technology that is required essentially in a smart city.
Indian Navy's necessity to acquire and operate a third aircraft carrier is well known and acknowledged at higher level
With Vikrant, 76 per cent was ploughed back into the Indian ship-building ecosystem, encompassing 90 OEMs, over 100 MSMEs and 500 ancillaries, 2,000 direct and 13,000 indirect employment. In addition, items have been sourced from 18 States and Union Territories signifying the whole of nation effort.
I will reiterate here that the shipbuilding industry is manpower intensive and therefore, efforts of IN towards indigenous shipbuilding aid in generation of job opportunities and enable skilling of workforce. As per KPMG, the multiplier for employment in ancillary industry for ship building is 1:6.4. For example, the total shipyard manpower for Project 17A frigate is 4,000 personnel per annum. Thus, approximately 28,000 personnel are employed in ancillary industry for Project 17A frigate alone.
Indigenous construction of IAC-2 in an Indian Shipyard will provide impetus to the ongoing Atmanirbhar Bharat initiative of the Government, while also providing a huge employment opportunity to the Indian populace.
The number of captive personnel employed for the IAC-1 project on a continuous basis by CSL is 2000. Indigenous Aircraft Carrier programme provides a boost to employment generation not only in shipbuilding industry but also in ancillary industries wherein approx. 13,000 personnel have been employed.
More than 500 Indian firms are registered with CSL towards providing various services for construction of IAC-1. As per data provided by CSL, orders of almost 300 crore have been placed on MSMEs during the last ten years. Therefore, the shipyard has generated significant business opportunities for SMEs/ MSMEs.
(c) Chinese Fujian - 3rd Aircraft Carrier
The programme has been reported as a 'message to its rivals'. How do you perceive this programme of China - an unpredictable neighbourhood?
Ghormade: The Chinese Aircraft Carrier programme is an extension of the Chinese Maritime Capability expansion and it is part of a natural progression. The Indian Navy has already put in place a force accretion programme to meet our maritime security needs and maintain its primacy in the Indian Ocean Region.
Baranwal: Carrier borne Fighter
(a) When can we get to see the finalisation of this requirement?
Ghormade: In order to meet the Indian Navy's long term requirement of a next generation deck based fighter, Navy is pursuing the Twin Engine Deck Based Fighter (TEDBF) programme with DRDO. The TEDBF is an indigenous effort to meet future requirements and envisaged as a replacement of the MiG-29K/KuB which will strengthen our resolve for 'Atmanirbhar Bharat'. The existing inventory of MIG-29K aircraft are inadequate to meet the total number of fighters required to operate from both the aircraft carriers. Thus, it is extremely important for the Navy to procure additional multirole carrier borne fighters as an interim augmentation of fighter aircraft till fructification of TEDBF Project.
(b) Can you remind us as to what are the key features/key expectations out of this particular requirement?
Ghormade: TEDBF would be a Twin Engine Deck Based Fighter which would operate from IN Aircraft Carriers. TEDBF would be developed by ADA, a DRDO agency, and is intended to perform multitude of mission with indigenous Weapons, Avionics and Sensors.
(c) Any plan for 5th Generation Fighter programme?
Ghormade: TEDBF is designed to meet the requirement of 5th Generation fighter specific to IN operations.
For full interview, please refer to SP's Naval Forces Issue 5/2022; www.spsnavalforces.com