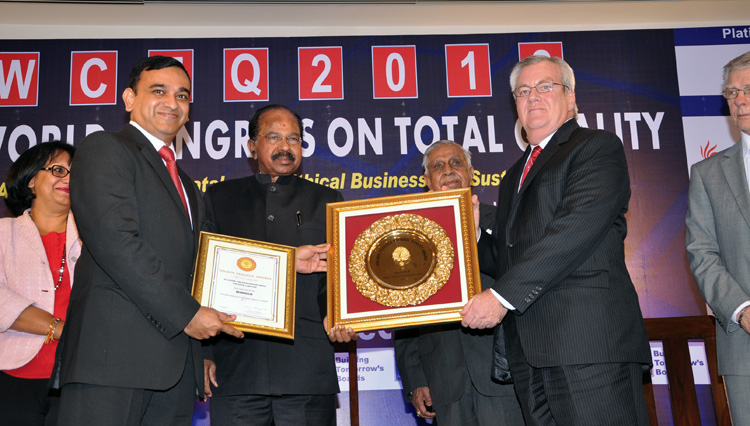 DAVID PARISH AND MOSES RECEIVING THE AWARD FROM M. VEERAPA MOILY, UNION MINISTER FOR CORPORATE AFFAIRS
Allison Transmission India has won the Golden Peacock National Quality Award (GPNQA) for Total Quality in the automobile sector. The award recognises excellence in world-class organisations and use of the GPNQA logo demonstrates Allison Transmission's overall commitment to its customers. Dr M. Veerappa Moily, Union Minister for Corporate Affairs, presented the award at the 22nd World Congress on Total Quality in Bangalore on January 20, 2012. David L. Parish, Vice President of Allison Global Operations, and Allison India Plant Manager K. Moses accepted the award on behalf of Allison Transmission India.
"I'm thrilled to accept this award on behalf of Allison," said Parish. "The success of any organisation depends on the consistent quality of its products regardless of where they are manufactured around the world. Our customers demand the best and expect Allison Transmission to meet the absolute highest industry standards."
The GPNQ Awards are presented to organisations that have made the most significant achievement in the field of total quality. The Institute of Directors leadership team visited Allison facilities in Chennai and assessed the total quality standards in all functions of the organisation. Allison demonstrated robust quality systems throughout its business functions: organisational leadership, strategic planning, information management, human resource management, production process management, employee engagement, customer satisfaction and corporate social responsibility. Allison Transmission India also won the Golden Peacock Award for Occupational Health and Safety in June 2011.
Allison India's facility outside of Chennai is a 100 per cent export-oriented unit (EOU), having 19,000 sq metres of zero-discharge manufacturing space. It has a state-of-the-art visual factory with best-in-class global manufacturing practices, supported with a strong work culture of employee engagement and self-directed work teams. The plant, one of the benchmarking facilities in the Chennai industrial belt, achieved zero PPM in 2010 and 2011 and recently passed three million safe man-hours. The facility houses a product training centre, and customisation and regional parts distribution centres will also be housed in this facility.