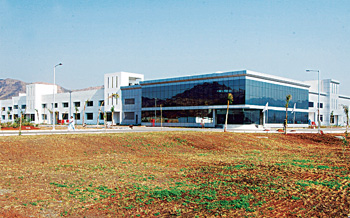 PRODUCTION FACILITY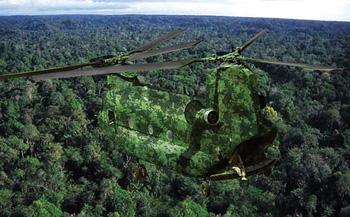 CAMOUFLAGED HELICOPTER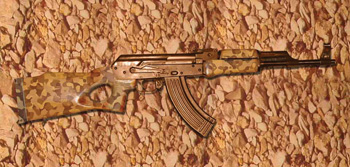 CAMOUFLAGED ASSAULT RIFLE
Classic Stripes Private Limited (CSPL), a dynamic diversified global company offering innovative solutions with a drive to excel, is a premium imaging solutions provider with comprehensive end-to-end solutions ranging from design and product development to printing, fabrication, installation and application capabilities.
The company led by the Chairman and Managing Director, Kishore Musale, has recently been acknowledged as a world leader in print technology, with Musale being awarded the FESPA Hall of Fame securing second position in the World Print Championship.
One of the largest manufacturers of imaging graphics in the world, Classic Stripes manufactures decals of approximately 15 million graphic sets per annum, with applications across all vehicular segments, with over 70 per cent market share of the automotive original equipment (OEM) market in India. The company also has a sizeable presence in overseas markets exporting products to the USA, Middle East and Europe.
It operates four world-class manufacturing plants in India, all of which are environment friendly, temperature and humidity controlled, dust free, positive pressure equipped and managed using SAP R3 ERP system. The company is well geared up to meet exacting requirements in terms of scalability, infrastructure and technology.
With a well-established and developed in-house design studio, CSPL has established a strong presence in the following verticals:
Fleet graphics for corporate fleets
OEM graphics for the auto industry
Large/small format graphics, dashboard trims and other car accessories for the retail aftermarket
Outdoor/indoor POP products and signage for retail outlets
Large/small format graphics and domed labels for global markets
Polycarbonate fascia for the domestic consumer durables industry
Commitment to quality and innovation has won the company numerous awards over the years, an acknowledgement of the creative designs developed in its in-house design studio establishing the company as a leader in new product development.
An ISO 9001/14001 and OHSAS 18001 company acknowledged for excellence in printing by global printing associations, CSPL also has the ISO 9001:2000 (Systems), ISO 14001: 2004 (Environmental) and an OHSAS 18001: 1999 (occupational, safety and health) certifications.
For the last seven consecutive years (2005-11), Classic Stripes has featured in the "Top 25 Best Places to Work in India", in a survey conducted by "Great Places to Work", Institute (India) in partnership with Business World and Economic Times.
Integrating the knowledge gained and applying it to innovative concepts, Classic Stripes has developed intelligent pattern (iPAT) camouflage wraps, the most advanced digitised and pixilated camouflaging solution in the visual segment offering effective camouflage through colour matching, counter shading, and disruptive colouration to achieve the key deliverables of concealment and deception.
With ongoing research and development (R&D) the company has also achieved a measure of success in reduction of heat signature with application of the "iPAT Camouflage Wrap", Technology.
iPAT Camouflage Wraps are site specific, highly durable and able to withstand the harshest of environmental terrains and temperature variations of -40° C to +80° C.
Website www.ipat.co.in