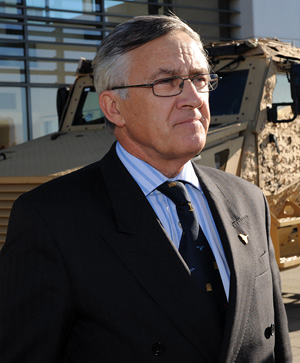 GERALD HOWARTH
Gerald Howarth, Minister for International Security Strategy, Ministry of Defence, United Kingdom is in India to continue and build on the close historical, cultural and trade ties between the two countries. In an exclusive interaction with SP's ShowNews on the first day of the land and naval exhibit Defexpo, the Minister said UK and India have many things in common; an open market, free press, shared cultures, etc and both the countries can benefit from each other. "Transfer of technology (ToT) has taken a real momentum," he said and added that it is not only UK companies tying up with Indian industry, but also Indian companies who are doing really well (Tata-Jaguar, etc) with their partnerships in UK.
Howarth would be meeting the DRDO Chief Dr V.K. Saraswat to discuss on how to take further the bilateral agreement on Energetics signed between DRDO and Defence Science and Technology Laboratory (DSTL), UK in September 2011. "A team of experts from the DRDO will visit UK in June to turn the agreement into a reality."
On being asked about India's decision on medium multi-role combat aircraft (MMRCA) programme, he said that his purpose of coming to India is continuing the British Government's commitment to India. He however, also said that though UK is disappointed with the MMRCA decision, it is still hopeful. "Eurofighter Typhoon is a better performing aircraft and the package that Cassidian offered is in excess. But we entirely respect the decision of the Indian Ministry of Defence (MoD). There is a long way to go and we are still hopeful," said the Minister.
On the ongoing debate for a hike in foreign direct investment (FDI) in defence sector from 26 per cent to 49 per cent, Howarth said that it would be beneficial to both countries. He gave the example of 1980s when India was a great help for the British economy.
The Minister is also accompanied by officials from the UK Trade & Investment with the intent of promoting defence trade ties between the two countries. According to UK Trade & Investment officials, India is a massive market and they are looking at bringing British capabilities in land and maritime to India. While in land they are looking at air defence and equipping infantry soldiers with latest communication system, armour, etc; in the maritime domain they are looking at the CBRN system and frigates. They informed that a ship equipped with the latest equipment and technology would sail from UK to India this year, to demonstrate before the Indian Navy officials UK's latest technologies. The officials also highlighted on the 'lifesaver bottle', which can be used both by the defence forces and civilians.