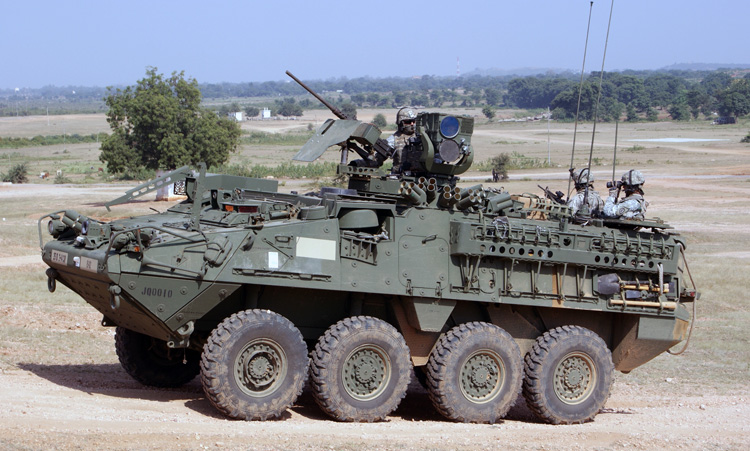 GDLS Manufactured Stryker Eight-Wheel Drive Armoured Combat Vehicle
As the Indian land forces expand their scope of operations and profile, there is a steep increase in the requirement of armoured and specialty vehicles across the board. Vehicles for the Army and paramilitary forces cover the entire gamut of offensive, patrolling, intelligence gathering, battlefield reconnaissance and weapon deployment missions. Defexpo 2012 will see the rolling on of several new vehicles, both Indian and foreign, all competing on a common stage.
Consider the requirements of just the Indian Army. It is actively in the market for a slew of specialty vehicles including mine protection vehicles, light strike vehicles, specialist vehicles (for movement of medium machine gun and anti-tank guided missiles detachments, reconnaissance and observation parties), telescopic boom type 5/7.5-tonne chassis light recovery vehicles (capable of operating in all terrain conditions in the country such as high altitude, shore establishment, off shore establishment, desert area, jungle areas), 6x6 and 8x8 high mobility vehicles (to operate in the forbidding terrain of Eastern Ladakh and Plateau area of North Sikkim), all terrain vehicles (ATVs) with an approximate capacity of 10 persons for use in varied terrains to include snow bound areas, marshes, creeks, beaches, deserts, and the list goes on.
The massive requirements are routinely manifested in the huge presence of military land vehicles at Defexpo, which has progressively become one of the best expos for advanced land warfare capabilities.
For instance, General Dynamics Land Systems will be showing the futuristic light armoured vehicle, and newly acquired General Dynamics Land Systems-Force Protection's light mine protected ocelot vehicle, which enters UK service as "Foxhound" later this year. Textron Systems' family of tactical wheeled armoured security vehicles, which incorporate advanced ballistic protection with battle-proven firepower and rugged, all-terrain operation at speeds up to 65 miles (104 kilometres) per hour will also be on display. Mobility and land systems will be the dominant theme among BAE Systems' displays where the company will debut its family of CV90 light tanks and BvS10 goanywhere all-terrain vehicle family. Companies like Cobham and Raytheon, among a large number of other small and medium enterprises, will showcase subsystems, electronics and upgrade packages for Indian ground vehicles.
Defexpo has been a proving ground for Indian military vehicles developed and custom-built by private industry within the country. Like the 2010 iteration of the show, this year's Defexpo holds great promise, with a slew of new products poised to enter the mainstream and become available to Indian and regional customers. For instance, Ashok Leyland, currently the largest supplier of logistics vehicles to the Indian Army, will unfold its next chapter of growth with the development of armoured vehicles in partnership with global leaders on two fresh platforms that will be on display for the first time at Defexpo 2012. Tata and Mahindra are also expected to showcase new vehicles.