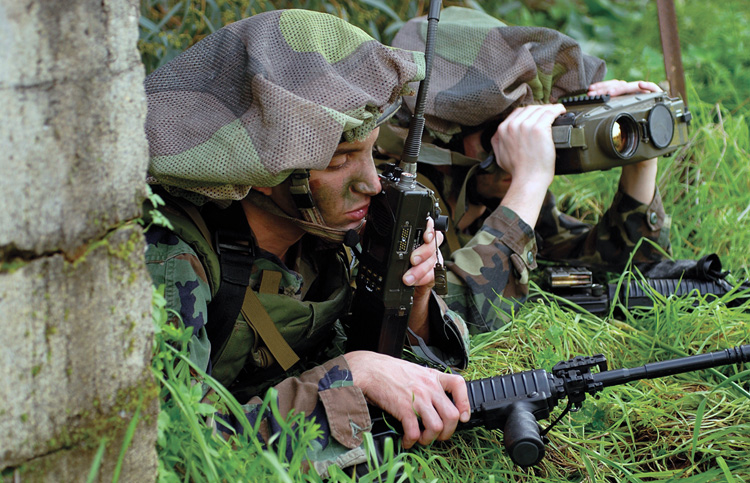 Tadiran PRC-710MB and CORAL Thermal Imaging Camera
Accurate situational awareness allows for quick coordination and effective responses to rapidly changing operational scenarios. Leveraging in-house development of underlying technologies, products, platforms and systems, Elbit Systems has developed expertise in digitised battlefield C4I by applying advanced technologies in combination with commercial off-the-shelf (COTS) hardware and software packages. Our systems employ a tactical building-block approach to link various applications and levels of command implementing a net-centric concept. Configurations comprise tactical computers, digital maps, message handling systems, border surveillance, advanced communication controllers and modems as well as various components developed for customer-specific needs. We also provide software infrastructure and applications for mobile and airborne platforms, for the individual soldier, and for headquarters command and control (C2) applications. Based on these core technology building blocks, we offer our customers comprehensive integrated solutions of C4I for land forces at all levels. The systems process, manage and present massive amounts of data arriving from various sources into a user-friendly format. We also provide a full range of simulators and customisable training programmes.
Command, Control and Computers
Elbit Systems' advanced networked battle management systems deliver improved coordination and planning and rapid closure of the sensor-to-shooter loop. These systems provide all branches of the fighting force with enhanced situational awareness and mission-critical information. Advanced C4ISR solutions provide end-to-end, innovative and integrated systems to all operational levels. Autonomous C4I arrays that improve national situation awareness enable full connectivity through highly advanced communications systems and incorporate a variety of integrated sensor and weapon systems.
DAP: Digital Army Programme
A powerful force multiplier, DAP connects and coordinates all land, air and sea forces from the highest echelon HQs to the individual platform, sensor and soldier. DAP implements advanced combat concepts that increase operational effectiveness and connectivity throughout all echelons in all combat situations-under a unified operational doctrine.
TOR C2H: All-in-one C4I system
Covers all army branches and echelons, enabling universal situational awareness as well as indepth collaborative mission planning and management based on real-time information, and an always-updated common operational picture. TORC2H is the only C4I solution to be fully deployed and operational in a major military organisation-the IDF.
DTA C2: Mobile embedded C2 application for tactical dismounted units
The DTAC2 provides a mobile embedded C2 system for operational dismounted personnel. The DTAC2 system enables all-terrain operability and rangebased on dynamic network connectivity and integrated battle command capabilities- achieving accurate and rapid reaction within the task-force mission assignment. It transforms the dismounted commander/soldier to a force-multiplier within the task force operation and increases their operational effectiveness within the tactical force network warfare.
Dominator: Infantry combat solution
An integrated infantry combat system enabling full situational awareness from the infantry battalion level down to the individual soldier. The Dominator dramatically shortens the sensor-to-shooter loop, enhancing the combat effectiveness of the dismounted soldier.
Weapon-Integrated Battle Management System (WinBMS ): Networked integrated battle management solution
Enhancing the connectivity and coordination of the tactical level manoeuvring forces, the WinBMS increases their lethality and survivability. Based on integrated sensor and weapon systems, WinBMS provides a full-scale solution both at the task force level and within the armoured combat platform, thereby increasing the combat effectiveness of the combined force within the dynamic battlefield.
Combat NG : Fully-integrated modular artillery solution
Incorporates C4I systems and platform suite upgrades to establish an autonomous artillery array, achieving an effective fire support process.
Air defence command and control solution: Integrated air defence C4I solutions in pursuit of aerial sovereignty
A comprehensive air defence (AD) solution that provides a host of integrated tools and capabilities for real-time air space surveillance, engagement and interception control, air command and control, early warning systems and mission management. This AD solution incorporates radar surveillance arrays, ground AD units and ground air command and control centres, achieving air space sovereignty within interior and national aerial zones.
Border Defence Solution: Full-scale border security solution
Providing regional operation centres and frontier guard forces, Elbit Systems' offers integrated C4I and surveillance arrays in support of terrestrial, naval and aerial border protection. The system enables complete real-time connectivity among the entire border defence array and allows optimum coordination of intelligence, surveillance and reconnaissance (ISR) efforts throughout the national territory operational zones and along the country borders.
General HQ Solution: Comprehensive C4I solution for all levels of the command chain
Providing the Joint General Staff with an integrated C4I solution that supports strategic planning and joint command and control at all operational levels.
Crisis Management Solution: Strategic organisational management solution for disaster/emergency preparedness
Equips emergency centres with an integrated C4I solution to improve national crisis preparedness and enhance the control and management of routine, crisis and emergency situations.
Fronts Solution: Customised C4I solution for mission-critical operations
Provides first-responders and rescue units with an integrated C4I suite in support of the control and monitoring of both routine and rescue activities.
Tactical Computers
A range of versatile, rugged and battle-proven tactical computers and displays, deliver C4I applications to the modern battlefield.
Enhanced Tactical Computers (ET C): Ultra rugged, battle-proven, high performance tactical computing for combat vehicles
Providing powerful C4I capabilities and tactical data dissemination to a broad range of combat, command and reconnaissance vehicles, this versatile range of tactical computers is designed for success in the harshest conditions, is fully battle-proven and is in use by numerous armed forces around the world.
Ground Smart Display Unit (GSDU): Multi-function C4I display unit
A high-brightness display unit supporting multiple video formats, the GSDU features a customizable front panel. The GSDU is fully ruggedised and compliant with all relevant military standards.
Tacter-31D: Versatile tactical computer in a tablet configuration supporting both vehicle-mounted and dismounted applications
It is an indispensible C4I tool for the digital battlefield, ensuring complete continuity across vehicle-mounted and dismounted applications. Designed with flexibility in mind, the Tacter-31D's unique vehicular docking station and latch enable seamless operation both in and out of the vehicle. The lightweight tablet configuration and integrated handle allow the unit to be quickly and easily transported.
RPDA 57: Situational awareness on-the-move
It is a reliable rugged multi-function tactical PDA, delivering real-time data access even in the harshest conditions.
X700 Displays: Multi-function smart displays for land vehicles
Compact and fully integrated into fighting vehicles and main battle tanks, the X700 series of smart displays incorporates advanced computing power with a high-resolution display. Best-in-class for size, weight and power, the X700 provides the crew with a unique tool to enhance situational awareness and improve operational efficiency.
Personal Digital Unit (PDU): Compact, high-performance computer
It is a ruggedised tactical computer specially designed for the dismounted soldier. Compact and energy-efficient, this PDU delivers powerful data processing and storage capabilities including embedded global positioning system (GPS) and interfaces to all of the peripheral elements.
Eyepiece: Instant access to C4I applications
The eyepiece provides the soldier with instant access to C4I applications including high-resolution images and video. The lightweight eyepiece is highly effective both indoors and outdoors and in all weather conditions.
Combat Display: Lightweight display for the dismounted soldier
The lightweight 8-inch display enables the viewing of C2 maps and battle plans even in the brightest sunlight. The display includes a glare-resistant LCD and anti-reflective coating.