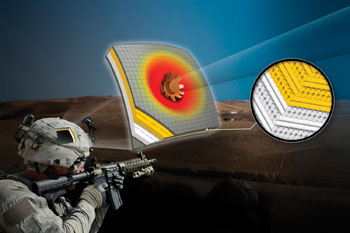 Honeywell has announced that its Spectra Shield® II ballistic materials will be used in combat helmets to protect soldiers in Asia.
Dae-Sung Tech Co., Ltd., a Korean body armour manufacturer, will use Spectra Shield II materials in helmets designed to protect soldiers against a variety of threats, including fragments from improvised explosive devices and small-calibre rounds. The material's lightweight strength enables the helmets to provide critical head protection at a lower weight, which helps soldiers move more easily and comfortably.
Spectra Shield II materials help the helmet achieve a 20 per cent weight reduction when compared with Dae-Sung's previous helmets. The company will produce the helmets with the material under a three-year contract with Honeywell.
"Spectra Shield II ballistic material provides the right combination of light weight and ballistic performance that can help improve the protection, mobility and comfort of soldiers in the field," said James Thagard, global marketing manager for Honeywell's Advanced Fibers and Composites business. "We are pleased that Honeywell's lightweight Spectra Shield II materials will help protect military men and women in Asia."
The contract represents the latest application of Spectra materials in combat helmets. Honeywell announced in June that it was awarded a three-year contract from the US Army to provide advanced ballistic materials that will improve the performance and reduce the weight of their helmets.
Spectra Shield II materials for helmet applications are designed to maintain a high level of performance in a curved shape, offering soldiers excellent head protection against multiple hits and angle shots.
Spectra Shield II is a high-strength, lightweight composite material made with Spectra fibre. Spectra fibre is ultra-high-molecular-weight polyethylene made using a patented gel-spinning process.
Pound-for-pound, Spectra is 15 times stronger than steel, yet light enough to float. The fibre features a high resistance to chemicals, water and ultraviolet light, and exhibits excellent vibration damping, flex fatigue and internal fibre-friction characteristics. It also has up to 60 per cent greater specific strength than aramid fibre.
Honeywell ballistic materials have been trusted to protect military and police forces around the world for more than two decades. In addition to helmets, they are used in a variety of applications where lightweight strength is critical, including bullet-resistant vests, breast plates, combat vehicles and military aircraft. The fibre is also used in a wide variety of industrial and recreational applications, including rope and lifting slings, mooring lines, fishing line, sail cloth and security netting.
Honeywell maintains an active Spectra fibre and ballistic materials research and development programme focused on meeting increased demand for its high-performance materials.