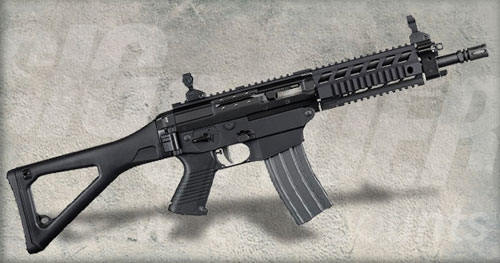 A Swiss-folding stock and ambidextrous controls allow users to fit the rifle to their needs. SIG SAUER introduces the SIG556xi, the next generation of cutting edge tactical rifles from the leading manufacturer of military and law enforcement firearms.
Building on the innovation and reliability of the SIG556-series rifles, the SIG556xi offers greater adaptability to meet the needs of the end user.
"Gone are the days of forcing the rifleman to adapt to the rifle," said Jeff Creamer, SIG SAUER Director of Product Management. "With the next-gen SIG556xi, the rifle can be quickly and easily configured to fit each individual, large or small, right- or left-handed."
The SIG556xi features a completely ambidextrous magazine release, bolt release and safety selector. The charging handle can be installed on either side, giving the shooter the ability to set the rifle up to meet his or her preferences.
A new barrel design makes it easy for armuorers or gunsmiths to change barrels. The SIG556xi will first be available with a 16" cold-hammer forged barrel, 1:7 twist and an A2 flash hider.
Flip-up front and rear sights, a two-stage trigger and an original Swiss side-folding stock are all standard features on the SIG556xi. The tried-andtrue short-stroke piston system features a two-position gas valve for reliability in even the most demanding of environments.
A redesigned lower-profile M1913 quad-rail handguard is slimmer and lighter. A 10" short-barrel version will be available as part of the factory SBR programme. The SIG556xi accepts any Mil-Spec AR15/M4/ M16- style magazine.