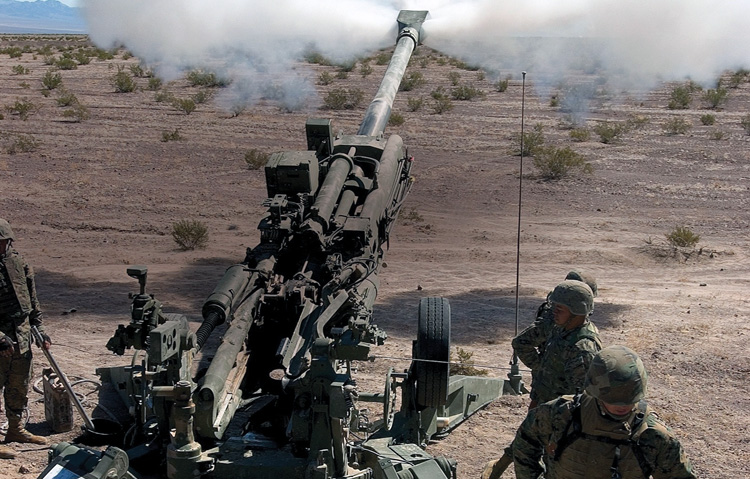 BAE Systems' M777 155mm lightweight howitzer
The seventh international exhibition on land, naval and internal security in line with India's expanding requirements, and continuing with their hugely successful push into the Indian defence market, the United States and Israel are back at Defexpo in full strength. While Israel has the largest pavilion presence this year-an affirmation of a relationship that has gone well beyond the buyer-seller-the United States has once again brought the single largest industry delegation to the show this year. The US executive mission led by General Paul J. Kern (Retd), Senior Counselor, The Cohen Group and Vice Admiral (Retd) Kevin J. Cosgriff, Senior Vice President, International Business and Government, Textron Systems, lead this impressive delegation comprising America's premier aerospace and defence companies.
"This remarkable growth in defence sales also translates to thousands of high-skill jobs being created both in India and the United States, making it a win-win for both countries. We are here once again to reaffirm our commitment to a long-term partnership with India by offering the best capabilities that are mission-ready and operationally proven, robust industrial partnership, and state-of-the-art technologies offered at the best value when measured over the lifetime of the product," the mission leaders said.
Senior executives representing America's top defence companies, including ATK, BAE Systems Inc, the Boeing Company, the Cohen Group, DuPont, General Dynamics, Harris, Honeywell, ITT Exelis, L-3 Communications, Lockheed Martin, Navistar Defense, Northrop Grumman, Oshkosh, Pillsbury Winthrop Shaw Pittman LLP, PwC, Raytheon, Rockwell Collins, SAS, Sikorsky, Telephonics Corporation, Textron Systems, Tyco, and many others, will be present at Defexpo 2012.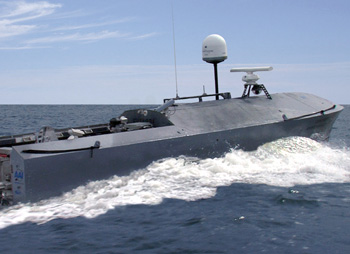 Textron systems' naval common unmanned vessel
On display will be current offerings such as Textron Systems' ground-based smart weapons and naval common unmanned surface vessel, BAE Systems' M777 155mm lightweight howitzer, and other best-in-class offerings from the US industry, such as armoured security and light combat vehicles, tactical communications equipment, integrated weapons systems, thermal imaging technologies, and network munitions systems.
"There is a tremendous opportunity for the United States to meet India's defence and homeland security needs-as exhibited by recent bigticket procurements such as the Boeing C-17 heavy lift transport aircraft, VVIP aircraft for the PM, Lockheed Martin C-130J, Textron sensor fused weapon-all of which indicate a high level of trust and cooperation between the United States and India," said USIBC President Ron Somers.
Israel, apart from fielding the largest pavilion presence, is also taking its participation to the next level this year by bringing in three major new products for the first time: the Barak-8 longrange surface-to-air missile currently being developed jointly by Israel Aerospace Industries (IAI) and India's DRDL; the Heron I MALE UAV, EL/I- 3360-maritime patrol aircraft; the ImiLite, a cost-effective intelligence system designed to receive process and exploit multiple stand-alone imagery video and other intelligence data in a centralised and unified way, the highly visible Iron Dome anti-rocket system recently deployed by Israel and the SpyDer low-level quick reaction surface-to-air missile system that India is in the process of acquiring.
The UK is also represented in strength, mostly through BAE Systems. Mobility will be the dominant theme among the company's displays at Defexpo, with the debut of its family of CV90 light tanks and BvS10 go-anywhere all-terrain vehicle family, along with the ultra-light M777 howitzer.