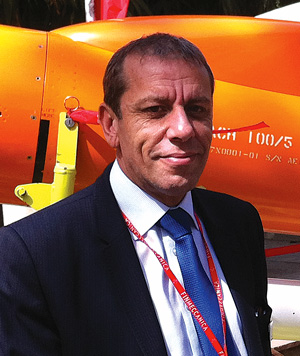 SP's ShowNews (SP's): Can you trace the history of your company and the track record of engagement with India and its range of products?
Tim Savory (Savory): Selex Galileo has decades of experience in the defence electronics sector and has worked in India for long. Thanks to legacy Sea King and Sea Harrier sub-systems Selex Galileo has established repair facilities here and has trained Indian personnel in the design of key test solutions. The company has also been operating the Mirach 100/5 target drone at the Indian MoD's Integrated Test Range (ITR) successfully for some years.
Selex Galileo has a strong heritage in electronic warfare (EW) having developed this technology since the 1940s. Over the last 15 year, it has moved towards integrated EW systems and is now Europe's number one supplier of EW technology and ranked third worldwide. It has a number of other worldleading technologies including airborne radar technology which has been under continuous development, for decades, culminating in the current range of AESA-based fire-control and surveillance radars.
SP's: Which arms of the indian armed forces form the part of current focus of your company?
Savory: Selex Galileo is currently focusing on providing the latest technology to all of India's armed forces as well as the DRDO, the Coast Guard, the Indian Navy and the Ministry of Home Affairs.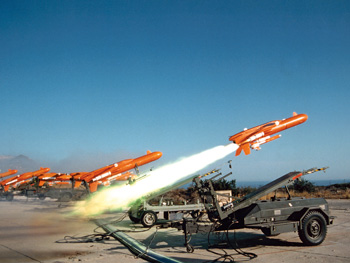 MIRACH100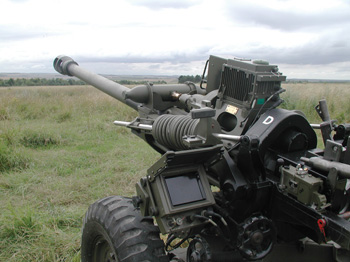 LINAPS INSTALLED ON PLATFORM
SP's: Can you specify the specific programmes of the forces that are being addressed currently?
Savory: In Electronic Warfare (EW) Selex Galileo is currently pursuing a number of opportunities that focus on both the air domain - for the Hawk, the LCA, the Su-30, MALE UAV's and Aerostats - and in the naval domain it is pursuing an opportunity to develop a next-generation off-board RF decoy in collaboration with the DRDO.
Selex Galileo is also currently pursuing opportunities related to Indian upgrades of the Seaking and Kamov ASW helicopter retrofit programmes. For the Kamov, the company is teamed with Rosoboronexport to integrate a complete avionic suite based on our airborne tactical observation and surveillance (ATOS) system which has been sold worldwide with over 40 systems installed on a range of platforms. This will include the Seaspray 7300e, one of Selex Galileo 's cutting edge active electronically scanned array (AESA) radars.
To enhance force protection capability, Selex Galileo is offering the laser inertial navigation and pointing system (LINAPS) for the M777 155mm ultralight howitzers that the Indian Army is in the process of procuring.
SP's: Would you like to indicate on the challenges, if any, you face in the process of cooperation with the forces?
Savory: Selex Galileo does not expect any challenges cooperating with the Indian forces who are technologically-aware customers. The company knows that it has world leading technologies and is convinced that it has the skills and capacity to share them with the best Indian industries. Selex Galileo is aware that this will require starting new developments and building a specific defence electronics capability in India.
SP's: Have you worked out any strategies to address offset obligations?
Savory: Selex Galileo understands that offset is a crucial part of any effort to address the Indian market and it is therefore one of the company's main priorities. Indeed, Selex Galileo sees India's offset requirements as an opportunity to embrace; by combining the capabilities of Indian industry with Selex Galileo 's world leading technologies, the company can help to meet India's key aspiration to develop an effective and capable defence manufacturing sector. Selex Galileo is already in discussions with several Indian companies with the end goal of forming joint ventures and transferring technology.
SP's: How would you compare your solutions versus the competition in terms of quality and in terms of cost-effectiveness?
Savory: Selex Galileo prides itself on offering its customers a technical edge that they just can't get elsewhere. The company invests 15 per cent of revenue into research and development and has produced a number of advanced technologies such as world-leading electronic warfare systems and AESA radars that have been selected by many international customers including the United States.
Selex Galileo also understands that winning contracts in today's competitive global marketplace requires products to be highly cost effective. The company hopes that its collaborations with Indian industry will result in some extremely high-value products.
SP's: What all will be displayed at defexpo? how do you view this show?
Savory: With India being such an important market, Defexpo is a critical show for Selex Galileo. The company will be exhibiting its technologies in four key areas: AESA radar including the Seaspray and PicoSAR; electronic warfare systems such as HIDAS, SEER and SAGE; unmanned vehicles such as the MIRACH target drone and mini UAVs and electro-optic and fire control systems for infantry and mechanised forces.