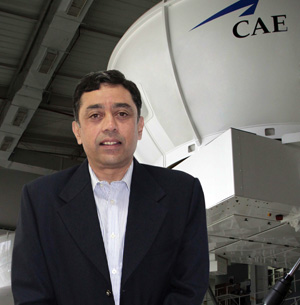 SP's ShowNews (SP's): What are your views on public-private sector partnership? What initiatives has CAE taken in India to forge partnerships with various entities to design, develop and market products for domestic and/or international markets?
Ananth Ramaswami (Ramaswami): CAE has always had a culture of partnership and in our military programmes we often have partnership with either original equipment manufacturers (OEMs) or local companies to develop a solution that meets the training requirements of military customers we are working for. In India, we are actively involved in various partnerships and collaborations, such as our Helicopter Academy to Training by Simulation of Flying (HATSOFF) joint venture with HAL or our joint venture with InterGlobe to create an aviation training centre in New Delhi. We believe these types of relationships are extremely successful in delivering world-class simulation and training solutions while expanding local capabilities and technologies in India. We are always open to the idea of collaborating with suitable partners when the need arises to design and develop a solution to meet the needs of the customer.
SP's: Offset policies in India are designed to generate greater business opportunities in the country and assist in technology transfer from abroad. Has CAE in India initiated any steps to capture the business generated by offsets?
Ramaswami: In fact, CAE has recently entered into a strategic partnership with Rossell India Limited in order to address the needs of the market generated by offsets. This special purpose company will be owned 74 per cent by Rossell and 26 per cent by CAE, and it recently received approval from the Indian Foreign Investment Promotion Board (FIPB). The special purpose company will be operational this year. We have also initiated steps towards having a rotary wing academy on the approved offsets list. We do wish to maximise business opportunities by leveraging CAE's breadth of simulation technologies in line with the offset policy.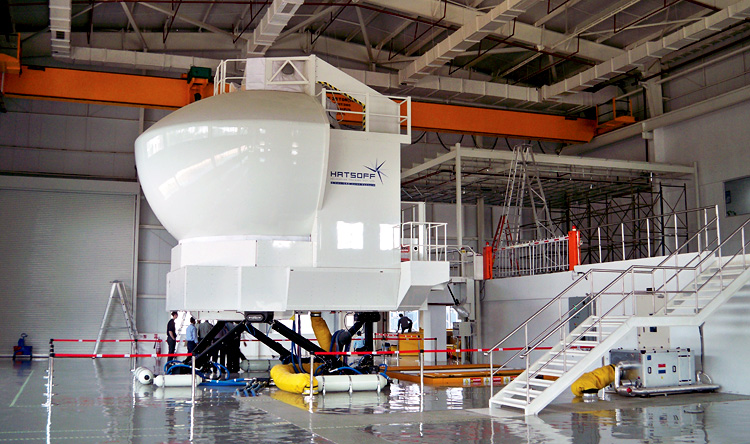 HATSOF Simulator
SP's: HATSOFF is the first facility of its kind in India for providing training to rotary wing pilots. Please tell us about your experience so far. Considering the rising demand for helicopter pilots, do you foresee proliferation of similar facilities in the country?
Ramaswami: HATSOFF is the first and only facility of its kind in the country for rotary wing training. It is a state-of-the-art Greenfield project in collaboration with HAL. This unique facility currently provides training for three types of helicopters-the Bell 412, civil/conventional Dhruv and Eurocopter AS365 Dauphin. Later this year, HATSOFF will add training for the military variant of the Dhruv. Utilisation of the facility is below the designed capacity right now, but we are continuing to promote the many advantages of helicopter simulator training. The fact is that until HATSOFF, India has lacked adequate helicopter simulation training, so most operators have had to rely on training in the actual aircraft and the authorities haven't enforced the regulation that every commercial pilot-fixed or rotary wing-must fly a minimum of 10 hours annually on a simulator. CAE is a strong proponent of global efforts by the International Helicopter Safety Team (IHST) to reduce helicopter accident rates by 80 per cent by 2016, and the IHST says that one of the most effective ways of doing so is the increased adoption of simulation- based training. Considering the planned acquisitions and the growing demand for helicopters in the military and civil domains in India, there will certainly be a need to augment the existing capacity of helicopter simulators in the country. CAE is very open to expanding HATSOFF as well as establishing additional facilities in India.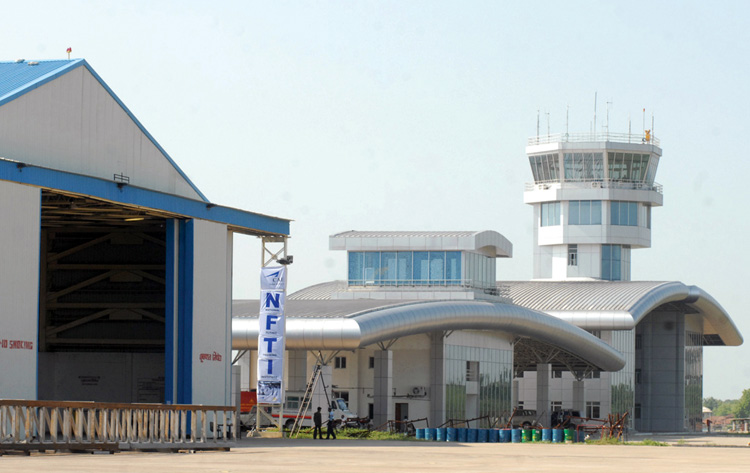 CAE Global Academy Gondia
SP's: As the Managing Director of CAE India, how do you visualise the market for synthetic training shaping up in both the civil and military domains in India?
Ramaswami: India's defence forces are increasingly cognizant to the compelling benefits of modelling and simulation. A simulation-based synthetic environment can provide efficient, low cost, accident free, yet highly realistic training and mission preparation. However, the military still lags their civil counterparts in the use of high-fidelity simulation. Synthetic training is well-structured and defined in the civil sector. CAE has invested a considerable amount of resources in terms of infrastructure, equipment and human resources in India to meet the requirement. In addition to two ab-initio flying academies in Gondia and Rae Bareli, CAE is running a state-of-the-art simulator centre in Bangalore at our new aerospace and defence complex. We are continuing to promote and showcase the benefits of CAE's world-class simulation technologies to India's defence community.
SP's: Do you see an increasing reliance on modelling and simulation for cost-effective and realistic training in India? As the world leader in this domain, how is CAE gearing up to meet the growing demand?
Ramaswami: Here in India, synthetic training is at a nascent stage in the defence services. There is, however, increasing awareness about the numerous benefits that accrue from synthetic training and the demand for modelling and simulation seems to be growing at a rapid rate. Simulation improves the realism of training, lowers costs, reduces operational demands on weapon system platforms, lowers risk, is safe and environmental friendly, and allows for training that is too dangerous or not possible in the actual weapon system platform. The defence forces in India are acquiring some of the most advanced and capable platforms available in the market. However, there will always be finite defence budgets and resources, and more importantly, defence forces need to be able to "train as they fight", and this is where simulation is invaluable. Mechanised forces appear to have stolen a march over the others as they are in the process of acquiring simulators for most of the vehicles in their inventory. New request for information (RFIs) and request for proposals (RFPs) are indicative of a definite upward trend in the need for synthetic training in the three services, and CAE certainly welcomes the prospect of India's military extending their use of simulation.